Our Buyers, Sellers and Communities
Empowering People with Disabilities Through Technology
When Robinson Piramuthu, eBay's Chief Scientist for Computer Vision, and his team had an idea to develop an app that empowers people with motor disabilities, he had no idea the project would have such a personal impact. The end result, HeadGaze, is open-source software that lets you interact with your iPhone X by using subtle head movements to control app buttons without relying on the use of your hands. But it was his close collaboration with Muratcan Cicek, a PhD summer intern with a huge passion for cutting-edge technology, that gave the project even greater meaning.
When Robinson recruited him to join the team, he wasn't aware that Muratcan had cerebral palsy. "Muratcan stood out because he was working on eye-tracking technology on mobile devices as part of his PhD program," Robinson says. "Then I went to his website and read his story about his condition and how it shapes the technology he creates. Having his perspective on the project resulted in a more meaningful and relevant outcome."
As the team developed the idea, they saw the potential for it to reach beyond ecommerce and decided to open-source the code to make it more widely available. Robinson sees how HeadGaze can enhance the user experience for anyone by freeing up their hands during tasks such as checking the news on their phone while wearing gloves or following a recipe while cooking. HeadGaze has demonstrated the potential to give greater independence to people with Muratcan's condition—even with shopping. Robinson says. "Muratcan jokes that his mom won't be the one choosing what clothes to buy for him anymore."
Small Business, Big Voices: The Power of eBay Sellers
Like many retailers, Pittsburgh, Pennsylvania-based Margie Rose was hit hard by the 2008 economic downturn. After closing three stores, her brother suggested she sell on eBay. So, she did. And it more than paid off. Ten years later, her eBay store is joined by a new storefront and a warehouse. She also employs and provides training for formerly incarcerated members of her community. Not only are sellers like Margie inspirational, but they're also an important part of eBay's Government Relations Team's efforts to support small businesses by giving officials firsthand perspectives from the people their decisions affect.
Denzel Singletary, a Manager of Government Relations at eBay, highlights stories like Margie's to lobby for government reform for small and midsize businesses. "I can talk until I'm blue in the face to any legislator, but she is walking the walk," he says. "It's a powerful advocacy effort. No other company can do this." By having Margie share her story with legislators and government officials, Denzel and his team are bringing awareness to the ways Main Street and ecommerce can work together to strengthen local economies with things like postal and trade reform and internet sales tax regulations. "Sometimes through these testimonials, we can influence legislators to support small businesses through their votes," says Denzel.
In addition to these efforts, eBay recently launched the Retail Revival Program, which teaches entrepreneurs and store owners how to expand their customer base on eBay to revitalize their communities. Denzel is working with the program specifically focused on how women and minorities can share their stories of success to empower one another. "There are so many women in the network that are really affecting communities," he says. "They bring perspective that's important." Together, these voices are making real change in communities that will drive the future.
Meet Our Game Changers
Being Intentional In the Marketplace
As the son of an immigrant dad from Ghana and a mom from Indiana, VP & General Manager of Soft Goods Sam Bright shares how he and his team spotlight sellers from diverse backgrounds in order to reach buyers across the globe. He talks about how eBay empowers small businesses and entrepreneurs to not just provide for their families, but also to drive social good in the world.
Sam says that diversity, inclusion and business can often intersect perfectly with philanthropy to drive optimal outcomes for the entire eBay community. Sam lived this truth through a unique partnership with Chicago-based, African-American artist, Hebru Brantley. Like Sam, Hebru's family was tragically impacted by breast cancer. When Hebru and eBay collaborated to sell one of Hebru's limited edition prints commemorating his mother and sister on International Women's Day, the prints sold out within hours, and much of the proceeds benefit breast cancer research.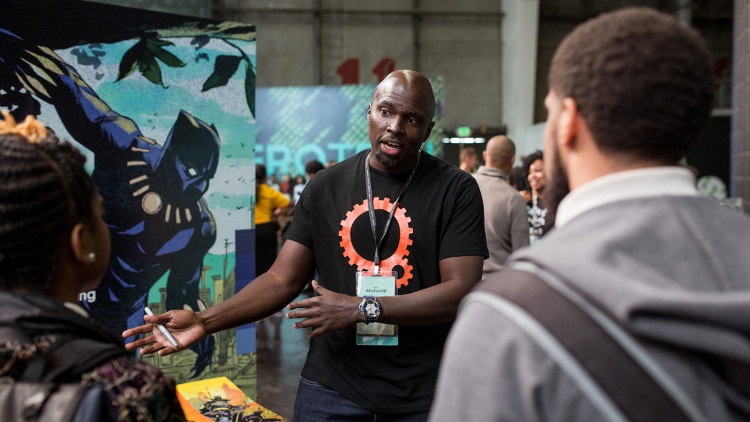 Sanford Greene
Comic Illustrator & eBay Seller | Columbia, SC
Collaborating with eBay at AfroTech got me super excited. AfroTech gave me the opportunity to draw a more diverse audience into the comics world, which we have been trying to do for decades.
When acclaimed graphic illustrator Sanford Greene partnered with eBay at AfroTech 2018 to present MyComicShop, he gave attendees a glimpse into his new series Bitter Root. He also gained unexpected insights during the multi-day exchange on entrepreneurship, design, engineering and leadership in tech. "Tech is the foundation, but the event was about so much more — creating, being inventive, networking," Sanford says. "I need to be in spaces like this because it's a way to expose more people to more diverse content in a familiar context."
This partnership showed Sanford how excited people in tech are about his work. It also energized him in his ongoing quest to create and represent characters of color in the superhero comic industry. "I loved comics as a kid and when I saw characters of color, I immediately identified with them. That's why it's important to me to give kids today brown faces to inspire them," he says. "I create content to allow more opportunities for diversity."
Sanford plans to channel his refreshed inspiration into new efforts to get his characters and ideas out in the world. He feels a real responsibility to make art that inspires people, particularly people of color, creating role models as diverse as they are.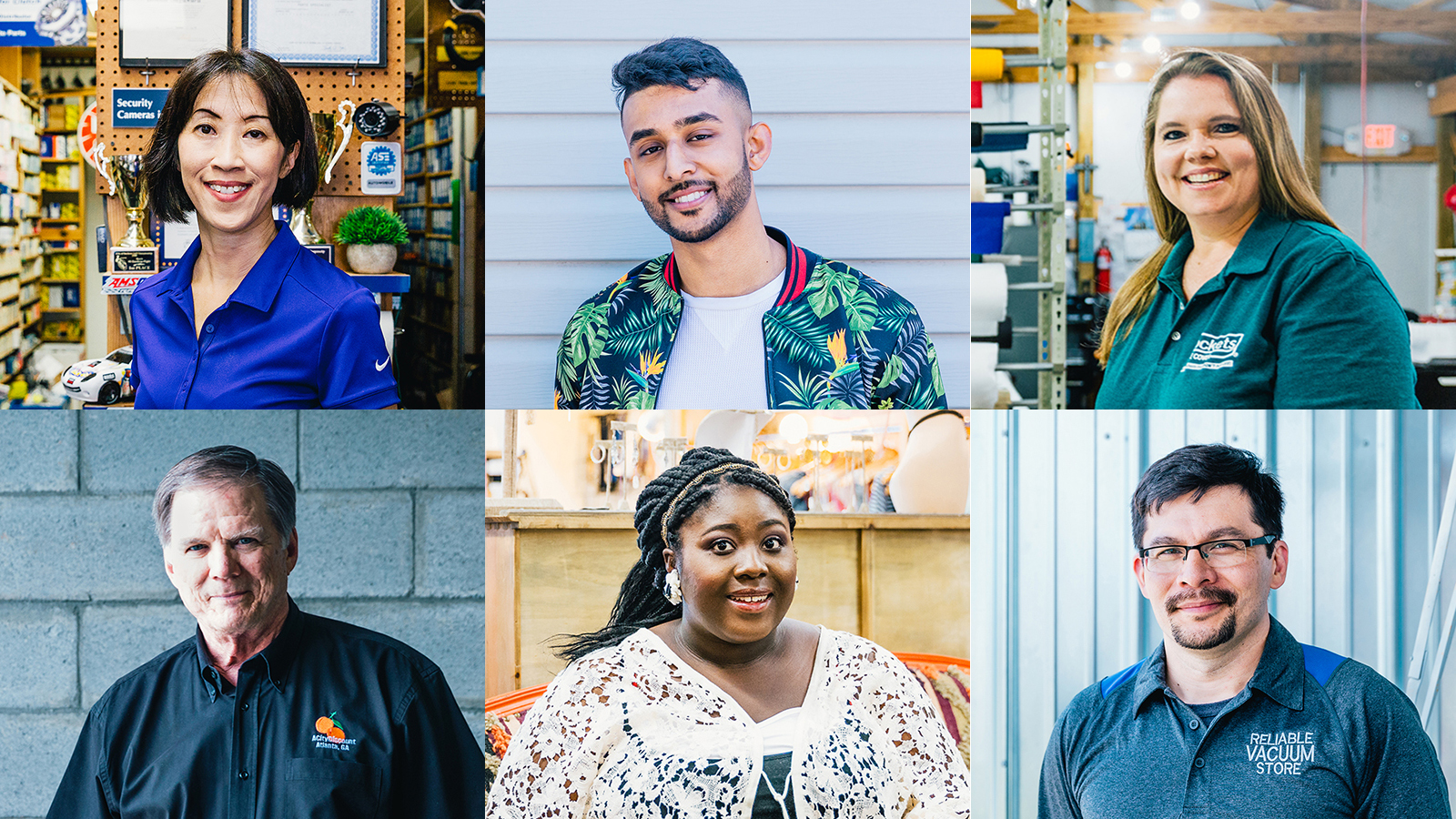 Meet Our Sellers
The heart and soul of eBay are the tens of millions of people that sell on our platform. Come explore the stories that breathe color into our marketplace.