Underscoring our early commitment to philanthropy, the eBay Foundation was the first corporate foundation to be endowed with pre-IPO stock after its establishment in 1998. In 2014, eBay Foundation made a total of $4.7 million in grants to nonprofit organizations worldwide, bringing our total giving since inception to nearly $35 million. We make strategic social investments that leverage our talent and our technology to deliver long-term impact to our nonprofit partners. One of our partners is Kolabo, a start-up social enterprise that's helping entrepreneurs in Indonesia bring their businesses online for the first time. Explore the video experience below to learn about our partnership and the businesses we're supporting.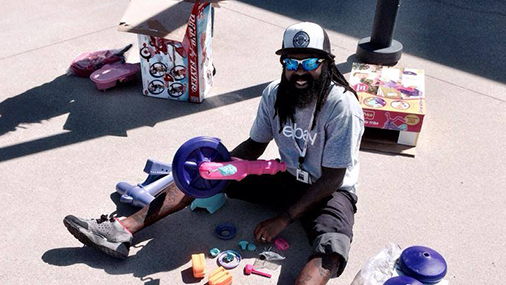 Employee Engagement
In communities around the world where eBay has business operations, employees help promote and manage charitable giving and volunteerism. Through the eBay Foundation, employees are directly involved in recommending grants to organizations that they value and those that address critical community needs. Our matching gifts program encourages employees to support the nonprofit organizations of their choice by matching both financial contributions and volunteer time. 
Last year, we matched more than $1.5 million of employees' charitable contributions, and employees volunteered more than 30,000 hours of their time to nonprofit organizations worldwide.