Optimizing our operational footprint to support a more sustainable, low-carbon economy
Our Approach
As a global technology company, we recognize our business has an impact on the planet. We are working to better understand, track and quantify our environmental footprint, even as we enable a more sustainable, circular economy.

We're committed to providing fast, reliable experiences for our customers, and a world-class work environment for our employees. Our Workplace Resources teams work across our global operations to drive energy savings, waste reduction and green building principles and practices. 
Our Goal
100% renewable energy in our electricity supply by 2025 at eBay data centers and offices 
Our Footprint
Energy Use
All businesses have an impact on the environment. And, like many companies, eBay's largest environmental impacts are the result of our energy use. eBay's overall energy use grew 1% between 2015 and 2016. This was due to the normal expansion of our data center infrastructure to support our customers, and office footprint for our employees. In 2016 data centers comprised 77% of total consumption.
Electricity Mix
eBay depends on electricity, and we focus both on managing consumption and getting more of our electricity from renewable sources. At the end of 2016 our renewables percentage was 54%, up from 15% in 2015.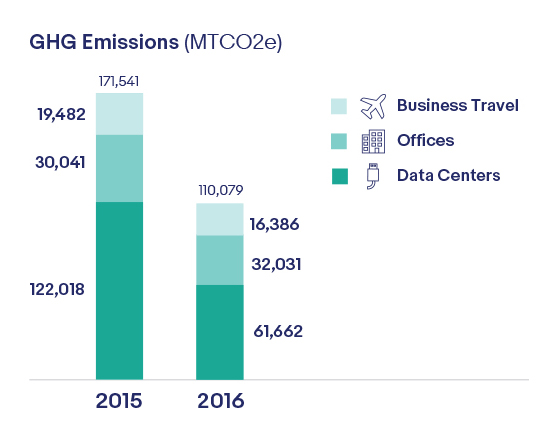 Greenhouse Gas Emissions by Source
In 2016 eBay's carbon footprint was 110,079 metric tons of carbon dioxide equivalent (MTCO2e). Data centers comprised 56% of that footprint, with offices and business travel contributing the other 44%. Total emissions overall decreased by 36% due to the large increase in renewable energy use in our data centers.
Greenhouse Gas Emissions (Scope 1 and 2)
Another way to look at carbon emissions is through the World Resource's Institute's Greenhouse Gas Protocol. This approach categorizes emissions into "Scopes"—Scope 1 is CO2 emitted directly by eBay, Scope 2 are emissions resulting from the grid electricity eBay consumes. Scope 1 emissions were nearly flat between 2015 and 2016 while Scope 2 emissions were cut in half as the result of the increased use of renewables.
Water Consumption
Water is an increasingly precious resource worldwide, and this is only expected to intensify as the climate changes. eBay works to conserve water every day, and many of our sites have implemented water-saving technologies and processes. We're now working to build a more robust system for tracking and managing water companywide. In 2016 we used about 138 million gallons of water. This includes our owned data center location as well as our large office locations.
Read Our Global Impact 2016 Summary