We recognize our business has an impact on the planet. We are working to better understand, track and quantify our environmental footprint as we enable more circular commerce.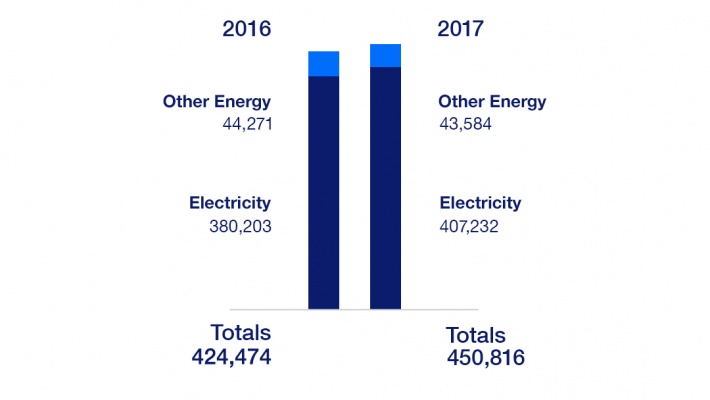 Energy Use
All businesses have an impact on the environment. And, like for many companies, eBay's largest environmental impacts are the result of its energy use. eBay's overall energy use grew 6% between 2016 and 2017. This was due to the normal expansion of our office footprint and our data center infrastructure to support our customers. In 2017, data centers comprised 76% of our total consumption.
Electricity Mix
eBay depends on electricity, and we focus both on managing consumption and getting more of our electricity from renewable sources. At the end of 2017 our renewable energy decreased to 48%, down from 50% in 2016. This reduction in renewable energy use is due to several factors. These factors include greater electricity consumption in our data data centers to support customer transactions, as well as greater load at facilities where the electric grid has higher fossil fuel and nuclear energy content. We are pursuing renewable energy opportunities in these regions in order to source 100% renewable electricity.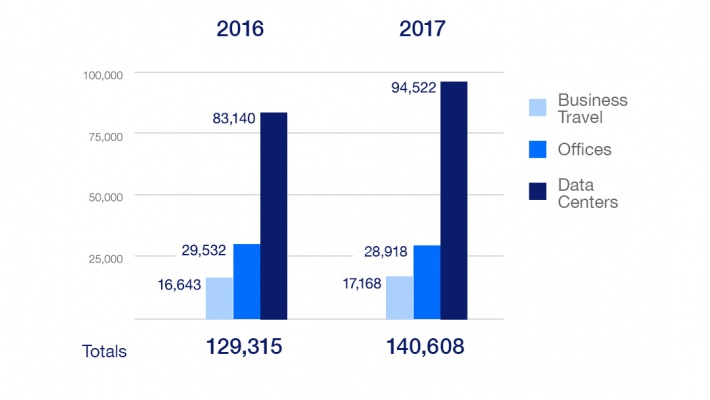 Greenhouse Gas Emissions
In 2017 eBay's carbon footprint was 140,608 metric tons of carbon dioxide equivalent (MT CO2e). Data centers comprised 67% of our footprint, with offices and business travel contributing the other 33%. Total emissions overall increased by 9% due to increased energy consumption, particularly from the electric grid.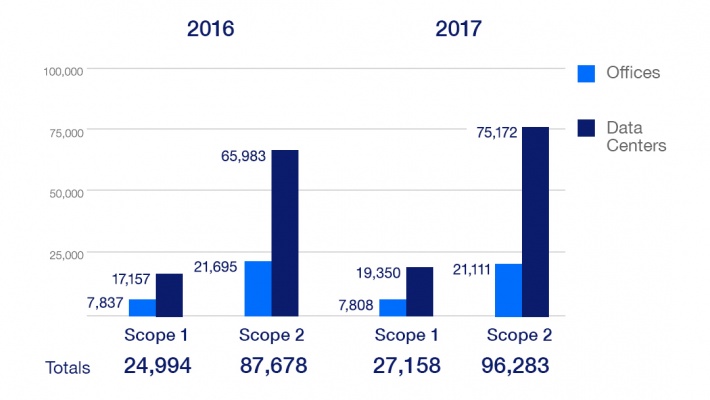 GHG (Scope 1 & 2)
Another way to look at carbon emissions is through the World Resources Institute's Greenhouse Gas Protocol. This approach categorizes emissions into "Scopes"—Scope 1 is carbon emitted directly by eBay; Scope 2 is emissions resulting from the grid electricity eBay consumes. Scope 1 emissions and Scope 2 emissions grew between 2016 and 2017 due to increased energy consumption, particularly from increased IT load at our data centers.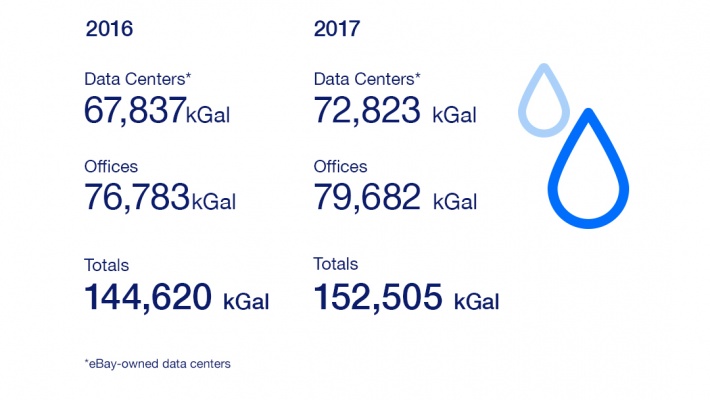 Water Consumption (kGallon)
Water is an increasingly precious resource worldwide, and this is only expected to intensify as the climate changes. eBay works to conserve water every day, and many of our sites have implemented water-saving technologies and processes. We're now working to build a more robust system for tracking and managing water company-wide. In 2017, we used about 152 million gallons of water, a 5% increase from the year before. This includes our owned data center location, as well as our large office locations. The increase was due to the normal expansion of our data centers and offices to support our customers and employees.
2016 data have been restated and replace data published in the 2016 Global Impact Summary Report.
Read Our eBay Impact 2017 Progress Update