A Greener Commute: Green Team Members Plug in at San Jose's EV Charging Station
By: J.D. Norton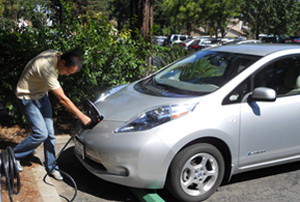 eBay developer and avid Green Team member, Georgy Valdimirov, keeps all of us in San Jose on our toes as he continuously ups the ante on the greenest commute. He started off driving his hybrid Toyota Prius from his Mountain View home to the eBay San Jose offices. In an effort to reduce his footprint and green his commute even further, Georgy put his name on the waitlist for an all-electric Nissan Leaf. After some (not so patient) waiting, he finally got to take his Nissan Leaf home.
While some people get intimidated figuring out how they're going to charge their electric vehicle (EV), Georgy got creative. He lives in an apartment complex where he runs a cord from his balcony down to the carport below where he plugs in his Leaf at night. After seeing so much passion and effort from Georgy to green his lifestyle, it's quite satisfying to see him plug in at our recently unveiled electric vehicle charging stations right in the eBay parking lot.
We're happy to say that Georgy is not alone in his love for electric vehicles – many employees and Green Team members like Georgy were our motivation to getting the new EV charging stations installed at eBay's San Jose campuses. The Scottsdale PayPal offices were the first eBay Inc. office to respond to employee interest and installed five EV charging stations at the end of 2011, and our Topaz data center in Salt Lake City also has one charging station on site.
Following Scottsdale and Topaz's lead, the eBay Green Team in San Jose and our Workplace Resources team worked hard to make sure eBay San Jose employees could recharge onsite after their all-electric commutes. We partnered with Coulomb Technologies and their ChargePoint network to install four EV charging stations at the eBay San Jose Whitman campus and four at the San Jose North campus for employee use.
Using the stations is easy – employees simply create an account with ChargePoint to receive a ChargePass card that they use to pay at the charging station. The stations are on a first-come, first-served basis, but exclusively for eBay employee use. Since electricity demand and costs are highest between 8am-6pm, employees are encouraged to just charge enough to make the return trip home, and then completely charge up during the nighttime hours. For drivers who have an extra-long commute, these charging stations make it easy to do an all-electric commute and charge back up without finding a public station.
We're excited to see more employees plug in here in San Jose and look forward to seeing how more campuses are encouraging green commutes – whether through EV charging stations, carpooling programs, or bike to work days!