A Helping Hand for Blind Tibetan Children
By: eBay Inc. Editors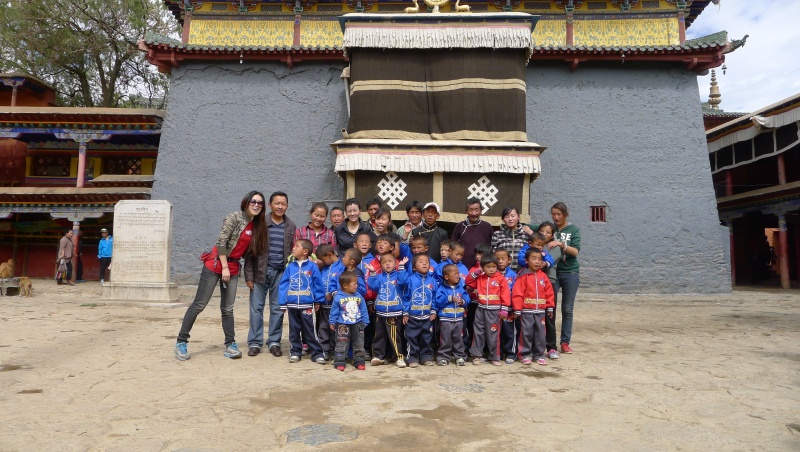 Kiki Kindergarten is a special school for blind children in Tibet, where negative superstitions surround blindness. Founded in 2011 by Kyila, a blind local woman, the school has been helped from the outset by the eBay Foundation and eBay employees.
In Tibet, blindness is seen by some as a karmic punishment for misdeeds in a previous incarnation. In addition, many parents simply don't believe that a blind child can take care of him- or herself. Often the child is made to stay in one place, or even tied to a bed.
To combat such prejudices, Kyila believes blind and seeing children should learn together. At Kiki – Tibetan for "happiness" – blind kids do physical activities, acquire daily living skills and study Braille and print. Sighted children learn to accept and believe in the abilities of their friends, she said.
Her school has 19 pupils ages 2 to 5, one of whom is sighted, and seven staff members. Monthly running costs are around $3,000. U.S. eBay Foundation GIVE teams donated $20,000 to help build the school, and APAC staff have continued to donate toward its operating costs.
One enthusiastic supporter is Cindy Wang of the China product team. Cindy visited the school, which is 26 kilometers from the Tibetan city of Shigatse, in 2011 and again this June. She brought a microwave oven, shoes for the children and about $1,500 in personal donations from staff in Cross Border Trade and other offices.
Despite power blackouts and problems with a broken water pump, Cindy made excellent use of her time at Kiki, helping to install window screens to keep out insects ("In Tibet, for religious reasons, they don't kill living creatures"), training staff to use Microsoft Excel, assisting Kyila to set up a PayPal account and accompanying the kids on an outing to a local temple (pictured).
"We wanted to show the children that blind people can take care of themselves and have fun," Cindy said. "In the afternoon, we found a great place to picnic where they could run and play freely."
In addition to the eBay donations, the school needs ongoing support. One priority now is to acquire a van for ferrying supplies and to take children to a doctor when necessary. Another is to acquire 30 mobility canes (white canes) for the use of the children.
Cindy is appealing to other eBay employees to make personal donations, to purchase canes on their behalf, to buy or sell the school's CD of Tibetan and Chinese songs, to visit when they're in Tibet and to spread the word. She can be contacted at yimwang@ebay.com. Donations can also be made through the school's website.
"The great thing about this school is that it builds children's confidence by treating them as normal, so that being blind won't stop them from experiencing the world," Cindy said.