Advocating the Two-Wheeled Commute
By: J.D. Norton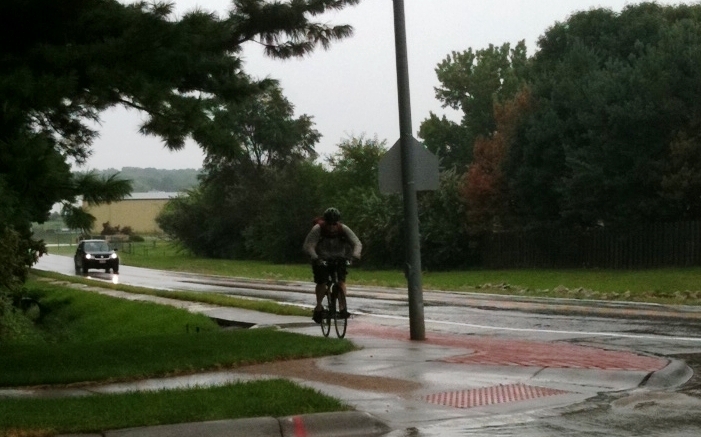 For some people, being eco friendly is just innate. Others of us have to try, and as a result, we end up in awe of those people who make doing the environmentally sustainable thing seem so easy. Dave Dusatko is one such individual. Dave reports having an "aha" moment when as a kid he realized his bike wasn't just a fun toy. It was transportation. Before Nebraska had even heard of biking to work, Dave was touring the capitol city to his job at an insurance company and to legendary Husker football games.
Luckily for us, Dave brought that earth friendly enthusiasm and knowledge with him when he joined PayPal over five years ago. His passion for biking to work has been contagious. From a very modest start, Dave has grown the Omaha commuter group to 25-30 consistent riders who logged nearly 10,000 miles commuting to PayPal in 2010.
The success is owed to Dave's laid back, "help anyone" attitude. Dave has a wealth of knowledge about bike commuting and routinely makes trips to local bike shops with would-be bike commuters to give them input about bike purchases and to help them assemble commuter packs with bike to work necessities. He watches eBay and Craigslist closely to assist people looking to get into bike commuting on a budget, and he's even been known to make an after hours run back to the office to help second shift and overnight team commuters repair a flat. Lucky for them, Dave had the foresight to buy extra tubes for all of the tire sizes and types represented on the bike commuter team so we'd have them available on site, complete with floor pump, for these situations.
Dave's commitment to biking to work got PayPal the first Bike Friendly Business designation in the eBay corporate family. He even braved the bureaucratic paperwork to make sure eBay and PayPal could cash in on government reimbursements for bike commuting. Along the way, Dave has also arranged bike maintenance days on campus, maintenance seminars, and has even raffled off five commuter bikes to employees. This effort is why he was the first Bike Omaha Commuter Challenge team leader award winner in the history of the competition.
"The most distinct memory I have of Dave in our nearly four years working together is a wretched day last summer when storm clouds moved in right after he set out on his ride home. Not being nearly a brave as Dave, I had driven to work that day and I worriedly tracked his route home with the expectation of picking him up and putting his bike in the back of my car. The conditions of strong winds, sheets of driving rain, and a possible tornado didn't deter Dave though. When I found him on the trail he had the biggest smile on his face – the kind of smile you normally see on a kid right after they get an ice cream cone. He was totally in his element, commuting home on his bike on a stormy day", says Kasey Hesse, our Omaha Green Team Leader.
Do you have a passionate biking group at your own workplace? Tell us about it!