At eBay On Location: Celebrating our 5th Year!
By: J.D. Norton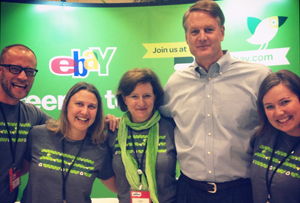 We always look forward to eBay On Location as a great chance to get out there and catch up with eBay Sellers and Green Team members. However, eOL in Denver this spring was a little less business and more just pure celebration as we come up on our Green Team five-year anniversary in September. Ok, we admit we started celebrating early (can you blame us?), but we wanted to make sure we included all the sellers who have been active, supportive forces in making eBay buying and selling as green as can be.
To show our appreciation, we threw a party in our booth with cupcakes from a local, organic bakery and invited people to come in, grab some sugar, and celebrate with us! Needless to say, we had quite a few takers.
One of the highlights was when we caught up with long-time supporter Bubblefast who had exciting news to report on their latest eco product offering. Many eBay sellers use polymailers for clothing and soft items that are not recyclable and rarely reusable. Bubblefast is now offering biodegradable poly mailers made from recycled materials as an amazing green alternative. Keep your eye out for them on your next eBay order – we think they'll catch on quickly.
The fun isn't over yet – we'll continue the party in September at eBay On Location in Philadelphia. We can't promise more cupcakes, but we'll definitely be celebrating with something yummy!