Designed by eBay, at Milan's Salon del Mobile
By: Cicely Wedgeworth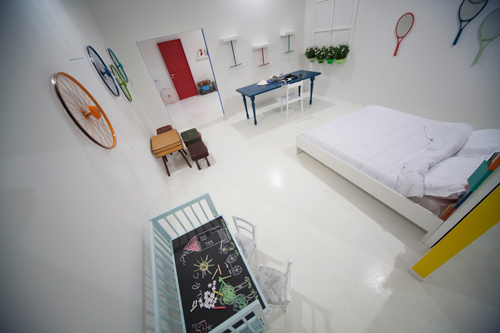 More than 42,000 people walked through the augmented-reality eBay Italy experience at Milan Design Week, the country's leading furniture and home-design event, earlier this month.
It was eBay Italy's second time exhibiting at Milan's "Salon del Mobile." Last year, office staff decorated a loft apartment with a wide selection of new home and garden items that were available to browse and buy via mobile device. This year, it created three minimalist white rooms to showcase the latest home and garden trends and bring products to life using augmented reality (AR) technology.
Three actors, armed with tablets, showed visitors around the rooms, displaying the products and technology on show. Ordinary items such as tennis racquets and colorful colanders, were transformed into home accent pieces such as mirrors and flowerpots. Visitors using mobiles could view the AR display, then click through to the Home and Garden category on ebay.it to buy.
"We chose to promote Home and Garden because it is our second biggest category, it's spring – a time when many look to make home improvements – and the Milan Design Week is the perfect setting for this push," said Eleonora Gandini, consumer public relations manager, eBay Italy.
"As a dot-com we really stood out" at the design event, Gandini added. "People were amazed with the AR and went away not only feeling inspired but also thinking that eBay is pretty cool, which is just great."