Digging the Dirt
By: Richard Brewer-Hay
At 7:30am last Friday, the approximately 50 remaining attendees from the eCommerce Summit descended on Harvey, a New Orleans suburb in the Jefferson Parish on the West Bank, to take part in a volunteer day for Habitat for Humanity. After the check presentations were made and a quick tutorial on safety guidelines was given by Zach (who could double as a stand-up comedian to complement his day gig), we enjoyed a moving rendition of Amazing Grace on the bagpipes. We were then split into groups and sent to our respective homes for the day. Sheila, Usher and I joined 12 other Summit attendees to venture three blocks west to 2315 Jefferson Street.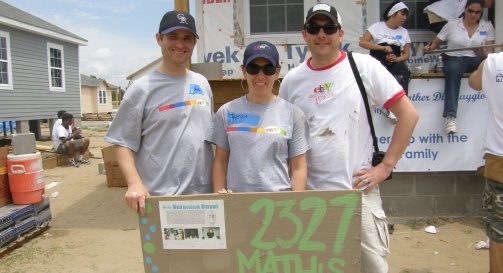 The home we were tasked with working on was already built but seemingly far from being ready for its new owner, Lorena Johnson. I was very surprised to hear that the plan was to hand over the keys to her new home this coming Wednesday, April 30. Everyone set to work immediately. Usher (who I later learned was a professional painter in a previous life), joined 6 others inside the home to work on caulking and painting the interior. Sheila and I took dirt duty in the yard, as the remaining 8 of us worked on distributing a large mound of dirt around the entire home – sloping said dirt at an angle away from the home. We were armed with 4 shovels, 3 rakes and 2 wheelbarrows that had definitely seen better days.
After spending the better part of the morning lifting mounds of soil, it was agreed that it was time to take a break from the sun and get to work inside the house, joining others on painting and shelving. At Noon we broke for lunch and rejoined the rest of our fellow volunteers back at the house they were working on, 2327 Mathis, where we all signed a piece of wall-siding that was going to become a part of that home.
We only worked for a total of 5 hours before we had to depart for the airport but I must confess I was feeling pretty inspired as I waited for my flight later that day. To think that folks take full use of their vacation time to travel down there and volunteer for weeks at a time was extremely humbling (there were 10 such individuals working at 2315 Jefferson Street) and I am personally committed to finding similar projects here in the Bay Area to become a regular part of.
In the 40+ years that Habitat for Humanity had been building homes in the New Orleans area, they had built a total of approximately 100 homes before Hurricane Katrina hit back in 2005. Since that time, they have constructed approximately 100 homes a year. Truly remarkable. If you're interested in getting involved with a Habitat for Humanity organization in your area, click here for more information.
One side note, I felt a little sorry for the people sitting near me on the plane Friday night. I was covered in paint and dust and probably getting a little ripe given the earlier activities. The lady at the gate, when I connected in LAX, certainly questioned my appearance given the look on her face. I dropped my bags as soon as I walked in the front door at home and made a beeline for the shower. I smiled to myself as I got into bed thinking that Lorena Johnson will be thankful for a great many things on Wednesday and she should be truly thankful that they didn't let me near the plumbing of her bathroom fixtures.
Cheers,
RBH