eBay Inc. at CES 2012 - Day 1 recap
By: Richard Brewer-Hay
I attended two industry panels here at CES 2012 yesterday that eBay Inc. was participating in and both were focused on the incredible growth in mobile.
Mobile Payment Basics: How the Technology Works
Panelists:
David Marcus, VP/GM of Mobile for PayPal
Andrew Paradise, CEO of Aislebuyer,
Bill Gajda, Head of Mobile, VISA
Scott Nichols, Director of IPX/M-Commerce, North America Ericsson
Todd Ablowitz, President of Double Diamond Group
Todd moderated the panel and the participants discussed everything from the emergence of the digital wallet to the concept of "wallet in the cloud" vs NFC (near field communications) solutions. "We see the wallet in the cloud as the best way to bridge the gap between the online and offline world," said David Marcus. Andrew Paradise concurred, "if I lose my iPhone," he said, "I don't want to have to cancel all my credit cards. It would be no different than losing my wallet." Bill Gajda was more in favor of localized solutions (NFC) but stressed that "whatever technology we end up using, it's all going to come down to the widespread education and adoption by the individual merchants."
It was agreed by all that we've been hearing about the digital wallet for quite some time now but 2012 could be the year that it truly "arrives." PayPal's David Marcus illustrated the growth in mobile payments by announcing that PayPal exceeded expectations for 2011, reaching $4 billion in mobile payment volume (a significant increase from the original prediction of $1.5 billion).
Panelists:
Steve Yankovich, VP of eBay Mobile
Andrew Maltin, CEO of MEDL Mobile
Azita Arvani, Principal, Mobile and Wireless for the Arvani Group Inc.
Chris Hercik, Creative Director, Sports Illustrated Group
Jon Summers, SVP Applications and Service Infrastructure, AT&T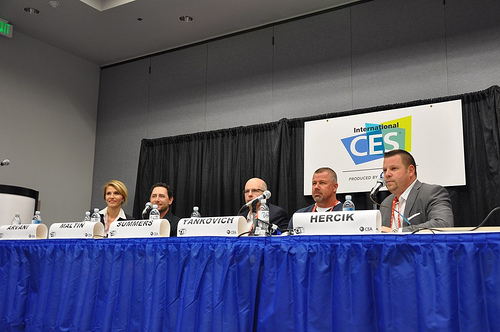 The panelists discussed trends they'd seen in mobile apps for 2011 and those that they predicted for 2012. eBay Mobile's Steve Yankovich talked about the emergence and proliferation of QR Codes in 2011 and predicted that "apps that utilize the camera on mobile devices will be the next trend we see in 2012."
Chris Hercik of Sports Illustrated emphasized the need for organizations to adapt and react to shifts in consumer behavior. For example, "readers of the tablet app for Sports Illustrated are now asking for good, interactive ads, rather than rejecting or being put off by them." He also went on to say that introducing new ways of presenting existing content (digitizing Sports Illustrated for example) isn't just an external messaging process. "There's an internal learning curve too when evolving a long-standing, established brand into app form."
"Everything we do is about the transaction. About connecting the buyer and seller," said Steve Yankovich, when asked about eBay's role in mobile transactions. "eBay is just the plumbing."
Steve went on to say that eBay Mobile met 2011 projections for mobile sales and payments, respectively. eBay's global mobile gross merchandise volume (GMV) reached $5 billion in 2011.
For more on eBay's presence at CES this week, check out my CES 2012 overview.
Be sure to follow @ebayinkblog on Twitter and follow both the #eBayatCES and #CES2012 hashtags.
Cheers!
RBH