eBay employees are invited to Bring it. Sell it. Ship it.
By: Richard Brewer-Hay
What better way to understand our customers than to be active buyers and sellers?
eBay employees now have an even easier way to sell on eBay. Introduced this week as a pilot program for employees, the new "Sell it Here" station is located at San Jose, Whitman Campus. Employees will find the Sell it Here station stocked with everything they need to list and sell their items on eBay.
They can take a picture and list their items using their mobile phone or iPad. Once the item sells, they can print their label on the spot and find all the free packing materials they need. They can then drop their package in any of the new Sell it Here mailboxes, which can be found on the first floor of every building on campus.
The Seller is In
For those employees selling for the first time, each Wednesday from 2pm to 4pm, employee Power Sellers will be on hand in the station to help folks get started and answer their selling questions.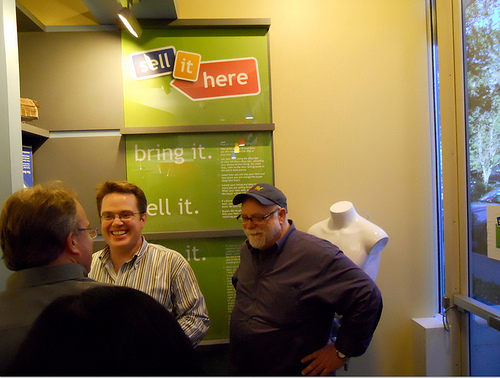 I'm interested to see how involved people get with the program. Selling on eBay couldn't be any easier. I've only sold a handful of items on eBay over the years but now I really have no excuse. I'm looking forward to taking part. Bringing it. Selling it. Shipping it.
Cheers!
RBH