eBay Expands in Utah with the Opening of Its Newest Facility Designed to LEED Gold Standards
By: Scott Murray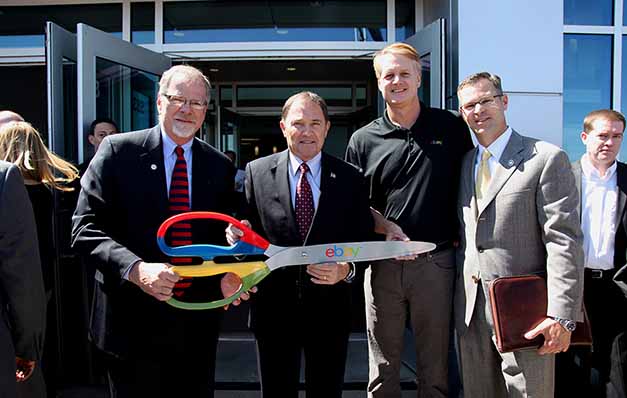 Earlier today, eBay Inc. President and CEO John Donahoe and other senior leaders were joined by Utah Governor Gary Herbert, Congressman Jim Matheson, Draper City Mayor Darrell Smith and local officials to unveil eBay's newest facility designed to LEED Gold standards.  Located in the Salt Lake City suburb of Draper, Utah, the 241,095 square foot facility is home to 1,800 teammates, across several of our businesses and that number is expected to grow over the next 20 years in Utah (including those in our Utah-based data centers).
As eBay's newest building designed to LEED standards, we have integrated sustainable design features throughout the facility – staying true to our commitment to operate responsibly and sustainably in the communities that our teammates call home while providing an outstanding workplace experience. In addition to offering preferred parking for low-emitting and fuel-efficient vehicles, the building is adjacent to a FrontRunner commuter rail station and uses power entirely from renewable sources. The building has large windows that allow for abundant natural light and incredible views of the Wasatch Mountains and nearby Jordan River. Additionally, the building's innovative infrastructure makes efficient use of water, reducing the burden on the municipal water supply by 35% percent.
In the new, expanded facility, our teammates will deliver on our commitment to create experiences our customers love. Team members can also take advantage of fantastic onsite perks such as a full-service cafe, fitness center, coffee shop, and indoor bike storage areas!
Our efforts to green our local footprint and provide meaningful impact in the communities where we operate don't end there. Today, we also kicked-off our eBay Utah Summer of Giving program with a 5K run and one-mile walk for teammates and our non-profit partners including the Utah Food Bank, Big Brothers Big Sisters, and many others. These events signify our commitment to maintaining responsible and sustainable operations in our community.  In 2012 alone, eBay teammates and their friends and family in Utah contributed approximately 9,000 hours of service in the community. This continues our 14-year history in the state of working to build a better Utah.
As our business rapidly evolves, we will continue to ensure that our commitment to enabling greener commerce, powering charitable giving and fostering economic opportunity runs throughout everything we do. Not only does our newest facility represent our pledge to green our operations, it also demonstrates our commitment to investing in and growing our economic presence in the state. From our new home in Utah, eBay teammates will help change the world.
Check out some of the photos of the building and today's events, and stay tuned for more updates on the Summer of Giving and work by our Salt Lake City Green and GIVE teams!