eBay and Girls Who Code Prepare the Next Generation of Entrepreneurs
By: Ana Cantu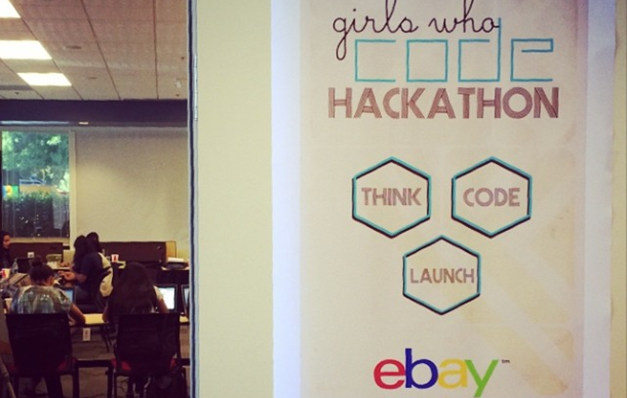 Twenty new entrepreneurs recent walked off the eBay Inc. campus, ready to share their ideas with the world. What made them different is that they're still in high school and they're young women – a rarity in the tech world. Thanks to the nonprofit Girls Who Code, a group of Silicon Valley girls spent the summer at eBay, where they joined the next generation of innovative programmers.
How innovative?
SVP of @NastyGal Lina Kutsovskaya - an expert in #design & #tech - called our @GWCeBay projects "so well-done." pic.twitter.com/S2i3hzgs0c

— eBay Newsroom (@eBayNewsroom) August 1, 2014
No less a figure than design and tech expert Lina Kutsovskaya, senior vice president at Nasty Gal, assessed the students' final projects – everything from a physics formula calculator to fashion discovery apps – and advised them to include their work in their professional portfolios.
"You did so much in two weeks," she told the students at their graduation ceremony on July 31. "Can you imagine if you focus your college years or your life?"
Congrats grads! RT @CorSher "The graduation class for Girls Who Code at eBay Inc 2014! #tech Congrats @gwcebayhttps://t.co/GOIhOlnTu8"

— Girls Who Code (@GirlsWhoCode) August 1, 2014
Supported by a Community
As Chief Marketing Office Richelle Parham, the program's executive sponsor at eBay, told the 2014 class, ""What I love about Girls Who Code is that it's about community."
@GirlsWhoCode@eBay and @Adobe rock! Hanging today @PayPal campus #CommerceInnovationShowcase. Awesome! pic.twitter.com/j3sHkWCcG3

— Richelle Parham (@RichelleParham) June 28, 2014
The eBay community – from CEO John Donahoe on down – made time to help the students as they moved from computing novices to full-fledged programmers. Donahoe paid their classroom a surprise visit one day, and a mentorship program and speaker series organized by employees Roxy Laufer and Corinne Sherman brought executives and employees from across the company in to answer the girls' questions about their careers and offer advice throughout the program.
According to Girls Who Code, eBay's program is unique in that employees customized it to the students' interests in technology and commerce. Whether it was learning about fashion brands from eBay's trend expert Hugo Liu or sharing their opinions with Gireesh Joshi, director of marketing research, the students looked at their coding education in the context of entrepreneurship.
Our @GirlsWhoCode showed their fashion #apps to eBay data scientist & taste expert @dochugopic.twitter.com/JGgBbe9k7K

— eBay Newsroom (@eBayNewsroom) July 24, 2014
"Having the ability to get to know the girls this summer and understand what fascinated them about tech enabled us to deliver a really rewarding and customized experience," Sherman said. "Executives like Richelle Parham, Kirsten Wolberg, Sandy Godsey and Zoher Karu enabled a rich experience not only for the students but for employees like me who saw how everyone is committed to helping the students succeed."
Sherman noted the program's focus on entrepreneurship gave some of the students even greater opportunities: "A couple of the teams built amazing applications tied to the heart of eBay and were able to score real business meetings with the product managers and engineers to share their perspectives. That underscores the importance of encouraging young women to pursue careers in technology."
Special guest @ZoherKaru, VP of Customer Optimization and Data, chatting with the girls. #GWCeBay#GirlsWhoCodepic.twitter.com/pBRoeh0Q0t

— GWC eBay (@GWCeBay) July 8, 2014
At one session, Zoher Karu, vice president of customer optimization and data, offered practical advice on how to approach professional challenges and how to maintain an entrepreneurial mindset.
"The people who are most likely to succeed are the people who can understand the data and who can filter out what's important from what's not important," Karu said. "Try to understand the business and the technical side and figure out how can get something to scale."
Our employees who are also Olympic athletes @rcjohnsonjr & @Jessbeck3 offer encouragement to our @GirlsWhoCodepic.twitter.com/JHIWheVvK2

— eBay Newsroom (@eBayNewsroom) July 22, 2014
At another session, RC Johnson and Jesse Beckom, employees who are also Olympic athletes, discussed the importance of education.
"Always hold on to that drive. It will take you a lot further in life," Beckom said.
Johnson emphasized that education, coupled with a strong work ethic would help the students go far: "If you're going to be the best, you're going to put that time in."
Our @GirlsWhoCode#selfie stream continues! Just another #TechTuesday w/ @GWCeBay at our HQ. pic.twitter.com/Kp2MhWmK28

— eBay Newsroom (@eBayNewsroom) July 29, 2014
eBay's Girls Who Code program also included a mentorship component designed to offer the students support from women who have traveled the same path. Sherman and the University Programs team recruited mentors to provide extra help and advice on what to expect in college. Mentors had lunch with their mentees each week, and one even led a weekly yoga class to help students unwind after long days in the classroom.
"Being a mentor on the Girls Who Code program was an exciting, refreshing, and humbling experience for me," said Soundarya Chandar, one of the mentors. "It felt really good to pass on lessons I've learnt in my career journey thus far to someone who is just starting out."
Jessie Babiarz, another volunteer mentor agreed and added: "I am so impressed with the energy and talent of the girls. They were a great reminder to dream big and stay curious."
What Students Learned
Girls Who Code aims to educate, inspire and equip girls with the skills and resources to pursue careers in technology – which eBay Inc. also views as an investment in the future. Students started the seven-week summer immersion program at our San Jose headquarters with an introduction to computing and moved into studying more complex concepts like robotics, graphics and animation, data structures and algorithms, and mobile app development and entrepreneurship.
Guided by teachers Rebecca Rodriguez and Yanny Zhang, the class designed and built personal websites, programmed robots to dance and write cursive, and gained working knowledge of MIT Scratch, Python, CSS, JavaScript and HTML. Students then split up into five groups and spent the last two weeks of the program developing their final projects, some of which were inspired by what they learned about eBay.
Hackathon presentations!!! @eBay@ebayinc@GirlsWhoCodepic.twitter.com/JJ5E9RsEW5

— GWC eBay (@GWCeBay) July 18, 2014
After they developed their app prototypes in a two-day hackathon, students pitched their ideas to eBay executives, who offered feedback to implement in the final projects, which included fashion discovery apps, a physics calculator and even a game.
A special guest, Reshma Saujani, the founder of Girls Who Code, stopped in one day to offer extra encouragement to students who chose to spend their summer in a classroom learning to code.
"We're a movement and you're the soldiers. You are the first," she told them. "There's something cool about walking out of this program and leading the movement to make technology cool and inspiring a new generation of girls."
Selfie with @GirlsWhoCode eBay girls pic.twitter.com/NFOXpH3M6b

— Reshma Saujani (@reshmasaujani) July 15, 2014
To see more photos from the program as well as the selfie stream eBay's Girls Who Code shared throughout the summer, check out @GWCebay on Twitter. And check out what our student programmers had to say about their summer.