eBay Inc. Arizona Data Center Earns Energy Star Certification, Is Year's Highest Scoring Facility
By: Lori Duvall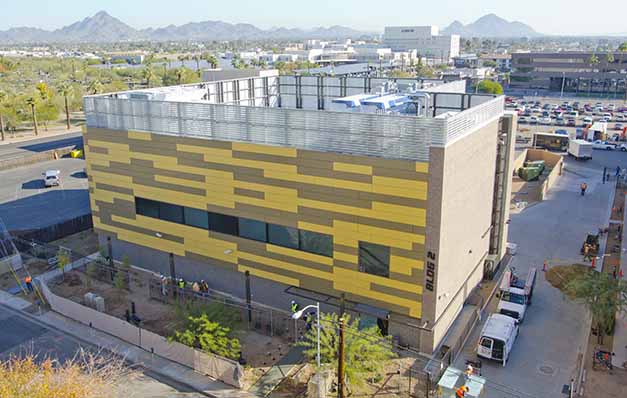 Last year, eBay Inc. unveiled its newest data center in Phoenix, Arizona. It was designed to be one of the most energy efficient facilities of its kind ever built.
Today, just a little more than a year after it opened, we're thrilled to announce the building has earned ENERGY STAR certification, an Environmental Protection Agency energy performance standard. This recognition is conferred upon a building, like the Arizona data center, that uses less energy, is less expensive to operate and causes fewer greenhouse gas emissions than its peers. And with a final score of 99 (the highest possible), our Phoenix facility is the highest scoring ENERGY STAR-certified data center in the U.S. this year.
On average, data centers in the U.S. use only 57 percent of their energy to actually power the computing that happens inside of them* – the rest of the energy goes toward air conditioners, back-up servers, security, and other systems that support the equipment doing the "useful work." The open-air cooling technology we've used in Arizona – one of the hottest states in the U.S. — is just one of the features that has helped make our facility so efficient. In fact, a minimum of 76 percent of the energy we consume powers our computers; and that number can rise to more than 95 percent — even during the hottest days in the middle of the summer.
Another key element of our success has been to implement a multi-year strategy to own, as opposed to lease, some of our data centers. In the locations where we own our data centers, such as our facility in Phoenix, we have been able to control every element of the site, from design to technology deployment rhythms and, ultimately can push even further efficiencies. This independence allows us the flexibility to take the bold steps needed to create the greenest commerce platform in the world, and the ENERGY STAR certification confirms we're moving in the right direction.
We plan to continue to hold our buildings to ENERGY STAR standards in the future. Our newest eBay data center near Salt Lake City, Utah, is slated to open this summer and will be powered entirely by on-site, cleaner energy fuel cells rather than the local power grid. Once it opens, we believe it will be a great candidate for the ENERGY STAR label.
We believe that eBay's long-term success and the health of our planet, depends on us running our business in a sustainable way. Programs like ENERGY STAR are just one way we're moving things in a greener direction.  Stay tuned for more updates on how the journey's going!