eBay Marketplaces: Third Quarter Highlights
By: eBay Inc. Editors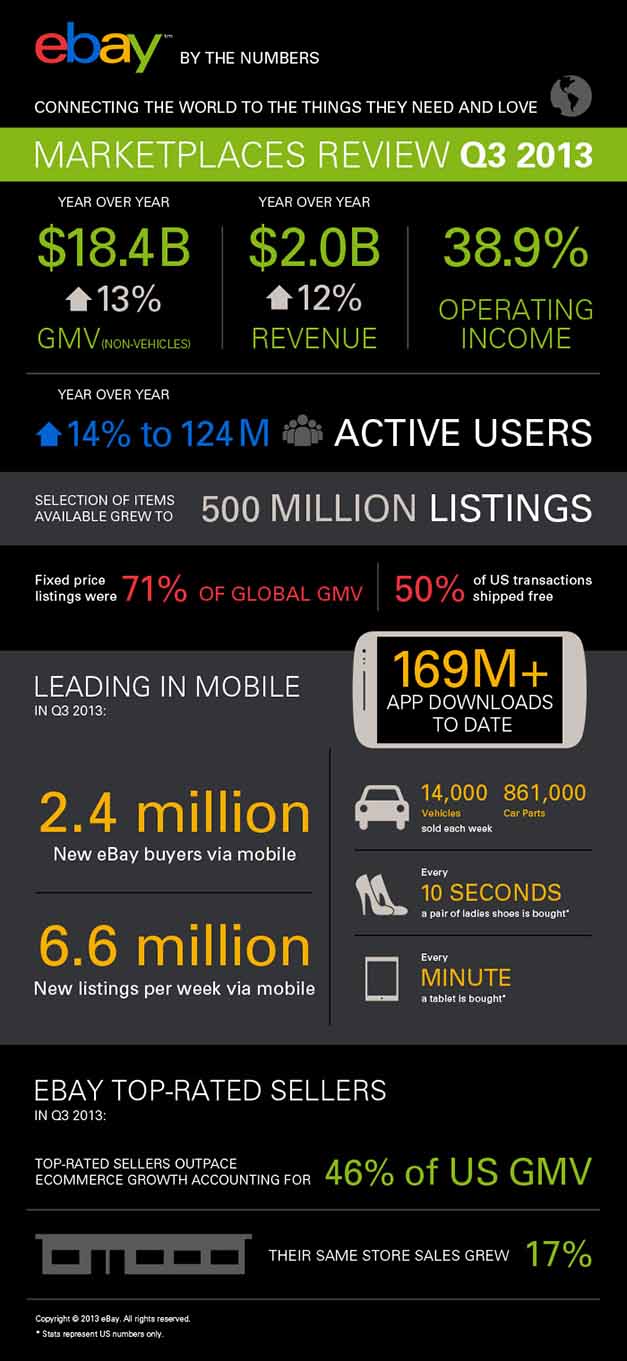 (Note: All growth rates represent year over year comparisons, except as otherwise noted.)    
In Q3, eBay Marketplace's core or non-vehicles GMV grew 13 percent. And in the US, core GMV was up 15 percent. Active user growth was also up to almost 124 million.
Top-rated sellers continue to deliver a great experience and outpace ecommerce growth, accounting for 46 percent of US GMV in Q3. Their same store sales grew 17 percent. Fixed price listings account for 71 percent of GMV globally. And more than half of all US transactions shipped free in Q3.
eBay continued to see strong growth in mobile, with 2.4 million new users acquired through mobile in Q3.
eBay also continued to innovate in local, with expanded coverage of eBay Now in the San Francisco Bay Area and New York. In time for holiday, eBay Now plans to launch in Chicago and Dallas. And eBay Now will go global in 2014 with a planned launch in London.
Speaking of the United Kingdom, eBay announced a "click and collect" partnership with Argos. The service will launch with 50 eBay merchants able to offer customers fast, free and local pick-up at 150 Argos stores. eBay is also offering click and collect functionality for all large merchants who wish to participate and offer pickup in their physical store locations. In the US, eBay plans to partner with select retailers in Q4 to offer in-store pickup for items purchased on eBay.
More brands and retailers are turning to eBay as a new way to reach consumers. In Q3, 34 brands and retailers signed agreements to open stores on our platform.
Check out the Marketplaces infographic for Q3 highlights: