Fine-Tuning the eBay Engine: Our Q1 Digital Service Efficiency Results
By: eBay Inc. Editors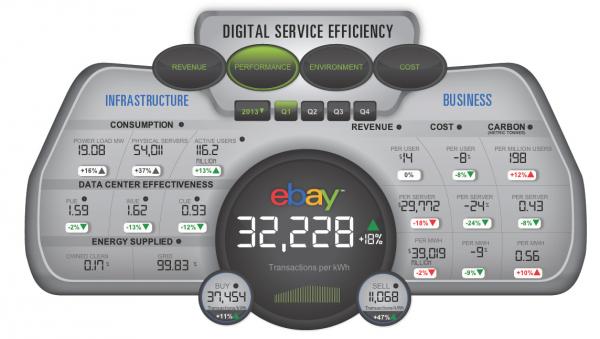 Earlier this year, we unveiled the Digital Service Efficiency (DSE) methodology, our miles-per-gallon (MPG) equivalent for viewing the productivity and efficiency of our technical infrastructure across four key areas: performance, cost, environmental impact and revenue. The goal of releasing DSE was to provide a transparent view of how the eBay engine is performing, as well as spark an industry dialogue between companies, big and small, about how they use their technical infrastructure and the impact it's having on their business and the planet. In the past month, we've been excited to see – and participate in – the dialogue and conversation that has come as a result.
When we shared DSE externally for the first time a couple months ago, we also set a number of performance goals for 2013 and committed to disclosing updates on our progress on a quarterly basis. Today, we're pleased to share our first such quarterly update with year-over-year comparisons and analysis. You can find the full Q1 2013 DSE results here and click through the dashboard yourself to see the full cost, performance and environmental impact of our customer "buy" and "sell" transactions.
Here's where we stand on the progress toward 2013 performance and efficiency goals:
• First, our transactions per kWh increased 18% year over year. The growth of eBay Marketplaces and continued focus on driving efficiencies have contributed to this increase.
• Second, our cost per transaction decreased by 23% in Q1 alone, already exceeding our initial goal.
• Third, our carbon per transaction showed a net decrease of 7% for the quarter. As we're still on track for our Utah Bloom fuel cell installation to go live this summer, we expect this number to continue to decrease and contribute significantly to our 10% carbon reduction goal for the year, even with our projected business growth. Recognizing that our dynamic infrastructure changes each quarter, we're confident that we're on track for our 10% net gain across performance, cost and environmental impact for the year.
We've seen a few other interesting trends as well:
The New eBay: Over the last year we've added numerous new features to our site. Last fall, we rolled out our feed technology that makes the shopping experience on eBay.com more personal to each of our individual users. On the back-end, with this curated site personalization, we've seen a jump in our transaction URLs as the eBay feed technology increases infrastructure utilization. This is one example of our customers site use driving a more productive work engine.
Continued Growth and Efficiency: As you can see on the dashboard, we had a significant spike in the number of servers powering eBay.com – a 37% increase year over year. The rise is in direct response to increased customer demand and personalization for our users. And while we added a significant amount of new servers, we were able to limit the increase of our power consumption to just 16% (2.69 MW). Compared to the first quarter of last year, we've reduced the power consumed by an average of 63 watts per server; this is a direct result of our efforts to run more energy efficient servers and facilities.
Running a Cleaner Engine: As eBay aspires to be the leading global engine for greener commerce, we're continually focused on integrating cleaner and renewable energy into our portfolio. In March, our Salt Lake City data center's solar array came online and though it's relatively small, it increased our owned clean energy powering eBay.com by 0.17%. Our active projects with fuel cells and renewable energy sourcing will continue to increase this value through the year.
Continuing to Refine Our Approach: When we first announced DSE, one of our top priorities was continued transparency into our metrics, calculations and lessons learned. Along those lines, the greater transparency has also sparked internal conversations at eBay about how our server pools are categorized.
To read more, please go to our DSE Blog.