Green Team Lunch 'N Learn With Annie Leonard
By: Caitlin Bristol
Around the eBay Green Team, activist and filmmaker Annie Leonard has a bit of a green celebrity status, which explains why we were really pumped when she visited the eBay North campus in San Jose. She talked with Green Team members about her work to raise awareness of environmental and social issues, and the role she felt eBay could play in being a solution to the problem. Needless to say, it was an enlightening and inspiring experience for the Green Team and we knew you'd enjoy hearing some of Annie's thoughts too.
The beauty of Annie's work is that she takes hard-to-understand, but important topics and creates accessible, animated films that reach a wide audience. In "The Story of Stuff," Annie takes a look at the way we make, use and throw away stuff. With over 15 million views since 2007, it's one of the most watched environmental-themed online movies of all time.
At the eBay Green Team Lunch & Learn event, Annie explained that she got the idea for "The Story of Stuff" because she wanted to "experiment with talking about the issue in ways that might engage people and get them interested. Traditionally, environmentalists are a whiny and wonky bunch, complaining with charts in our pockets – and then we wonder why we're not invited to parties!"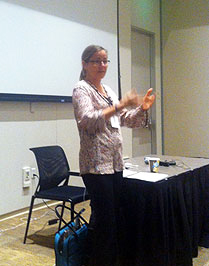 According to Annie, the three big issues facing society are:
1. We're trashing the planet: "All of the stuff we have has a life before us (factories) and a life after us (dumps)."
2. We're trashing each other: "Toxic chemicals are in our food, our toys, our clothes, even newborn babies."
3. We're not even having fun doing it: "Studies show that the things that actually make you happy are not things. Nowadays we have more stuff than ever before, but less friends."
The first step to recovery is admitting you have a problem, right? While we've definitely realized and begun to take action against some of these issues, Annie provided a lot of insight on how a company like eBay could make a difference. "What does it mean to be a business with values? So many people look to you for leadership, to understand how to do business in the world," she explained.
eBay could use its green leadership in several ways, she said:
1. Turn the volume up on the conversation about reuse. 

2. Educate buyers and sellers about hazardous materials and preferable choices. 
3. Engage staff and users to be more engaged citizens.
While our latest Green Team initiatives are in the right direction, it was an inspiring reminder that our community of over 300,000 (and growing) has the power to go even further. As we continue to talk about and encourage reuse, connect buyers and sellers looking for green alternatives, and evaluate our own practices, we're gaining momentum as we collaborate to cause bigger change.
Annie's latest movie, "The Story of Change," about how to create deep, lasting social change in the world, came out July 17th on the Story of Change website. "Change is definitely coming," Annie said. "The question is not if, but how – design or disaster? Will we have time to change by design? If we start now and be strategic and compassionate – then I absolutely think yes."