Happy Birthday, Apple App Store…And Happy Birthday, eBay Mobile
By: Steve Yankovich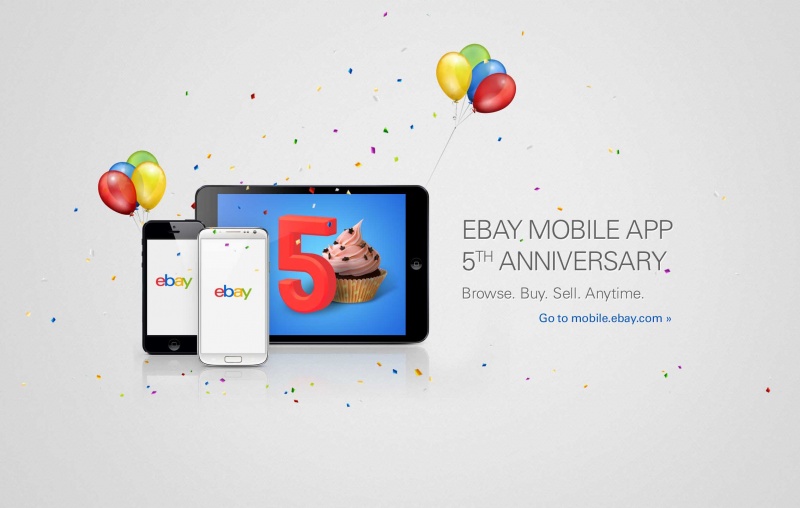 When it comes to milestone years for change and innovation, 2008 is hard to beat. That year, the large hadron collider, the world's largest and most powerful particle accelerator, went live; Michael Phelps won a record-breaking eight gold medals at the Beijing Olympics; and most importantly for the tech world (and beyond), Apple introduced its App Store on July 10 and enhanced the appeal of the iPhone, introduced a year earlier. By pairing a mobile phone with a usable browser and fun and functional apps, Apple ushered in a new a new era of what it meant to use the Internet.
It's hard to imagine our lives now without instantaneous access to apps like Uber or Airbnb. Apps like these have not only changed discovery, but they have also introduced a new way of thinking, dramatically shifting consumer expectations.
But back when the App Store originally launched, mobile had yet to become the dominant force that it is today. What a difference five years makes. Now, mobile is king wherever you turn, and the App Store has expanded its offerings from the roughly 500 apps it had at launch, to over 900,000 now.
I'm proud to say eBay and PayPal were among those 500 apps available right at the start. With the help of iOS leading the way via the App Store, eBay has seen tremendous engagement. Since 2008, the company's suite of apps have collectively been downloaded over 162 million times.[1] We at eBay owe a lot to Apple's success with the App Store and iOS operating system. Not only did our apps generate $13 billion in GMV last year (more than double what we generated in 2011), but they've also allowed us to experiment, expand, and establish ourselves as the mobile commerce leader and change the way people are shopping and paying.
You don't have to take my word for it. We recently challenged over 200 consumers to see how apps have changed their lives, and the results are startling. Over 1/3 of the participants weren't able to survive four days without using an app – some even said they felt naked, powerless and lost. 55% felt happier and 40% felt more productive when they were given back their apps. (For more stats, check out the infographic below.)
The best news, however, is that the past five years are only the beginning. My Innovations and New Ventures group is focused on creating technology, experiences and businesses that focus on the concept of "connected commerce", and leveraging a new generation of apps and other inventions intended to continue changing the face of shopping.
Working with my team, I see three particular trends emerging from the next round of app innovation.
First, consumers use apps in two ways, one to fill time, take care of boredom so they use apps to entertain themselves. The other is they do what I call snacking, short bursts of time with many apps. When you look at commerce within those two types of usage models it's mostly "mission shopping." But, soon we're going to see consumers come to expect their apps to create engaging experiences, to fit both the need for entertainment merged with the discovery and browsing of products. Imagine an entertaining experience that you engage with when you don't have a purchase in mind, but in the end it pivots to a discovery of something you love and want.
Second, consumers clearly have the appetite to adopt new technology with the popularity of smartphones and tablets being proof points. We'll see new internet-enabled technology like wearable devices hit the market, but we'll also see more devices within in our home and lives that will connect consumers with new consumer experiences.
And third, if you haven't noticed, personalization is king. I believe we're going to see some pretty innovative technology that will allow your apps to talk to one another seamlessly so that those apps that do things for us have a more holistic view of who we are and so do things for us quicker and with less friction.
The possibilities are endless.