Jobs, Jobs, Jobs: Trends and Insights from the Competition
By: Lauren Moore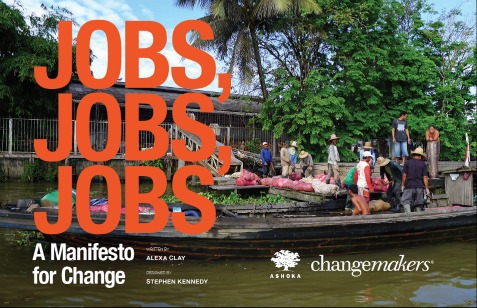 Over the past several months, we have introduced each of the winners of ourPowering Economic Opportunity: Create a World That Works competition withAshoka Changemakers. From Brazil to India, Indonesia to Paraguay, and right here in the US, the winners are advancing job creation among disadvantaged populations in truly new and innovative ways, and we are pleased to support their great work. Our competition has done more than just expose us to new projects, however. Through evaluating all of the entries and their diverse approaches, we have gained a deeper understanding of the global job creation field on the whole and where we can have the most impact moving forward. And we hope that by sharing the trends and insights we've learned through the competition that we'll not just make our own work more effective, but also inform the way the entire sector advances economic opportunity around the world.
Let's start with challenges. As we analyzed the entries, we came to see three primary barriers facing the job creation field today:
• Mismatch between labor supply and demand: In the US alone, over 3 million jobs remain unfilled despite over 8% unemployment. This illustrates to a disturbing trend. Vital sectors of the global economy do not have the human capital they need to function, and training programs have not adequately prepared workers for future job prospects and professional development opportunities.
• Short-term decision making: Governments, for example, often offer artificial stimulants to certain sectors (agriculture and the auto industries, most notably), and these undermine investments in future-oriented industries that can generate more long-term employment opportunities.
• The "exposure" problem: Individuals do not pursue opportunities because they do not know—and often can't access—what opportunities even exist. As a result, they do not have the requisite skills when they come to "discover" certain professions.
Far from simply identifying challenges, however, the competition entrants also helped us identify a set of common approaches for creating a world that works:
• Build self-regulating networks: In the field of job creation, intermediaries or "matchmakers" serve a vital function, acting as brokers between job supply and demand. Due to the inefficiency of job markets, intermediaries effectively create self-regulating networks for matching job seekers and job providers through platforms, mobile devices, and incubation programs. One example of this principle in action comes from one of our winners, Nuru Energy, and their model of identifying, selecting and training rural entrepreneurs who then create their own micro-franchises.
• Re-define "job": Innovators today are expanding the boundaries of what constitutes a "job". As a result, markets are being created around entirely new forms of employment, and individuals traditionally left behind in job creation strategies are participating and generating income. eBay's own success in creating meaningful, lasting economic opportunity for millions of people by radically changing the way buyers and sellers connect is a prime example of this insight. Similarly, the competition also introduced us to several other new concepts for "work," including citizen journalists, informal health care providers and solar micro-entrepreneurs.
• Make it stick: Programs that successfully generate jobs, and especially those that match job seekers with employment opportunities, have one thing in common. They allow for easy "opt-in" by offering social nudges. Made popular by economist Richard Thaler, a "nudge" is a way of getting people to make healthier choices through small but important strategies, like creating incentives or providing default options. Whether by designing a new model that makes it easier for governments to opt into workforce development strategies (like one of our winners, Twin Cities RISE!) or by developing close relationships with major retailers to reach new customers not traditionally part of the fair trade market (like another winner, Solidarium Fair Trade), innovators in the field are helping build a more effective job market through a variety of nudging tactics.
• "Tie-in" value creation: A job is only as good as its ability to afford economic opportunity and create wealth. Too often programs focus on creating jobs without providing the vehicles or instruments for building asset bases and long-term prosperity. Innovative strategies for value creation range from making education more immediately applicable to the job market (like one of our winners,Fundación Paraguaya) to micro-franchising programs that enable the development of women entrepreneurs and improve income generation (like another winner, Grameen Foundation).
By no means is this meant to be an exhaustive list of barriers and approaches—certainly organizations are advancing never-before-seen solutions and innovating models to address new and different challenges. And, indeed, we see many social entrepreneurs apply several principles to address multiple barriers. What this does illustrate for us, however, is where innovation is currently happening, as well as potential new areas of focus in the years to come. This, in turn, provides a powerful new lens through which we see the field of economic opportunity and our own work within it. We're encouraged by all the solutions put forth through the competition and we've learned so much as a result. We look forward to all that lies ahead.