A Kansan in Baltimore: My PayPal Summer Internship
By: Aley Brown, PayPal Talent Attraction Intern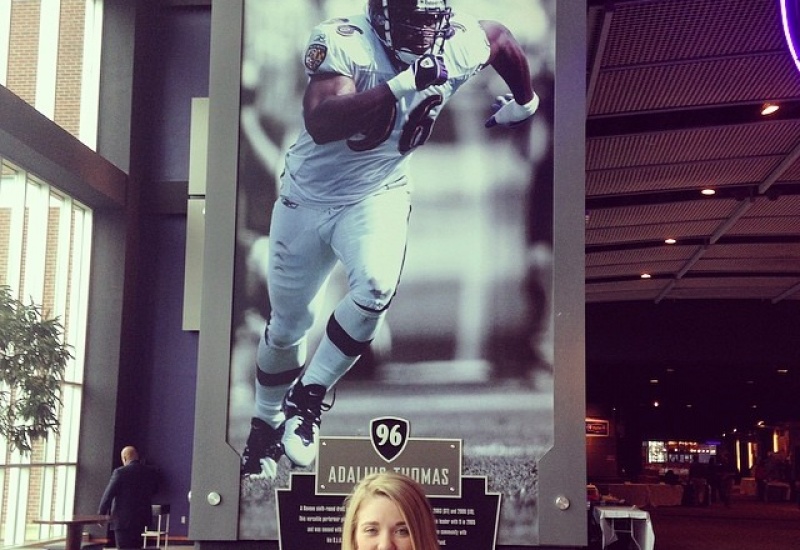 When I first received the news that I would be interning for eBay Inc . this summer, I had a mix of emotions come up from within me. First of all, I was excited to learn more about eBay Inc. as a company and expand my skills in the recruiting field. Second, I was terrified of moving from Kansas all the way to Baltimore. I had never left the Midwest before so starting a new job as well as relocating to a new area was a big undertaking. Though I was scared, I knew it would be an amazing experience so I packed up my little car and made the long drive to the East Coast for a summer I will never forget.
After I arrived in Maryland, I learned a lot about how to make it on your own in a completely different city. My first lesson came with friends. As a very extroverted Midwestern gal, I found living by myself to be very lonely. I learned to reach out to people nothing like me, and have gained some life- long friends. When my roommate finally arrived, I had to learn to make friends with her as well. It taught me a lot about how different personalities work together. While I am a very energetic outspoken lady, my roommate kept more to herself and was very independent. It was hard at first to learn how to connect, but I learned how to become friends with her through trial and error. She helped me learn how to relax and be more reflective, and I encouraged her to try new things and meet new people. As our internships progressed, I found myself looking forward to driving home and eating dinner with her. Despite major differences in culture, roots, and personality, we were able to form a bond from the shared experience of interning while living independently from our support systems. Having someone you can count on and confide in made the whole experience more enjoyable.
PayPal Talent Attraction intern Aley Brown represented the company at career fairs in the greater Baltimore area this summer.
I am happy that the work portion of my internship turned out to be just as successful. Two years ago, I took a personality assessment that suggested my ideal profession would be in Human Resources. After further investigation, I realized how perfectly my personality fit with the talent acquisition subset of HR. I also had experiences with online community management, web development, and social media marketing, which matched perfectly with the new Talent Attraction department of PayPal.
During my first week of working, it finally hit me that I had landed in an amazing opportunity. Since the department was fairly new, I was given room to experiment with marketing. My supervisor listened to my thoughts and was open to try any ideas I had. I was basically given a canvas for my internship and was allowed to paint any picture that I wanted so long as it helped promote the greater company initiatives. I had never been given so much room and support for innovation in the workplace. I took the opportunity and decided to run with it!
My first undertaking was to help improve the recruitment efforts of PayPal Credit Operations online. I put a social media proposal together for my managers, and they immediately supported the idea. Throughout the summer I worked on partnering with social media managers in different parts of the business, and worked on a strategy to advertise our jobs through social media. I am most proud of the response our social media efforts had in advertising for the Open House held in Hunt Valley, Md., this July. Using a small budget to advertise across Facebook, Twitter, and Pandora, our team was able to fill the open house, meet hiring numbers for the next two months, and reduce candidate costs to a fraction of what it would cost on traditional advertising channels.
I was also able to integrate the Apploi mobile application – which allows job candidates to apply from their mobile devices – into our department's recruiting strategy. Using the app, candidates can take a video of themselves explaining their strengths and weaknesses to be reviewed by a recruiter. The company also has kiosks across North America that allow people in workforce centers, shopping malls, and colleges to apply directly for jobs. I immediately became very passionate about this tool for its ability to connect job seekers with little access to information to PayPal's open positions. After working with the company, we have created our own branded kiosks to place in areas where we are hiring. Doing this will allow us to access a whole new demographic of passive candidates we have not been able to tap into in the past. Soon you will be able to walk into your local shopping mall and see a PayPal kiosk where you can apply to all of our open positions in that area. The integration of the Apploi mobile application has already shown huge strides, so our team is eagerly waiting to see the positive impact the kiosks will provide for all of our recruiting efforts.
My internship this summer has been invaluable to my career. I have learned so much about life, friendship, and the workplace. The biggest takeaway from my internship has been to take initiative in your experience. The program is what you make of it! I took the initiative to take our recruiting efforts onto social media, and was able to have a huge impact on the way our department will recruit in the future. As an intern I was given the access and support from my team to spark innovation, but it was only through my own initiative that I was able to succeed in making an impact. It not only applied to my work, it also applied to the friendships I created. Taking the initiative to reach out to others and create relationships has made my time here in Baltimore all the better.
To find out more about eBay Inc.'s University Programs, read some of our recent posts on the intern campout and the POWER[UP] 2014 conference in San Francisco.