Powering Economic Opportunity Winner Spotlight: Nuru Energy
By: Amy Millington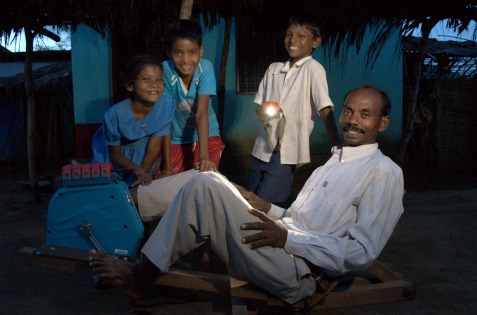 The five winners from our Powering Economic Opportunity: Create a World That Works competition with Ashoka Changemakers all have diverse and innovative approaches to job creation for disadvantaged populations. Over the next several weeks, we will feature each of the winners and the creative ways they are getting more people to work. Today, we're pleased to introduce Sameer Hajee.
Through his organization, Nuru Energy, Sameer enables individuals in East Africa and rural India to become entrepreneurs. Nuru allows people to operate their own microfranchises and earn more than $3 per day in profit, a figure three to four times the national averages. How does he do this? The answer may surprise you: by working to replace kerosene as a source of lighting for the two billion people who lack access to electricity.
Nuru has developed individually rechargeable LED lights and the world's first commercially-available pedal generator, the Nuru POWERCycle. To disseminate the new technologies, Nuru screens and selects local entrepreneurs to operate their own microfranchises. Each microfranchise operator sells the lights (for less than USD $6) and then charges customers a small fee to recharge the lights in the same way they would purchase kerosene—in increments, when they have income. The result is not only new opportunities for work and lighting at an 85 percent savings, but also fewer households using kerosene, which in addition to being a respiratory health and environmental hazard, also poses a significant fire risk.
Sameer began to form the concept for Nuru while he was the Global Business Development manager at Freeplay Energy PLC, developers of the world's first hand-crank radio. While there, Sameer created and managed several projects and initiatives, one of which was the creation of 50 rural energy enterprises in Rwanda. Through his extensive work on energy solutions for low-income households around the world, Sameer learned that off-grid energy solutions were not always reliable, as they require an external energy source (like fuel, sun or wind), and not easily scalable due to large up-front costs and sophisticated maintenance/repair infrastructures. His idea began to take shape.
Armed with $200,000 in winnings from the 2008 World Bank Lighting Africa Development Marketplace Competition, Sameer and his co-founders developed and tested the Nuru idea over a 10-month field trial in Rwanda that saw over 500 lights sold and 10 microfranchise owners operating profitably. Information and feedback from this and subsequent field trials in India were used to repeatedly improve the Nuru model, culminating in a solution that has been adopted by over 5,000 households across Rwanda and India to date.
We are inspired by Sameer and Nuru, and look forward to the impact he will have as the enterprise continues to expand. Nuru is currently planning to expand to 5 states in India and 5 additional countries across Africa, and is beginning to look at other products and services they can make available through their microfranchises (like mobile phone recharging or fast-recharging radios). We're pleased to support this growth and will keep you updated on Sameer's progress.
You can read more about Sameer Hajee and Nuru here, in a piece published on Forbes.com following the announcement of the eBay-Ashoka Changemakers competition results.