Skills De-Coded: What eBay Inc.'s Girls Who Code Learned
By: Ana Cantu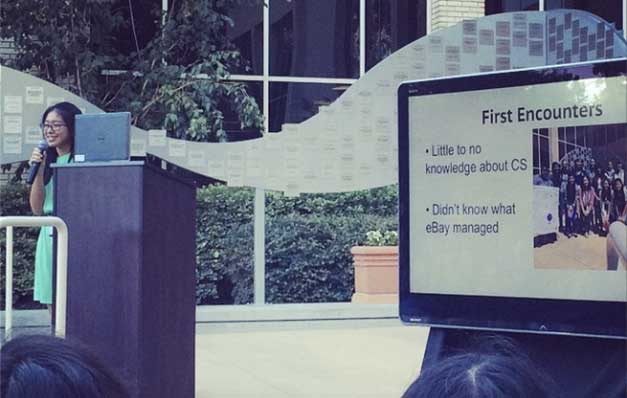 eBay Inc. had the privilege of hosting 20 students-turned-programmers this summer in partnership with the nonprofit Girls Who Code, which aims to achieve gender parity in computing fields. Our students worked in teams to produce fashion discovery apps, an online marketplace for college students, a physics formula calculator and even a game that teaches logic skills to middle-schoolers.
Happy to announce that our GWCeBay team, Grey Dot Developers, just released their app on the Google Play Store! pic.twitter.com/Mbr8i4zffm

— GWC eBay (@GWCeBay) August 15, 2014
We learned so much from them and wanted to let them share their thoughts on the program in their own words.
Emma Brown, 17, Abraham Lincoln High School:
"I've discovered a hidden love and talent in coding. Honestly, I've never really been great at math or science, so I assumed I wouldn't do well in the program. I was totally wrong. It's just proof that if you're willing to put the work in, anyone can code. I definitely want to pursue coding as a career in the future."
Shannon Washington, 17, John F. Kennedy High School:
"Girls Who Code is the greatest experience any teenage girl could get. Not only does it teach you to code, but it allows you to meet people that you would have never met before, make new friends, and take field trips to the most amazing tech companies that are out in the world."
Isabel Young, 17, home school:
"I have always been very close with my brother who has always been interested in computers and has planned since age seven to be in computer science. I learned about computers through association with him, But also harbored a fascination with horse riding games and later on, the Legend of Zelda universe. I, regrettably, no longer play horse games, but still enjoy a good game (especially of the horror genre) and want to learn how they're made, especially the animations. I enjoy school (other than math) and love to dance even after 12 years, although it takes up all of my extracurricular time. While I don't plan on perusing a career in programming, I currently volunteers at my local museum as a docent and want to work with the art and artifacts as a career, this interest has led me to realize the difficulty of transitioning from paper files to digital files in museums, which in turn encouraged me to look into learning more about computer programming."
Jessica Zheng, 17, Lynbrook High School:
"From competing in chemistry olympiads to being the art editor of my school's literary magazine, I've always been a person involved in both STEM and the creative arts. Coding gives me the freedom to explore different solutions to problems. I can build something from scratch, and make it exactly how I want. That's creativity to me. I'm no longer afraid of the gender gap. Because of the program, I know that computer science is the right path for me – it's something that I know I will enjoy."
Aura Barrera, 16, Oakland Technical High School:
"The Girl Who Code program is a very big commitment for both me and my family. I live in Oakland and the commute itself is very taxing. However, this is a great investment of my summer. The appeal of learning a new skill, finding a community of girls with similar interests, and being able to make a change for gender equity excites me."
Anu Polisetty, 11th grade, Evergreen Valley High School:
"Saying that I'm only learning how to code is an understatement; I am learning how to interact with people, how to problem solve and what it's like to be part of a corporation. (I mean. I know I'm not really part of eBay but it's super cool that I get the feel of working in a company.)"
Erin Jimenez, 16, Archbishop Mitty High School:
"In GWC, I am learning how to be successful in the field of computer science and build a career for myself by learning coding skills and social skills. I have met many women who have done what I aspire to do and women in this program who have the same interests in computer science as myself."
Corazon Ruiz, 16, Santa Teresa High School:
"The Girls Who Code program has opened my eyes to new things and has I have learned so much. If someone walked up to me and told me I can code, I wouldn't believe them, but now I feel like I can do anything any coder can do."
Manvitha Talasila, 15, Presentation High School:
"We are mainly learning how to code, emphasizing Java and Python. But in a general context, we are being given the tools to succeed in a male-dominated industry. So far, we have gained valuable knowledge about the IT industry and have developed a family of people from different backgrounds who all have one thing in common: to use computer science to make a difference."
Karen Kauffman, 16, Mountain View High School:
"Girls Who Code has provided me with an opportunity to learn computer science and its applications in a far more engaging way than one would normally experience in a standard classroom setting.  In addition to learning how to code in Python and JavaScript, I have also been exposed to corporate environments through field trips to companies including Google and Facebook, giving me an all-encompassing exposure to the world of computer science and technology."
Vivian Zhang, 16, Evergreen Valley High School:
"Girls Who Code gave me a whole new perspective on the tech industry. It showed how engaging and complex computer science truly is. We've networked with so many people who are so passionate about their respective fields, which inspired all of us to be a part of Girls Who Code's mission to bring this opportunity to all girls around the world. "
Sophia Minhas, 15, James Logan High School:
"Girls Who Code is an amazing seven-week program that basically teaches girls to code through different computer software. We have learned different coding languages such as JavaScript, HTML, and Python and we have coded a range of items ranging from robots to web pages. We have also met a variety of important people such as John Donahoe and Richelle Parham and visited some of the top companies in the world, not to mention learning in one. This has been an amazing journey and I am so happy to be part of Girls Who Code!"
Alexi Hernandez, senior, Kipp San Jose Collegiate: 
"I wanted to say that through the Girls Who Code program I have learned so much more than computer science. I've learned networking, professional skills and Girls Who Code introduced me to a whole new world. This program not only gave me a passion but a family."
Neha Tibrewal, 17, Presentation High School:
"I joined Girls Who Code because I wanted to get more girls excited about technology. As a leader of an all-girls Robotics team, I know what it is like to be surrounded by hundreds of males, all who think that, because I'm a girl, I can't succeed in technology. That's why I joined the Robotics team, I wanted to prove that girls are just as good as boys. And you know what? We went to the World Championships this year. We were one of 400 teams out of 3,000 to get there. That's why Girls Who Code is so great. It teaches us that we are in no way inferior to men by putting us in a room full of other girls who want to learn about computer science and other male-dominated things."
Leslie Nguyen, 15, Andrew P. Hill High School:
"I'm learning not only how to code, but learning to expand my knowledge about the technology gap and field. I am learning the truth about computer science, and it is amazing."