Spreading Cycling Fever - One Employee at a Time
By: eBay Inc. Editors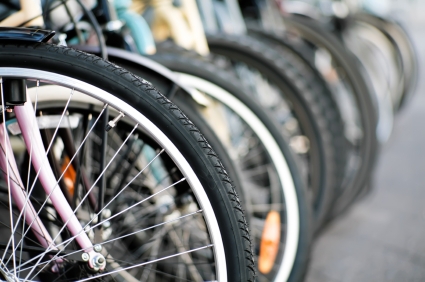 The eBay Green Team was temporarily relocated to our second campus in San Jose, where we have had a whole new eBay campus to explore. After discussing, tasting, and analyzing all the differences in the cafeteria food selection, we found ourselves sitting outside, struck by the plethora of bikes everywhere around the eBay campus. Not only did more people bike to work every day, but there seemed to be somewhat of an underlying organization to everything cycling related. We needed to find out what was going on behind the scenes, so we started asking around and was soon connected to cycling enthusiast Paul Metz, an eBay PayPal veteran of 7 years.
Paul started out as we all did – cycling in his youth solely for fun and to get around during the summer. Then, as is almost bound to happen once we enter high school and receive that coveted drivers license, biking to work and school became an afterthought. However, unlike most of us, Paul's cycling story didn't end there. Just before entering college, Paul Metz went on a bike tour across New England – and maybe that was the spark that later ignited the cycling fire he has today. In college, Paul started pedaling a lot more, as most college students do when class, food, and friends are all within a 5 mile radius. Once out of college and married, Paul and his wife went to being a one car family – so out of necessity, he started cycling again. At first it was only a couple miles, and then it was nearly 5 miles just to catch a carpool ride into work, and then it started to become somewhat of an obsession, turning into riding nearly 25-30 miles roundtrip to work on a daily basis – uphill both ways in 4 feet of snow (okay, not really, but isn't that always what our dads would have lead us to believe?).
Simply because he loves cycling and wants to share it with fellow PayPalians, Paul proactively created a cycling webpage as well as a cycling email list for employees to use in order to connect for lunchtime rides, find information on biking to work, or even share general bike knowledge with one another. He also created an unofficial bike share program comprised of 8 bikes on our North eBay campus that people can check-out and use for lunch rides or to run errands during the day. Some folks have even used the bikes for extended periods of time going back and forth from work.
As part of this completely grassroots bike sharing program, Paul has mobilized a team to staff an "Energizer" station for the Silicon Valley Bicycle Coalition as part of Bike to Work Day here in San Jose (May 12th this year). To support other cyclists, Paul and his group of dedicated employees will spend the morning passing out Bike to Work bags and "fuel" (bananas, water, etc) to those who choose to ride to work.
A true eBay Green Team-er, employees like Paul Metz who advocate and engage with their peers about their own eco friendly ideas are key to making any company a real green workplace. Paul's enthusiasm for cycling has encouraged other eBay employees to take part – arguably much more effectively than any pointed internal marketing campaign ever could. We're lucky to have Paul inspiring us to bike to work, and doing his part to make eBay and PayPal great, green places to work.