The Cycling Adventures of Gibran Borja
By: J.D. Norton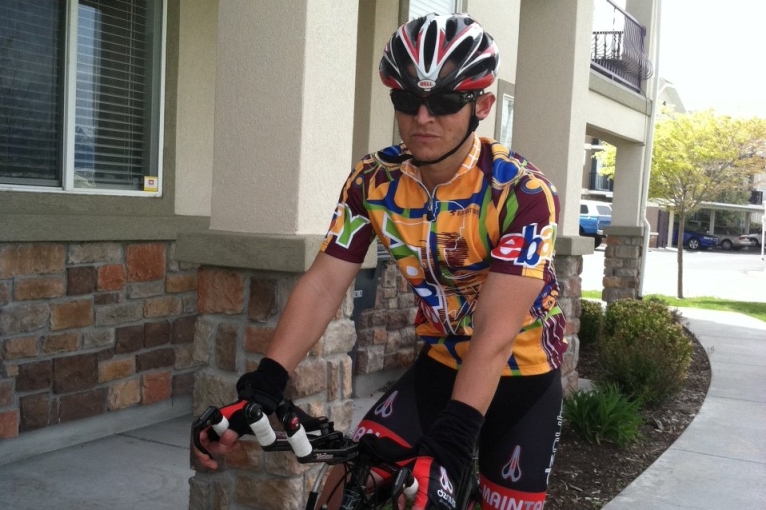 As part of our 2011 Bike Month cycling advocate feature stories, we've already introduced you to two of our amazing "bike to work" advocates – Paul Metz from San Jose, California and Dave Dusatko from Omaha, Nebraska. In the last of our Bike Month feature stories, we'd like to introduce you to Gibran Borja (yes, just like the famous author, Khalil Gibran) who works in our Salt Lake City, Utah office as an eBay Top Seller Account Manager.
As in Omaha, biking to work in Salt Lake City, especially during the wet springs, chilly falls and snowy winters can be tough. It definitely takes a deep commitment level to cycle year round. Gibran has that commitment level, and it has only grown since he was a young boy when he began riding along with his Mom as car support for his Dad, a competitive cyclist. Cycling is something he says he's always been passionate about, but his passion has put him on a bike saddle more than in a car seat for about the past 10 years now. During his collegiate years, he even began racing competitively.
Breaking form from our previous two Bike Month employee cycling features, we're giving you a straight question and answer session with Gibran himself.
Between Gibran Borja and JD Norton of the eBay Green Team
JD Norton: What got you into cycling in the first place, Gibran?
Gibran Borja: A couple of reasons why I got into cycling:
a) Riding my bike helped me complete errands for my mother in a more timely fashion
b) Watching Lance Armstrong & Dave Zabriskie during the Tour de France really inspired me.
c) Cycling has been a great tool I've used to support charities and drive change.
JD Norton: Do you commute to work daily? If so, how long is your daily commute?
Gibran Borja: Weather and air quality permitting (the Salt Lake Valley has some of the worst air in the nation for several months throughout the winter due to the inversion); I try to commute to work as often as possible. It ends up being a good 14 miles one way. Those who sit next to me at work, and myself for that matter, can't thank eBay enough for providing us with an awesome gym that includes showers.
JD Norton: What is one common misconception about cycling that you'd like to clear up with non-cyclists or those who think cycling to work is too much of a hassle?
Gibran Borja: Sporting the spandex is not a requirement when commuting to work, or cycling at all for that matter… although I certainly prefer to do so. Moreover, preparation is key. I get everything ready to go (meals, office attire, etc) the night before. Lastly, Utah law requires a 5 foot cushion between motor vehicles and "vulnerable road users" such as bicyclists.
JD Norton: What other cycling activities do you do outside of work?
Gibran Borja: Other cycling activities I enjoy are participating in local charity rides like the MS150 and several others that I'll be riding in California this year: Levi's GranFondo and SLO GranFondo. I am also a USA Cycling license rider and compete in local Crits, Hill Climbs, and TimeTrial races. Volunteering with SLC Bike Collective is also a great time!
JD Norton: What do you do internally to support cycling culture within eBay?
Gibran Borja: SLC MS150 Team Paine members (team named after our dear friend Tim Paine) and I have been organizing various events to raise funds for MS, such as bake sales, giveaways, sprint races, etc. In addition, the team has found ways to promote the SLC Green Team and GIVE Team brand and initiatives in the community. Moreover, receiving the support and help from our local events group on some other initiative last year was tremendous. I have also volunteered to help with our local Bike to Work Week activities for several years now.
JD Norton: Share a secret with us about cycling in SLC that people may not know.
Gibran Borja: Pro cycling riders Dave Zabriskie and Levi Leipheimer have been known to show up for some of the local races. In addition, Salt Lake City currently holds Silver recognition as Bike-Friendly City and 2011 Tour of Utah jumped toUCI 2.1!!!
JD Norton: Rumor has it, you make sure to try and bike in all cities that you visit when you travel. Tell us more. Do you pack your bike? Borrow one? …..
Gibran Borja: I've been lucky enough to connect with cyclist in visited cities who have been gracious enough to trust me with their bike—one small fact I "forget" to allude to is the relationship my bike and garage door have developed recently.
I bring all my gear – pedals, helmet, etc. – and my friends provide the bike. Last year during eBay on Location in San Jose, I connected with one of our VP's who is part of a San Jose Cycling Club. Prior to any eBay meetings in the morning, and after running into my Manager and other co-workers in the hotel lobby on my way out wearing my spandex attire (hopefully, that didn't hinder my career opportunities), I connected with my friend and rode in the beautiful city of San Jose and even climbed Sierra Rd, a popular climb on the Tour of California. Any San Jose employees interested in riding when I'm in town, please let me know.
JD Norton: Anything else you'd like people to know?
Gibran Borja: Other activities I truly enjoy are ciclismo, biking, riding on my saddle, and pedaling squares (JD: that's all "code" for cycling in case you didn't catch that). I actually do enjoy doing other things besides cycling, like spending time with Lindsey, my loving wife of ten years, and two future pro female riders/daughters, Lexie (5 years old) and Halle (14 months old). In addition, I also enjoy volunteering with my family and with the SLC GIVE Team (a branch of the eBay Foundation).