There's An App For That
By: Lauren Moore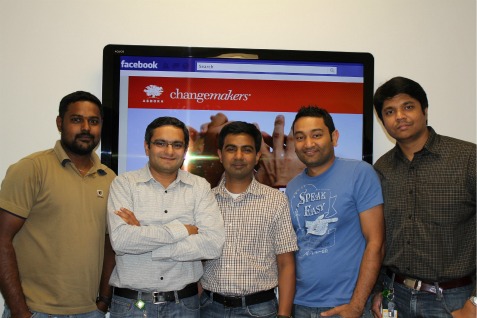 As The Opportunity Project (TOP) was conceived and launched, one idea continued to resonate: eBay's human capital is the most valuable resource in the company. And, if The Opportunity Project can help match the needs of our nonprofit partners with the skills and expertise of our employee volunteers (Team TOP), amazing things will happen.
Hemal Doshi recently led a team of eBay engineers in a Team TOP project, when Ashoka's Changemakers asked if eBay could help build a voting widget for the competition they are hosting with eBay Foundation, Powering Economic Opportunity: Create a World that Works. The team created an application for Facebook, exceeding the expectations of the Changemakers team and delivering a product much more comprehensive and powerful than the original request.
The team members who worked with Hemal include: Bala Shanka, Deval Dudhia, Nausher Ahmed Cholavaram, and Om Prakash Kannusami. All five Team TOP members have said that working on this project has been one of the most rewarding experiences they've had during their time at eBay.
We asked Hemal about his and the team's experience working with Changemakers:
What made you want to be a part of this project?
For many of us, eBay is much more than an ecommerce or a technology company where we work, but far more importantly it's a platform that is providing bread and butter to millions of families across the globe; it's the world's biggest employer. When we heard about The Opportunity Project, eBay Foundation's program with such a noble purpose at its core, we wanted to learn more. We heard of plans to fuel the creation of economic opportunity through social innovations that generate employment for disadvantaged populations, and we couldn't stop – we reached out to the Foundation and joined Team TOP, the skills-based volunteer program.
How did you apply the skills and knowledge you've acquired at eBay to this project?
That was easy. We applied the same eBay design principles in creating the FaceBook App for Changemakers:
Rather than building a single product, we built a platform, a social platform for Changemakers, that serves multiple functions.
We made the experience easy for users through low barrier interactive design, similar to the eBay experience. For example, with eBay we don't ask customers to sign in immediately and we allow them to browse and search until they are ready to buy.
Just like "one click bid," we built "one click Registration and Voting" which we are proudly patenting, and providing Ashoka's Changemakers with a royalty-free license to use.
Do you have any thoughts or advice for employees who want to be part of Team TOP?
If I can speak for our team, in our point of view as eBay employees, there is no better opportunity to make an impact than by being part of eBay Foundation's Team TOP, where one can truly contribute by doing what they do the best. Our creation of the Facebook app for Changemakers is a great example where five engineers got together and built an app. The app has the potential to influence and encourage people all around the world by creating social awareness, encouraging participation and engagement, and becoming part of the Changemakers community. And, there are opportunities for every employee. Creative designers can help design a product, product managers can help build the right specs, marketing people can help build plans, human resources employees can help build the capacity of organizations. We hope you will join us and join Team TOP.