Why You Should Go to an eBay Event
By: Betsie Bolger
One of the great things about having a business on eBay is that you practically never have to leave the house — unless, of course, you're still taking packages to the post office in person, work out of an office, warehouse location, or store your inventory somewhere other than in a spare room, garage, or shed. In fact, with a business on eBay, you almost never have to go offline, except to pack and ship and maybe source more inventory.
But there are several times each year…and maybe even each month, if you're lucky…that it pays to unplug yourself from the umbilical cord of the internet and go somewhere in real life: to an eBay event.
There are several to choose from, held several months apart, and each event is unique enough that it's well worth going to more than one. I'll give you a calendar below; but before I tell you where to go, let me tell you why you should go.
Two words: eBay Live! That was the grandmother of all eBay events, held every year from 2003-2008 until it finally became so overwhelming that it was more than even eBay could handle. But the incredible eBaysian spirit of that seminal convention — an amazing combination of eBay knowledge, eBay camaraderie, and eBay celebration — has spawned a year's worth of smaller events.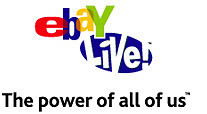 The first thing you'll notice at an eBay event is the absolutely immersive eBay culture. Suddenly you are among your own tribe: other eBay sellers who face the same issues and challenges that you deal with day in and day out. Just like you, they're there on a quest to grow and improve or maybe even just start up their business on eBay. You may finally get a chance to meet other eBay users in person who you know only through the boards or groups or eBay Radio, and for sure you'll meet plenty of new friends and business connections. Networking with other sellers is an invaluable and irreplaceable constant at every eBay event.
Then there are the seminars and workshops themselves. You'll learn from eBay and eCommerce experts with cutting-edge information plus incredible breadth and depth of expertise. They include the people who write the books on eBay; top sellers on eBay, eBay Education Specialists and Certified Business Consultants, and eBay team leaders and executives. You'll also get to speak with eBay employees face to face and get your questions answered in person. They're all there for your benefit.
Above all, going to an eBay event makes you realize that you are part of something larger than yourself. An eBay event gives you an unbeatable opportunity to get out of your comfort zone, spread your wings and consider new points of view, fresh insights and solutions. You'll discover new and maybe better ways of doing the same old things. You'll enjoy basking in the empathetic company of your fellow eBay sellers — and you'll also find the inspiration you need to become a better eBayer and business person once you're back home.
And one more reason to attend an eBay event: the swag! Here's what one attendee brought home from the 2009 eBay Radio Party & Conference. It's traditional to collect some extra souvenirs, if possible, so that later you can sell them on eBay.
So now that I've got you chomping at the bit to attend an eBay event, where can you find one? Coming up at the beginning of next month, there's eBay: On Location, a three-track event September 7 – 8 in Orlando, Florida. Early-bird registration at $59 continues through August 15th at eBayOnLocation.com; after that, it goes up to $79. That's still a whole lot of bang for your buck. Attendance is limited, so reserve your spot now. This is the second eBay: On Location for this year…no word yet as to next year's schedule.
Next up, just before you dive into the holiday selling season full speed ahead, is Kansas Jubilee: eBay to eCommerce, September 30 – October 1 in Hays, Kansas. This two-track event delves into selling through multiple online channels in addition to eBay. Registration is $49 at KansasJubilee.net, and the first 75 registrants will receive an eBay notebook and pen. You can also sign up for a free eBay listing or website evaluation. Again, attendance is limited.
Looking ahead to next year, mark your calendar now for the 4th annual eBay Radio Party & Conference, traditionally held in Las Vegas during the third week of June. Born in 2009 in the void left by the absence of eBay Live!, this unique two-day event is crammed chock-full of eBay education, information, networking, and inspiration combined with live radio broadcasts and assorted festivities celebrating the anniversary of eBay Radio, the world's longest running professionally produced internet radio show. Vendors of eBay tools, products, and services are also in attendance and available for up-close-and-personal interaction. It's all geared towards helping you achieve and maintain top-rated seller status.
You can get a monthly dose of all of the aforementioned eBay event benefits if you're lucky enough to live in an area where there's an active eBay sellers group (and if there isn't one, maybe you should consider starting your own!). Groups like Texas' eBaybes & eMales in Dallas/Fort Worth, Oklahoma's OKC Metro eSellers, Illinois' Chicagoland eBay Sellers, California's eBay Sellers of the Bay Area and New Hampshire's Seacoast eBay and eCommerce Sellers will provide all of the above on a local level. Check Meetup.com and the eBay Groups home page to find a group near you.
Now, put your eBay store on vacation, pack your best eBay-branded apparel, comfortable shoes, and plenty of business cards and schedule your trip to an eBay event!