Winner Spotlight: Fundación Paraguaya
By: Amy Millington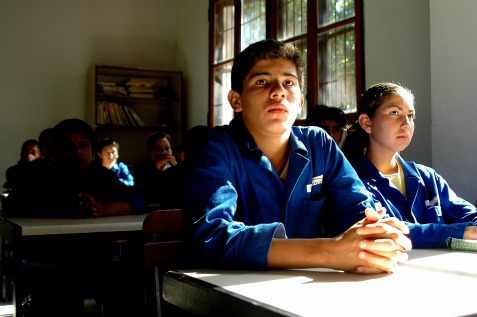 In a recent conversation with the Skoll Foundation, Martin Burt introduced himself by telling a personal story.
"In March 1999 I was mayor of the capital city of Paraguay and there was a popular uprising. It was a big protest in the central plaza, and democratic forces had assembled there to ask the president to resign because he had violated the constitution. And all of a sudden then they started shooting at the students and, one by one the students started falling, being hit. Many wounded. Eight died."
He went on to say, "There were many deaths, but it was a major victory for democracy because the dictatorial forces could not take over congress. Congress assembled the next day on Saturday and the President resigned on Sunday. My name is Martin Burt, and when my term as mayor was finished in 2001, I decided that I wanted to dedicate my life to working with people and promoting economic self-reliance from the bottom up."
Martin is the founder of Fundación Paraguaya, an organization advancing a new approach to education for low-income, chronically under-employed youth in Paraguay and other developing countries. Through their Financially Self-Sufficient School model, Martin and Fundación Paraguaya teach traditional high school subjects while also enabling students to start and run small-scale, on-campus agricultural enterprises, like dairy/milk processing centers, organic gardens, roadside stores and rural hotels.
To appreciate the impact of this model, you have to first understand that advancing agricultural education can be a critical factor for economic development, particularly for a country like Paraguay where half of the population is rural. Yet most developing countries don't have the resources to provide that education at no cost to all the young people who could benefit from it. Furthermore, many of the educational opportunities that do exist very often do not match the skills and training young people actually need to find a job and earn a decent living.
Fundación Paraguaya is changing this paradigm. By combining classroom curriculum with on-the-job training and business opportunities, students graduate with technical and entrepreneurial skills that they can more quickly and easily use to transition into jobs and financial independence. Not only this, but the student-run enterprises also earn enough income to cover all school operating costs, thereby ensuring the school's long-term financial sustainability without reliance on government subsidies, long-term donor support or costly school fees that would exclude the poor.
To date, 100% of graduates have found jobs, created their own employment or are continuing their education. With this success, the organization is working to replicate the Financially Self-Sufficient School model in other countries across the globe. The model is already being adopted in Bolivia, Brazil, Ecuador, Kenya, Malawai, Nicaragua, South Africa, Tanzania and Uganda (among others)—well on the way to the organization's goal of having the model replicated in 50 countries and 50 schools by 2017.
Martin has kept the promise he made to himself 13 years ago during the Asunción protests. Through Fundación Paraguaya and the Financially Self-Sufficient School model, Martin and his team are working to ensure that low-income youth not only access education opportunities, but also convert that training into employment and income. eBay Foundation is pleased to support the expansion of this innovative model, and looks forward to the significant impact it will continue to have on young people—and, indeed, entire communities—as a result.