Winner Spotlight: Grameen Foundation
By: Amy Millington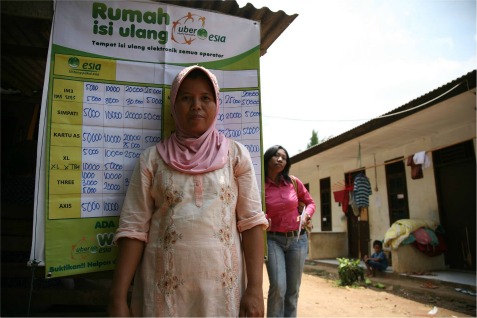 Take a moment and consider the following statistics:
• Indonesia has a population of more than 240 million people, making it the 4th largest country in the world
• The island of Java alone is home to more than 140 million residents in an area approximately the size of Florida—this makes Java one of the most densely populated places on Earth
• Fully 75% of the population lives below US $2.50 per day and 20% lives below US $1.25 per day
For most, this would be an overwhelming and nearly impossible challenge. For Alex Counts and the Grameen Foundation team, they saw an incredible opportunity to spark change. Despite the high level of poverty, they realized Indonesia had a very specific asset that they could tap into to: mobile phone penetration.
Indonesia's mobile phone penetration is 80%. The country is ranked first globally for mobile Facebook users and second globally in volume of SMS messaging. There is also a vibrant mobile environment with 11 mobile operators, dozens of content providers and mobile development shops, and an abundance of talented application developers. For Grameen Foundation, this mobile connection made for an ideal opportunity to help improve the lives of the world's poorest through access to information, financial services and viable business opportunities.
The core concept is simple, effective and sustainable: an interested entrepreneur purchases a pre-packaged kit that includes a mobile phone with a microfinance loan and then sells "airtime minutes" to their neighbors. It is this focus on the resale of mobile airtime that is critical. As a commodity that can be purchased frequently and in small denominations, mobile airtime meets the growing demand for affordable access to information and communication technologies and services. Additionally, the mobile phone itself also serves as a platform to provide additional applications and services (like providing job search services or access to real-time health or agriculture information) to further increase their revenues and go to scale. To date, the program has recruited over 7,600 of these mobile microfranchise entrepreneurs and served more than 775,000 unique customers.
The concept may be simple, but the impact is profound. Entirely 100% of the entrepreneurs are profitable and an estimated 47% of the micro-entrepreneurs who stay in the portfolio for more than four months are able to nearly double their incomes—effectively moving them over the World Bank poverty line of US $2.50 per day.
Additionally, more than 85% of the businesses are owned by women, of which 63% were earning less than US $2.50 per day before launching their enterprise. Once a woman becomes a mobile microfranchise entrepreneur, she can double her income and provide herself with lifelong skills, as well as the confidence and ability to improve her life and the lives of her children. Facilitating entrepreneurship in these poor communities—especially among women—is essential to strengthening their overall economies and social development, as well as directly empowering individuals.
Already off to a great start, the Grameen Foundation is looking to expand their network to 60,000 entrepreneurs serving 4,500,000 customers. They will also explore other geographies for replicating and scaling the model, and build out their set of strategic partners—which already includes the likes of Qualcomm, a global leader in wireless communication, and Bakrie Telecom, a wireless service provider in Indonesia with 14 million subscribers.
eBay Foundation had been a proud supporter of Grameen Foundation's microfinance initiatives for several years, so we were naturally thrilled to see theChangemakers community and our competition judges single out their innovative microfranchising program with this recognition. We can't wait to keep you updated on their progress!