Winner Spotlight: Solidarium Fair Trade
By: Amy Millington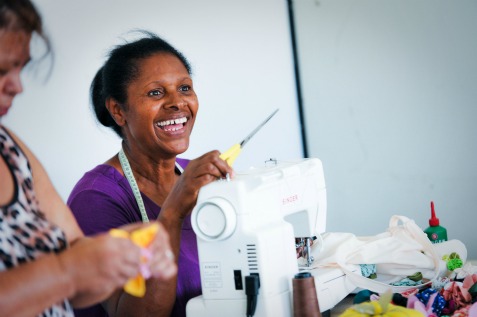 Thirty-nine million people in Brazil currently live on less than $2 a day, and Tiago Dalvi of Solidarium Fair Trade is working to change that. When he spoke with Ashoka Changemakers a couple months ago, he was clear about the major transformation he envisions for Brazil.
"We're creating a movement to overcome poverty. Within four years, we'll get more than 10,000 local producers out of poverty, and I'm sure that Solidarium will not only redefine the course of poverty in Brazil, but will create a market revolution in our country."
Transforming a country, especially one the size of Brazil, is a big goal, but Tiago has a solution that looks like it will do just that. Tiago is the founder of Solidarium Fair Trade, one of the five winners of our Powering Economic Opportunity: Create a World That Works competition earlier this year. His model is simple yet powerful: connect local producers of home and life goods directly to top retail chains throughout Brazil, such as Walmart and Lojas Renner (formerly JC Penney). By avoiding complicated local fair-trade networks and building relationships directly with otherwise inaccessible retailers, Solidarium helps producers reach larger markets and boost their average incomes.
To build these retail connections, Solidarium begins by observing what buyers and sellers want in categories ranging from home décor and kitchenware, to fashion and accessories. Out of this marketplace analysis, Solidarium works with a nationwide network of designers and producers to develop desirable new products, which retailers can then purchase and resell directly to consumers. By doing this, Solidarium enables local producers to be more responsive to consumer desires and market trends, which in turn facilitates a greater number of fair-trade products making it to the shelves of the world's largest retailers.
Since its inception four years ago, Solidarium has worked with more than 1,600 local producers across 12 Brazilian states. With average proceeds of $70 going directly to the producer when an item is sold, Tiago's model represents a significant opportunity for the millions of people living in poverty in that country. Also noteworthy, the majority of local producers to date have been women aged 30-60. As a result of their economic advancement, these women have been able to help lift their families above the poverty line, improve the health of their families, provide better education for their children, and inspire others in their communities to do the same.
So what's next? With the support of eBay Foundation, Tiago is working to expand Solidarium's commercial agreements and strengthen its production network. He is also focusing on building an e-commerce platform with Walmart and extending his "decentralized fair trade" model into other countries around the world. That's certainly a lot to do, but with Tiago's excitement and passion, as well as his strong track-record of success, we're sure it won't be long before he achieves the big changes he has in sight.
We'll be sure to keep you updated and, if you want to read more about Tiago and his work, check out this blog post from Ashoka Changemakers.