Working and Selling Together: A True Marriage
By: Betsie Bolger
For me and my husband, the best part of owning a small business is also the number one challenge that must be faced and overcome: it's the two of us, working together… and…it's the two of us, working together. We've lived through the fighting phase of divvying up duties and authority, but not every couple does…or even can. And where the rubber meets the road, there's nobody driving this baby but us, so scheduling vacations and taking time off isn't easy.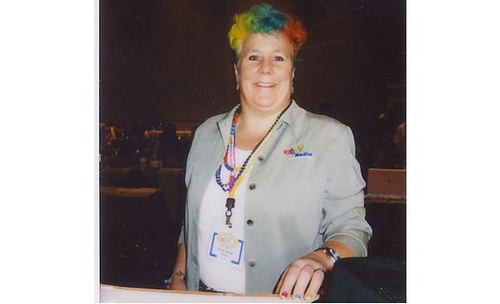 Let's talk about the good parts first. We get to spend almost all of our time together, which we think is great but it may not work for every couple. Considering that we used to live in two separate cities, it was a big and welcome change for us. Pre-eBay, I was a horse trainer (with weekend horse show and lesson commitments), while my husband was a nightclub DJ/VJ (a mostly weekend job). Not much chance of combining those two career paths into something we could both make a living at!
Thanks to eBay, which came along the year after we got married, we've been in business together ever since. Thankfully, figuring out who would do what was easy: he's great at photography and shipping, and I'm better at listing and communicating (I help out with shipping as needed, but he's in charge of how it's done). So our skill sets mesh nicely, and we each get to take turns being the boss of something.
But working out the lines of authority without confusing them with personal autonomy took some doing…and maybe even some therapy. It's gotten easier as we've gotten older; he doesn't get mad if I have a suggestion about shipping presentation for a particular item, and I don't get upset if he tells me what I should say in a listing. Well, not as upset as I used to get. Most of the time, anyway. In fact, sometimes I even ask for his input, especially when it comes to listing jigsaw puzzles.
Also as we've "matured" (such a nice way to say "gotten older"), we don't often fall back into the trap of bringing domestic irritations to work with us. That's something any couple who both live and work together need to watch out for. There's something to be said for going into business as a couple during your AARP years, because you're usually past the Sturm and Drang of a younger marriage (and some couples shouldn't work together at any age!).
Our business on eBay includes our own account plus an account that we handle for a client. Our own account tends to ebb and flow depending on how much we've got going on in the client account, and our goal for this year is to achieve a better balance so we're not sacrificing business in our own account because of the demands of the client account. Again, the onus is on the two of us to figure out how to better structure our time and productivity to make that happen.
Once we get that sorted, we'll give some serious thought to how we can schedule a break from the production line (which will have to be timed to coincide with breaks we get from part-time side jobs each of us has). As it is now, we're never away long enough to ship late, and we never go anywhere without an internet connection.
Luckily, we enjoy the challenge of integrating work into our lifestyle. We're happy being a mom-and-pop shop, and we have no plans to expand beyond what we can handle between the two of us. But we do have a couple of friends who only work part-time, and they may step in this year to help us out from time to time so that we can keep firing on all cylinders.
For all its changes, eBay is giving us a good living and a good life. It offers both scalable opportunity and sustainability. For small-business entrepreneurs, it doesn't get much better than that. Who else would hire the two of us as a team, and pay us this well? It's a wonderful job…and we got it on eBay.
– eBetsy
Betsie Bolger is a full time eBay seller and an education specialist trained by eBay. As a producer for eBay Radio, Betsie develops content and scripts for the twice weekly live broadcasts. Betsie is also a certified eBay Ink Social Media Seller.