Economic Opportunity is Right in Front of Us
Recommerce — the sale of secondhand goods — has been part of business since day one. We have continued this tradition ever since, and our new Recommerce Report further underscores our purpose. Consumers worldwide recognize that recommerce can be a potential source of great income, with the added benefit of contributing to a healthier planet.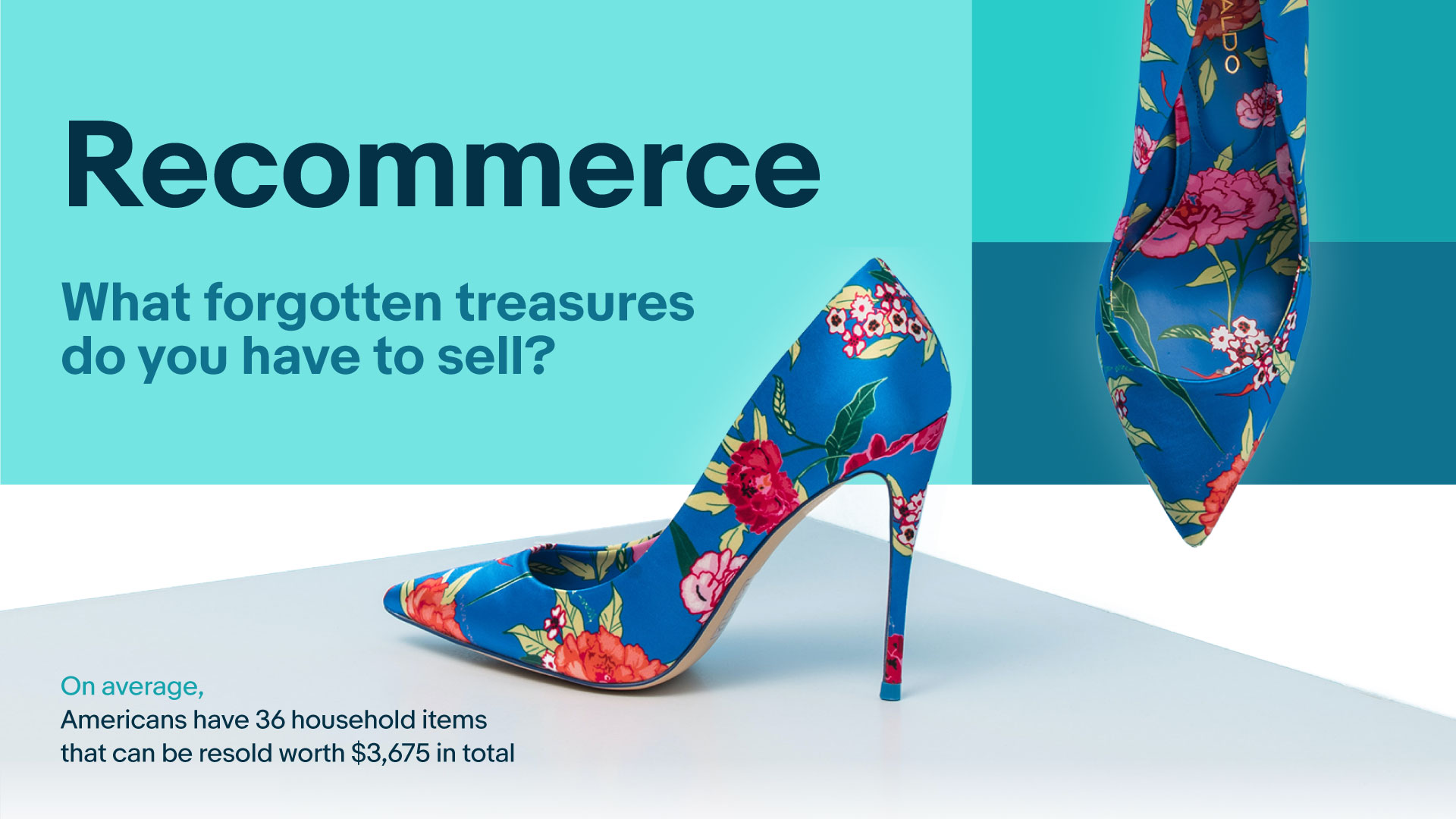 Find out who's embracing Recommerce and what they're reselling.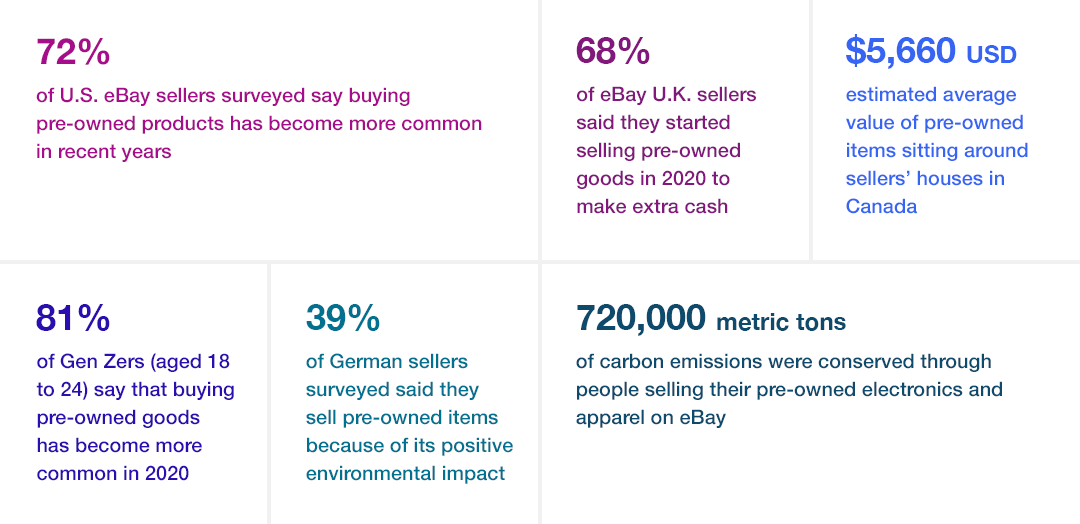 Economic Opportunity
The coronavirus pandemic has further illustrated the positive economic benefits of recommerce. In 2020, more people worldwide began selling pre-owned items online to earn extra income and sought to buy secondhand treasures at more affordable price points.
Seller Spotlight

Vintage Goods Sales Aid Rebuilding During the Pandemic

Nicole DiSanto has long had a passion for vintage goods, ever since spending weekends as a child trawling garage sales with her grandfather. She opened her eBay store — FiveStar Auctions — in 2006 to specialize in yard and estate sale finds, such as antiques, collectibles, video games and vintage clothing.
Read more about Nicole
When Nicole's husband was laid off during the pandemic, he began helping out with the eBay store. Eventually, the Pennsylvania couple turned to Nicole's personal collection of pre-owned video games and consoles for income. The result? The pair made over $10,000 in a month. In 2020, Nicole sold 580+ items overall through her eBay store. Her store has had a 357% increase in items sold from 2019 to 2020.
"It was a really scary time for us," Nicole said. "We brainstormed ways to make extra money and decided the best route would be to dig into the vintage video games and consoles I had been collecting for more than seven years and storing for a rainy day. Well, that rainy day was now upon us."
Buyer Spotlight

Secondhand Shopping to Support Greener Living

New York resident Hannah Stringer had looked to a myriad of green living lifestyles to minimize her impact on the planet and shop consciously: zero waste, minimalism and vegetarianism to name a few. "It's a myth that you must buy more eco-friendly items which are often more expensive and cost prohibitive for many communities. In actuality, recommerce is the most effective strategy as a consumer taking on a climate crisis."
While shopping around online, Hannah discovered that vintage clothing, decor and books could be procured through eBay's global marketplace in used or refurbished condition. Now, a self-identified 'eBayhead,' her passion for the marketplace is rooted in two moral imperatives: supporting small business owners by sending money directly into their pockets and reducing waste by purchasing secondhand goods.
Both affordable and accessible, eBay's treasure trove of pre-loved goods inspired Hannah to limit her future purchases to high quality, pre-owned items sourced almost exclusively from eBay. "eBay has rebuilt my consumption lifecycle," she said. "I buy pre-owned goods with the intention of keeping them for a lifetime. That intention encourages me to carefully consider how I repurpose, share or recycle unwanted items."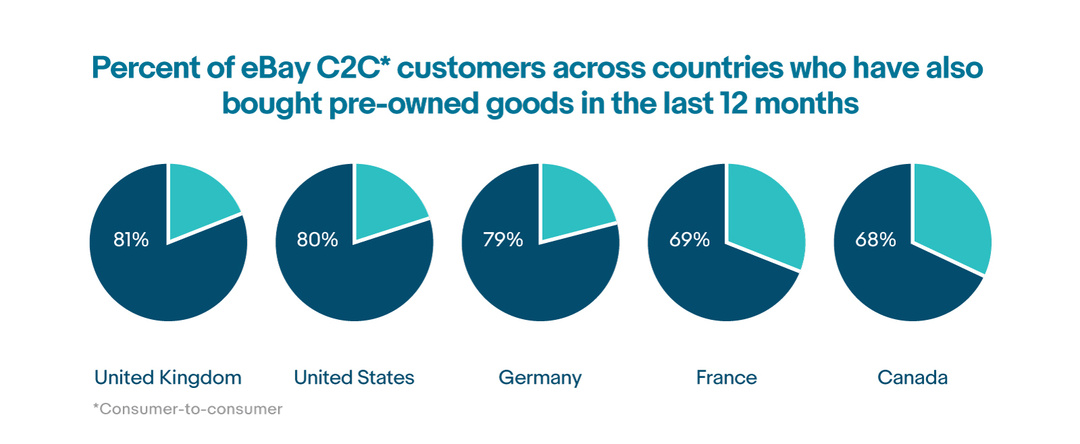 Sustainability
Recommerce not only is great for buyers' and sellers' wallets but is better for the environment overall. It helps to preserve the world's natural resources and reduce our carbon footprint — from saving on the water and energy typically used in producing new goods to preventing items being sent to landfills. Learn more about sustainable commerce.
Seller Spotlight

Giving Pre-loved Instruments New Life to Create Music
As a music student, I wanted to create a place where drummers could go to buy affordable, quality, pre-owned and refurbished equipment.
Read more about Jake
As a full-time student at The Sam Newsom Music Centre in the U.K., Jake Harris spent weekends searching through trunk sales with his grandfather looking for pre-owned instruments to repair, restore and resell. At just 18 years old, he turned his hobby into a profession in 2018 through the launch of his eBay store – Into Music – with a goal to help others access instruments at value and give instruments new life.
As a testament to his determination and buyers' enthusiasm for his refurbished musical instruments and equipment, his store just passed the half million pound mark in sales.
"I had no business experience, so eBay was a great way to get my business started with minimal risk or outlay." Since opening his eBay store, Jake relocated his business from a bedroom in his grandparents' house to a brick-and-mortar music shop in Horncastle, England, where they still help out every day.
Read Our 2020 Recommerce Report