Recommerce Powers eBay, Benefits Sellers and Buyers
The circular economy has been a focus at eBay ever since we pioneered recommerce with the sale of a broken laser pointer in 1995.
For our 2022 Recommerce Report, we conducted two global surveys: one of sellers, and one of buyers.
Key Report Findings
For sellers, the economic benefits are vital; for buyers, purchasing pre-loved goods was largely motivated by cost savings. Sustainability continued to grow, an important secondary concern for both sellers and buyers.
How has the economy affected our sellers?
We asked sellers how their eBay sales have changed over the prior six months due to the economy.
Is sustainability top of mind?
We asked sellers to rank how important sustainability is to them.
We know that our sellers and buyers are passionate about the sustainable and economic values of recommerce. At eBay, these values are core to who we are as a company — and we work every day to build a more robust circular economy.
– JAMIE IANNONE, President & CEO
Beneficial Business for Both Sellers and Buyers
In both the seller and buyer surveys, our youngest respondents (Gen Z-ers) had some notable differences in their motivation and behavior when it came to recommerce, compared with older generations.
Shop Talk
Our sellers have built a massive, worldwide marketplace where recommerce thrives. In our seller survey, we asked about the economy, sustainability and accessibility.
67% of U.S. sellers said they sell on eBay to make extra cash.
13% said they sell due to lost household income.
Not Just Pocket Change
For sellers, eBay provided a potential source of income through the power of recommerce. For buyers, eBay's massive marketplace of pre-loved goods provided top brands at lower prices, made it easy to find even the rarest collectibles and allowed them to pursue their hobbies and interests, whether in fashion, automotive or collectibles.
Recommerce Creates Economic Opportunities
Sellers and buyers both reported changes to their eBay experience owing to those forces, coupling with the broader financial reasons to engage in recommerce.
EBAY SELLER

Koichi Watanabe, NBZ
NBZ | Japan
"The reason why I started is because selling used items was easier to make a profit than selling new ones."
EBAY SELLER

Kai Rogers-Homoki, JaziBitz

"Our business started reselling jigsaw puzzles on eBay as they boomed in popularity during COVID. Now we use eBay to resell clothing, jewelry, and accessories that we find pre-loved."
Nearly 4 out 10 respondents found themselves operating an online business almost by accident, without intending to become entrepreneurs. That's an 8% increase from 2021.
Budget-Friendly Bargains for Buyers
Financial savings remained a major reason why buyers purchased pre-loved.
Pre-Loved? Widely Loved
90% of all respondents said they've purchased pre-loved goods on eBay in the past year. But in some countries, that number was even higher.
Budget-Friendly
Cost savings — pre-loved is less expensive than buying new — was the most popular reason for buying pre-loved items, with 56% citing it as a main reason.
A Healthy Cycle
By avoiding buying new, we can dramatically reduce the environmental strain created by new products — whether that's keeping perfectly good items out of landfills, reducing the need for mining minerals for electronics, or limiting the amount of energy needed for transportation.
Recommerce creates real and lasting benefits for the environment by avoiding carbon emissions and keeping items out of landfills. We play a central part in the circular economy through the selling and buying of pre-loved items on our marketplace.
– RENEE MORIN, Chief Sustainability Officer
positive economic impact created by eBay's sellers and buyers
metric tons of avoided carbon
metric tons of avoided waste
Through selling pre-loved and refurbished items on eBay in 2022.
65% of respondents said eBay's platform makes sustainability equitable and attainable.
Reducing Waste
90% of respondents cited "reducing waste" as an important aspect of sustainability in recommerce.
My Generation
There's plenty of hope for the future of our planet. Younger generations, including Millennials and Gen Z, rated sustainability as more important than older generations like Boomers.
Access to All
Ensuring that everyone, across the globe, has access to our vast marketplace of potential buyers is essential to our mission. And that's paying off: we asked sellers whether the eBay platform makes sustainability equitable and attainable. Gen Z-ers confirmed this at a higher rate than the average.
Reuse, Recycle, Recommerce
Sellers reported that recommerce is not just a business, but an ethical business. Sellers made money while reducing their impact on the environment and found value in that ability.
EBAY SELLER

Chital Gandri, Dhari Inc.

"Within the last year, our inventory and interest has almost tripled. Refurbished products on their own are very environmentally friendly because they use recycled technology and generate significantly less pollution than manufacturing new products."
EBAY SELLER

Mat Shaul, Vintage Trainers

"The appeal of recommerce goes beyond money — it's a culture of recycling and repurposing, while also improving sustainability in the industry. Without the infrastructure that eBay provides – ecommerce platform, logistics and pathways – any small business would struggle to gain traction in the corporate-controlled fashion industry."
EBAY SELLER

Heiner Kroke, momox SE

"Doing good for our environment and preserving valuable resources is at the forefront of consumers' minds, as is the necessity of living frugally and saving money while enjoying a broad variety of clothing items. And all those things are now possible with second hand. We are thrilled that a change has also taken place in the clothing sector and that we have the opportunity to make the circular economy and second hand the first choice throughout Europe."
65% of respondents felt that selling pre-owned products has become easier in recent years.
Perfectly Good for the World
Buyers noted that they loved saving money and pursuing their hobbies and interests, but they also loved the environmental benefits of participating in circular commerce.
EBAY BUYER

Leilani Martinez, College student
U.S.
"I try my best to do my part to combat the overflow of clothing we have in this world. I definitely find value in recommerce. I appreciate the community that is created in the 'reselling' world. It's also a great way for me to save money as a college student."
Refurbished
eBay is in a unique position to move recommerce forward by reducing environmental impact and extending the lives of products. Our Refurbished program takes recommerce a step further by grading the quality of products from Good to Certified — and comes with up to a two-year warranty.
We've worked tirelessly to ensure that refurbished items on our marketplace exceed expectations by vetting sellers, ensuring multi-point inspections, ensuring minimum battery life and including free shipping and free returns. As a result, both sellers and buyers have embraced the refurbished market. 
For buyers, refurbished items were, most importantly, an economic benefit: 65% noted that refurbished programs allow them to buy top brands for less money.

But, for the first time, buyers placed sustainability as their second-place answer as to why they shop for refurbished items.
Authenticity Guarantee
Authenticity Guarantee is a separate program through which eBay confirms that an item is exactly what it should be. We use teams of expert authenticators versed in all kinds of categories, including sneakers, watches, trading cards, handbags and jewelry.
eBay's Authenticity Guarantee program isn't exclusively for pre-loved items, but for many categories, like vintage jewelry, it's a useful way to provide consumer trust.
eBay Authenticity Guarantee, and awareness of our program, is expanding. Over half of respondents had heard of eBay's Authenticity Guarantee service (53%).

72% said that they had sold eBay authenticated products.
eBay builds connections between sellers and buyers around the things they love. We continue to invest in new ways to fuel this growth – ensuring a stronger marketplace and a more sustainable future.
– JORDAN SWEETNAM, SVP, Global Markets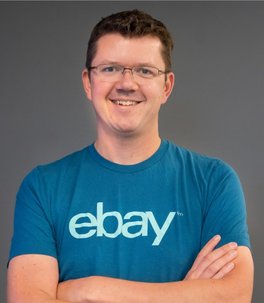 Our Impact Goals
eBay is continually paving the way as an industry and global leader enabling economic empowerment and sustainability through our platform and our impact goals — including reducing 90% of carbon emissions from our operations by 2030. Specifically, through recommerce, we aim to create $20 billion in positive economic impact and avoid 7 million metric tons of carbon dioxide emissions by 2025.
Methodology
We surveyed 11,064 of eBay's consumer-to-consumer (C2C) sellers in the U.S., U.K., Canada, Germany, France, Italy, Australia, and Japan between Oct. 18 and Nov. 1, 2022.
In the U.S. and Canada, sellers included all sellers with less than $10,000 gross merchandise value (GMV) or fewer than 25 transactions in a year.
In the U.K., Germany, France, Italy and Australia this included any seller who self-identifies as C2C. For Japan, accounts self-identified as personal were surveyed.
In addition, this year, for the first time we surveyed 7,459 buyers in the U.S., U.K., Canada, Germany, France, Italy, Australia and Japan. This sample was analyzed separately in order to maintain comparability of the seller sample year over year.
This included buyers who were active in the 12 months prior to taking the survey.