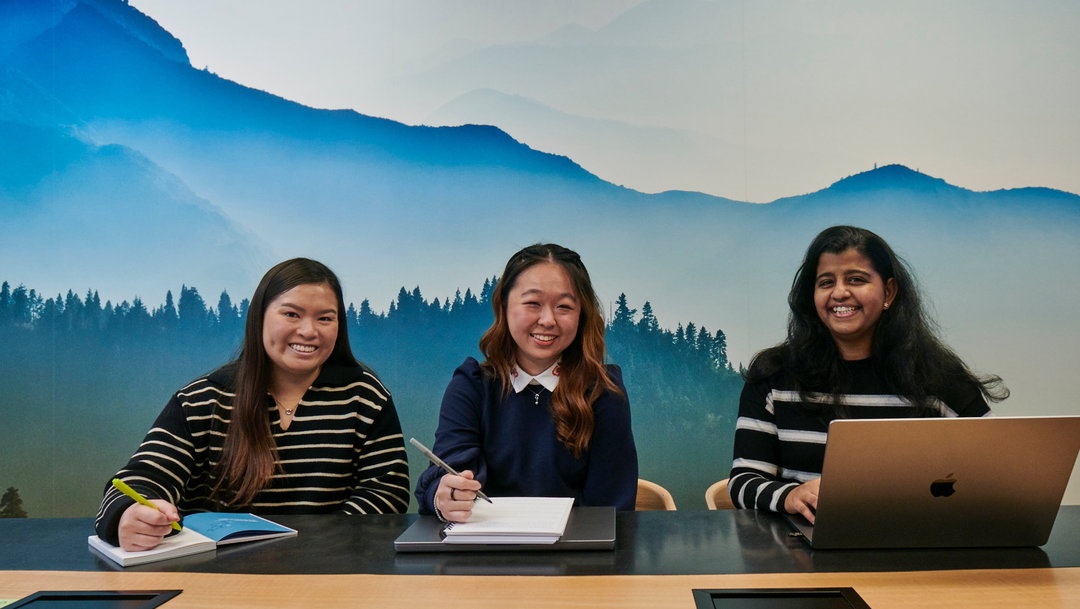 CULTURE & WORKFORCE
CULTURE & WORKFORCE
We make extraordinary things possible for each other every day.
We bring the best talent from different communities across the world together to learn, grow, thrive and innovate at all levels.
Culture & Workforce
Our People
When employees join eBay, we strive to help them succeed based on their unique talents and ambitions. We are an equal opportunity employer.
We provide versatile development opportunities to empower employees' long-term growth at eBay.
Initiatives and Programs
In 2022, we expanded our Leading at eBay program to all employees. A group coaching series, Leading at eBay equips small cohorts of eBay employees with the leadership essentials they need to deliver with impact.
For the first time ever, we hosted LearnFest, a two-day virtual learning experience filled with workshops, panels and networking moments in celebration of eBay's rich learning and growth opportunities. We also launched the eBay Career Hub, which helps employees identify opportunities for internal mobility and growth. It's the next step to investing in career development and helping employees advance to executive positions — employees like Claudia Putzer, a people business partner who transitioned onto the People team from the customer experience team:
It was incredibly fulfilling to develop teams and individuals as a people leader on our global customer experience team, and doing so on the People team has been another exciting learning opportunity during these past five years.
Employees are encouraged to join other leadership programs as well, including individual coaching sessions with eCoach, speaker sessions and development workshops, LinkedIn Learning courses and an internal Leadership Library of action-focused articles to help employees put leadership principles into practice. Directors and above can also access executive coaching and education programs to learn from top university professors and cross-industry peers.
Our employees' well-being and professional development remain top priorities for us.
Supporting Our Employees
Twice a year, we conduct company-wide surveys to seek employee feedback on their overall experience and workplace satisfaction. In 2022, we saw continued high participation rates and engagement from employees compared to the past five years, with strong employee satisfaction scores.
Working remote, it's been possible to make different connections, and inclusivity has been much more prevalent.
On a day-to-day basis, eBay employees work on diverse assignments and projects to further hone their skills and receive coaching and mentorship from leaders and other colleagues. Additionally, we support continuous education and learning through on-demand courses, financial support for professional degrees and certifications, personalized learning experiences and specialized avenues for ongoing employee feedback. We also provide physical and mental wellness tools for employees through Grokker and Lyra.
For new employees, we have evolved our new hire orientation experience, Becoming eBay, to allow for improved virtual onboarding and employee connection across our global offices. The orientation provides new hires with insight into different parts of our business and customer-first philosophy.
eBay is the perfect place to kick off a career. This is a place that offers serious growth opportunities and amazing mentorship.
Our performance management framework provides managers and employees with a structure to engage in ongoing coaching conversations about career aspirations and growth opportunities, which heightens employees' overall professional development while at eBay. We also provide employees with various ways to ask their colleagues for feedback.
Our People
Health & Financial Benefits
Through our Global Benefits Program, we aim to support and empower our employees with the resources they need to bring their best selves to work.
Employees can access a wide range of benefits, including comprehensive health insurance offerings, retirement plans and paid time away from work. These benefits are also extended to part-time eBay employees working 20 or more hours per week. Globally, full-time employees can access additional benefits, including a fully company-paid employee assistance plan for mental health and life management, a wellness platform, a medical second opinion program and a sabbatical program that our executives proudly champion.
For new parents, we provide 100% paid birth parent and non-birth parent leave for all eligible employees worldwide, along with extensive resources for maternity and paternity support. Employees can access 20 weeks of paid birth parent leave (i.e., birth mothers) and 12 weeks of paid non-birth parent leave (i.e., fathers, adoptive parents, same-sex partners) as a standard benefit globally.
We support employees diagnosed with serious health conditions and provide paid family leave for those who are caring for sick family members. We also expanded our parental support program to include teen years and neurodivergence support for children of any age, and we introduced the Family First program to the legal support we offer families, which will help employees create personalized care plans for their loved ones. We also support family building in the U.S. by providing adoption and fertility benefits as well as coverage for birthing midwives and doulas.
We continue to monitor and adapt to workplace changes brought on by the COVID-19 pandemic. In 2022, we introduced flexible workstyles through our FlexWork program, enabling leaders, teams and individuals to determine the best workstyles to drive results and promote safe and effective collaboration.
To support our employees' physical and mental health, we provide online wellness resources, webinars, telehealth access and expansion of company-paid mental health support. Specifically, we rolled out an international Employee Assistance Program (EAP) to reach non-U.S. employees more effectively. We also launched a new U.S. travel reimbursement benefit to support medical or mental health access gaps that our employees and their family members may experience. eBay was named Mental Health Workplace of the Year by Lyra Health in 2022 because of our focus on giving our people fast access to high quality mental health care.
eBay continues to support LGBTQ+ employees, including those who are transgender or in the process of transitioning, by helping remove some of the financial barriers and stigmas that can hamper their experiences. We also have rolled out inclusive health care tools that help our people find mental health and medical care professionals who are trained in LGBTQ+ care and who look like them and have similar lived experiences. At the moment, these are U.S.-only offerings.
For our employees' financial well-being, we provide resources — from 401(k) savings plans to financial planning — for our U.S. employees from their first day. We also increased our contributions to health savings accounts and continue to provide company-paid life insurance and coverage for short- and long-term disability.
I love the culture at eBay where we provide sabbaticals — it's part of who we are and how we recognize our employees… The sabbatical program is just amazing.
CULTURE & WORKFORCE
Our Values
Our purpose at eBay is to create economic opportunity for all. We bring our diverse community of employees together to support their local communities through volunteering and giving efforts.
Our Values
Employee Giving & Volunteering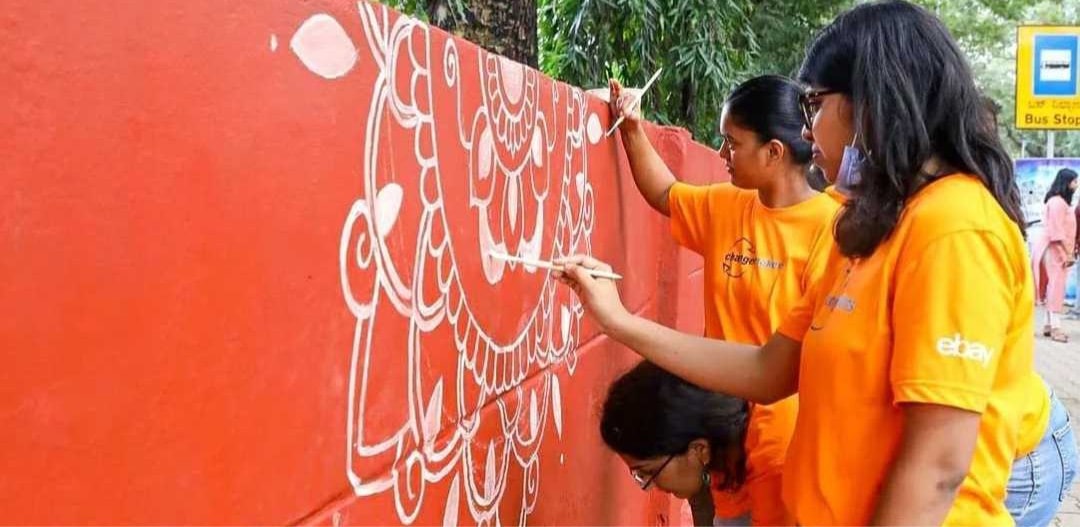 At eBay, we have a culture that celebrates giving, and our employees play a major role. Through our employee matching gifts program, we amplify the impact of employee donations to, and volunteer time with the causes they care about most.
The eBay Foundation matches up to $10,000 in donations to eligible nonprofits per employee, per year, including in-kind donations (such as toys or canned food items for a donation drive) and volunteer time. For every hour an employee logged on our matching gifts site last year, they could earn a $20 matching reward to donate to their favorite cause. In 2022, employee contributions and eBay Foundation matching gifts totaled over $6.3 million to nonprofit organizations around the world.
Changemakers, our eBayer-led volunteer groups, also organize local giving and volunteer activities in their global communities. In 2022, we saw employees mentor youth, coach entrepreneurs, sort and distribute clothing donations, organize litter pick-up events and more.
How we show up in the communities where our employees live and work matters. From volunteering to driving local giving campaigns, our employees play an important role.
Our Values
Diversity, Equity & Inclusion
We strive to be a richly diverse, equitable and inclusive place to work, grow, sell and buy.
Our Diversity, Equity and Inclusion (DE&I) approach focuses on four strategic objectives: increasing representation; cultivating a sense of belonging; engaging our community and allies; and building inclusive technology — and our Communities of Inclusion (COIs) continue to be the cornerstone of these efforts. Throughout the year, our COIs host in-person, hybrid and virtual events that connect community members and allies, celebrating cultural moments and educating employees about various cultural and social topics.
Be For Everyone
In 2022, eBay hosted our first-ever Be for Everyone Experience. The two-day virtual summit featured interactive learning sessions with global thought leaders around issues of inclusivity and representation. The experience helped inform, inspire and connect our entire global employee community.
Explore Our DE&I Report
Our 2022 DE&I Report explores how we are making real progress in our goals — and shares what we have yet to achieve for our global community.
Learn more about our 2022 DE&I report >
Culture and Workforce News