"The first time I went online over 20 years ago, I knew that the Internet would open up a window onto the world for my business. eBay helped make it happen." - Mariusz Fiałkowski

As a child, Mariusz loved watching his grandfather work. He was a wheelwright and was truly passionate about his profession. Mariusz's family home has always nurtured respect for hand-made goods and businesses which served as an inspiration for Mariusz in his adult life.

Today, Mariusz and his wife run a small leatherwear shop and make handmade leather phone cases. Every product is different and unique, made with Mariusz's passion and careful attention to detail. When Mariusz was starting his online business back in 2007, only a percentage of his phone cases were handmade. Now, his high-quality handmade in Poland items make up the majority of his business and are shipped to countries all around the world.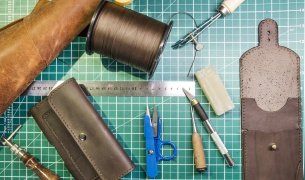 Previous Next