Bonnie Sugawara
Global Auto Parts
Stockton, California
With a passion for auto parts that began with her father's business, Bonnie saw an opportunity to expand the store's reach and connect with customers across the globe. After expanding the business online, Bonnie became an officer and co-owner of the family business.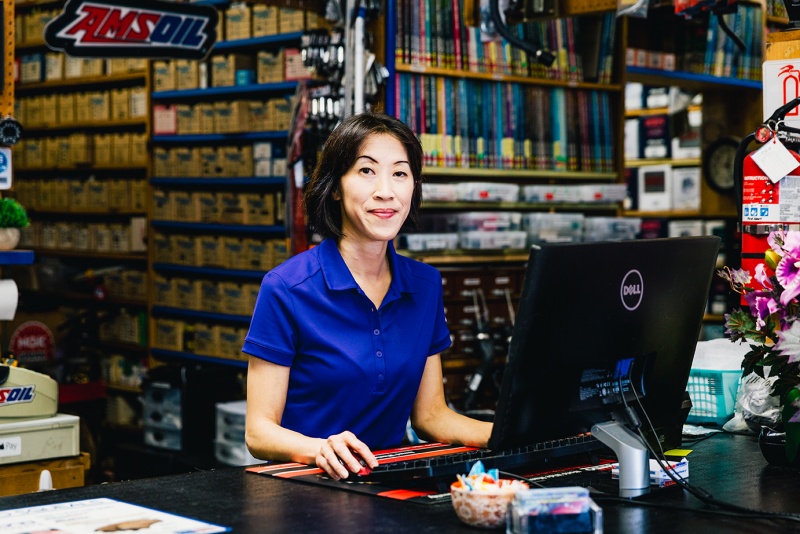 Q: What tips do you have for clearing out slow-moving inventory?
A: We've had the most success using eBay's Promoted Listings and the new Volume Pricing features recently. At least 20% of our daily transactions are attributed to Promoted Listings, and we've noticed a promising uptick in velocity of items promoted with Volume Pricing. Something that always makes me laugh is the situation where I list (what I believe to be) a slow-moving product earmarked for deletion from inventory once sold out. Ironically, after listing, it sells so quickly that I end up reordering to replenish that so-called 'slow moving' item! Some parts we could never sell locally. But thanks to eBay's worldwide audience, the possibilities are endless, especially when it comes to clearing out slow-moving inventory or rare items.
Q: Do you use eBay's tools like Markdown Manager or adding best offer to your listings? If so, how helpful have you found those tools?
A: This year, we've used Markdown Manager to create seasonal sale events for both popular and unique items. We've had variable success, depending on the particular item. Best Offer plays a modest role in our listings, because the lion's share of our listings are multiple-quantity, competitively priced, fast-movers. Most buyers want their car part as fast as possible, so 99% of the time, Buy-it-Now fits the bill. On the other hand, Best Offer has definite utility for specialty vintage parts where both supply and demand are limited. Sometimes it makes sense to let the buyer weigh in on the price they're willing to pay, and it can be a win-win situation for both buyer and seller.
Q: Any lessons learned from sourcing your 2018 inventory—or how to move it?
A: The most important tips to move inventory? First of all—list, list, list! The sooner you list, the sooner you open up the opportunity for a sale. Serve up quality products and take advantage of Promoted Listings and Promotions Manager. Aside from sourcing what sells and offering pricing incentives, always deliver excellent customer service. Detailed listings with great photos, fast shipping, great communication, and a reasonable return policy all help boost buyer confidence. If you give the buyer a memorable experience, they'll likely be back again. Repeat business can be a powerful way to increase sales and keep inventory moving.
Q: What was your fastest moving inventory last year?
A: Being an eBay Motors seller, our primary product is auto parts, and we offer a true smorgasbord of items. Of all the parts and supplies we offer, the fastest moving inventory last year (and pretty much every year) are maintenance fluids, such as transmission fluid, power steering fluid, and other specialty hydraulic fluids for import vehicles. From popular replacement parts such as spark plugs, to one-of-a-kind parts for vintage cars, we've got a little bit of everything.