Our Environmental Footprint
We continuously seek to better understand, track and quantify our environmental footprint.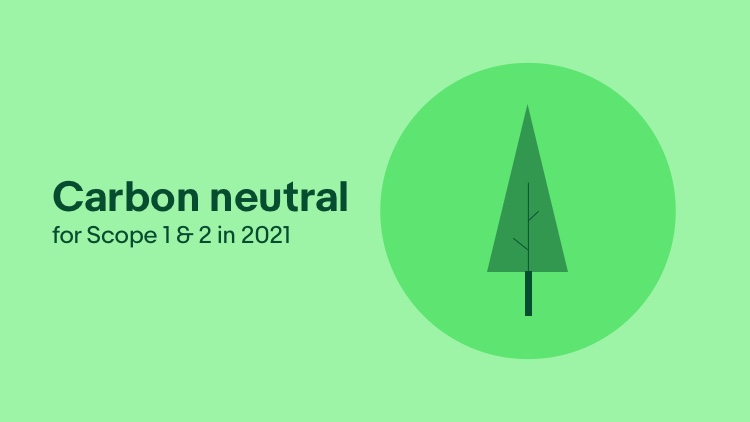 Carbon Neutrality
Throughout 2021, we made strides to implement energy-efficient practices at our eBay offices and data centers, resulting in a significant decrease in our total Scope 1 and 2 emissions, meaning those coming directly from a company's operations.
For the remaining Scope 1 and 2 emissions, we have purchased carbon offsets to achieve carbon neutrality as a company.
2021 GHG Emissions by Scope
For Scope 1 and 2, we're pleased to note that our total emissions have decreased each year. And that continued in 2021.
Scope 3 emissions are downstream, coming from shipping and transportation of items purchased on the marketplace. These comprise the majority of eBay's total emissions.
Scope 1 and 2 Greenhouse Gas (GHG) Emissions
With our consistent drive toward more sustainable practices, our total emissions for Scope 1 and 2 have been reduced by 26 percent since 2019, putting us well on track to meet our 2030 Science-Based Target of 90 percent reduction for these scopes.
Scope 3 Greenhouse Gas (GHG) Emissions
For eBay, as an online marketplace, Scope 3 emissions are primarily derived by the shipping and transportation of items purchased online. We have reduced our transportation footprint by 7 percent from 4.4 million in 2019 to 4.1 million in 2021.
For previous years' upstream Scope 3 emissions, read our most recent CDP Climate Change Response. For our 2021 Scope 3 emissions across all relevant categories, please refer to our Impact Report.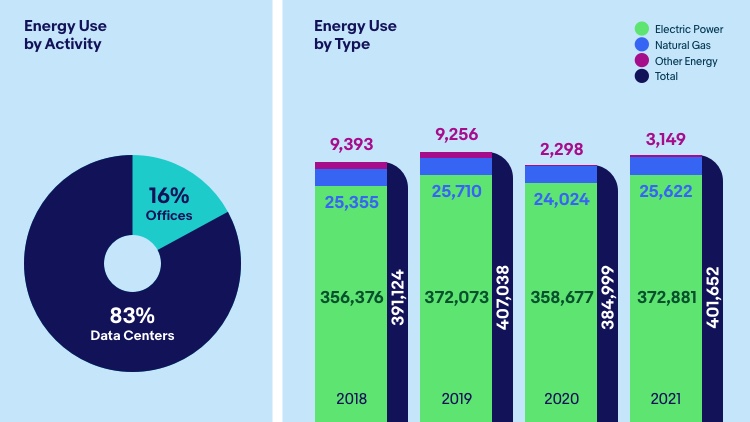 Energy Use
eBay's marketplace grew over the past year, which is reflected in the increased energy use at our data centers. That said, our intensity factor by revenue, a measure of how efficiently we use energy, has decreased.
Renewable Energy
We previously set a goal to exclusively use renewable energy for our electricity needs in the data centers and offices which we control, and we remain on track for that. In 2021, we achieved 90 percent renewable energy, up from 81 percent in 2020 and 71 percent in 2019.
Water Consumption
Water consumption continues to be of utmost importance to us. At many offices and data centers, we've installed more efficient toilets and faucets, and work to expand and improve our data collection with regards to our water use.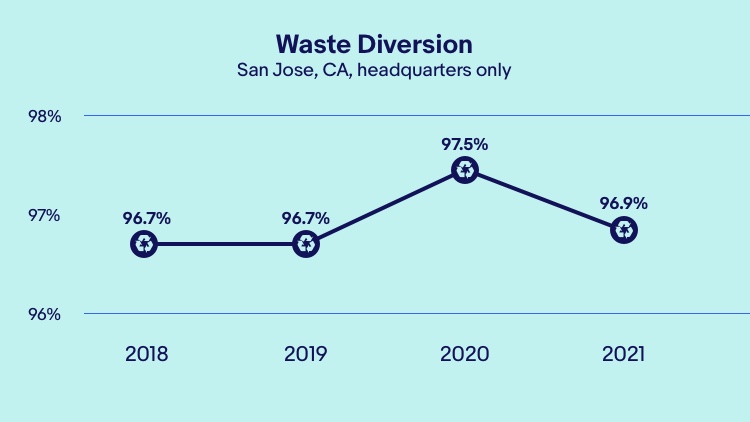 Waste Diversion
eBay's waste diversion at our headquarters, our largest facility, has hovered in the mid-90 percent range for years, and we continue to place value on reducing our waste output.
A Note About Assurance
Energy Use and Greenhouse Gas Emissions
In accordance with ISO 14064-3 on GHGs — Part 3: specification for guidance for the validation and verification of GHG assertions, external assurance provider Apex Companies, LLC performed a limited assurance of Scope 1 and 2 GHG emissions, Scope 3 business travel, energy consumption and renewable energy percentage.
Water
Apex's standard procedures and guidelines for external Assurance of Sustainability Reports and International Standard on Assurance Engagements (ISAE) 3000 Revised, Assurance Engagements Other than Audits or Reviews of Historical Financial Information (effective for assurance reports dated on or after Dec. 15, 2015), issued by the International Auditing and Assurance Standards Board.
Learn more about our impact goals