25 Years of Inspiration, 25 Custom Kicks
For 25 years, sneakerheads have copped and dropped the dopest kicks on eBay, building a community and making it their own. To celebrate our 25th anniversary, we've teamed up with Vashtie Kola, Aleali May and top customizers, Cestlavic, DeJesus, Kickstradomis, Mache, and Sierato, to create 25 pairs of bespoke sneakers inspired by the last 25 years of pop culture.
#25Kicks Ambassadors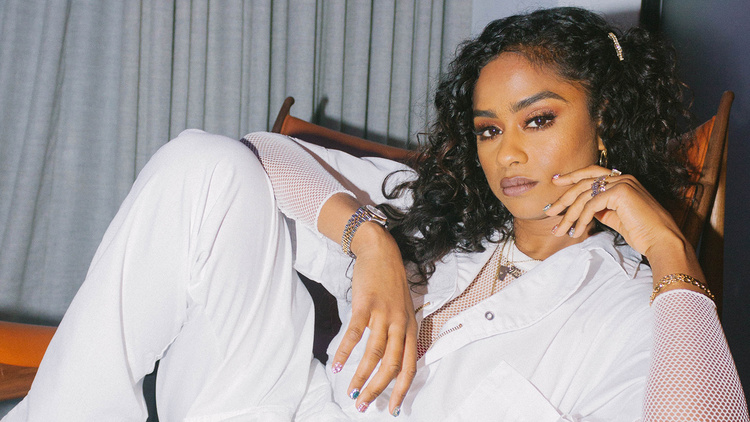 Vashtie Kola
Vashtie Kola (Va$htie), the first woman to design a pair of Jordans, is a creative force with serious cred in the sneaker game. A filmmaker, artist, designer, and DJ, she pushes boundaries in footwear and beyond. As part of #25Kicks, she partnered with Aleali and Kickstradomis to create the eBay 25th Anniversary shoe.
Aleali May
A style luminary, Aleali May holds sway in celebrity and internet circles alike and was the first woman to collaborate on the design of a unisex Jordan. Beyond fashion, she has evolved into an acclaimed creator and customizer, and partnered with Vashtie and Kickstradomis to create the eBay 25th Anniversary shoe.
Kickstradomis
What happens when a lifelong love of art and a passion for sneakers collide? Kickstradomis emerges. One of the most respected customizers in the game, the LA-born artist's sought-after designs have graced the feet of sneakerheads and celebrities alike, on the runway, NBA courts, and on streets across the globe. Partnering with Vashtie and Aleali, he handcrafted the eBay 25th Anniversary shoe.
#25Kicks Collection
With some of the most iconic shoes from eBay's history as their canvases, our customizers took inspiration from the biggest sneaker, fashion, and pop culture trends from the past 25 years.
To celebrate and support the makers of this collection, all proceeds of the auctions will go back to the artists. eBay is proud of our role in helping evolve sneaker culture, and we look forward to the next 25 years of serving sneakerhheads around the globe. Shop the collection.
Cestlavic

A painter with a penchant for pulling off ambitious sneaker designs, CESTLAVIC takes inspiration from everywhere, from animated classics to music scenes, and fashion.

'95-'00 STREETWEAR | REEBOK QUESTION:

Now, we take fashion fusion for granted, though it definitely wasn't as straightforward at the end of the millennium. For this pair, Cestlavic gave a distinctly 1990s pair of kicks—the Reebok Questions—a uniquely 1990s flavor by blending grunge and streetwear.

'01-'05 - RAVE | NIKE AIR FORCE 1:

Sneakerheads have long talked about the Nike Air Force 1's versatility. And while you may not have rocked them to a rave in the 2000s, you can now thanks to Cestlavic.

'06-'10 - HARAJUKU | NEW BALANCE 574:

Wish you could go back to Tokyo, circa 2008, as Harajuku took over pop culture? With this bespoke pair of New Balance 574s by Cestlavic, you can.

'11-'15 - GEEK CHIC | VANS OLD SKOOL:

Not that long ago, an elbow patch had cultural cache; seriously. This custom pair of Old Skool Vans nods to the early 2010s and geek chic's unexpected fashion moment.

'16-'20 - HYPEBEAST | YEEZY BOOST 350 V2

Scroll through your feed right now—we'll wait. Undoubtedly, you found plenty of Hypebeasts and a few of them may have been rocking Yeezy Boost 350s; though, none look like this custom pair from Cestlavic.
DeJesus

Chicago's DEJESUS has been making the sneaker community's heads turn—well, look down, at least—for more than a decade. A passionate and versatile artist, his work filters wide-ranging inspiration through his distinct lens to make a big impression.

'95-'00 - STREETWEAR | REEBOK QUESTION:

In the late 1990s, streetwear and hip-hop fashion went big, east to west, and the Reebok Questions were its sneakerhead manifestation. This bespoke pair by DeJesus celebrates the game that, "The Answer," brought and the colorful Coogis on our favorite rappers.

'01-'05 - RAVE | NIKE AIR FORCE 1:

While the Nike Air Force 1 is a timeless sneakerhead fave, as an homage to raver culture this custom pair by DeJesus remains firmly rooted in the early 2000s with its colorful, melty motif.

'06-'10 - HARAJUKU | NEW BALANCE 574:

Over the past 25 years, fashion went global, though its biggest trends still have local roots—this pair of custom New Balance 574s by DeJesus takes its inspiration from the Tokyo-born Harajuku look.

'11-'15 - OMBRE | VANS OLD SKOOL:

By the mid-2010s, culture had firmly become nebulous, with mashups and fusion opening up a world of possibilities; ombre epitomized that blend, and so, too, do these custom Old Skool Vans by DeJesus.

'16-'20 - CAMO COUTURE | YEEZY BOOST 350 V2

Ironically, the not-so-long-ago camo craze used a pattern designed for anonymity to help wearers stand out—these camo-inspired Yeezy Boost 350s by DeJesus do just that.
Kickstradomis

LA's KICKSTRADOMIS has a well-earned reputation for pushing the envelope of kick customization. Sneakerheads, athletes, fashion icons, and celebrities alike rock his creations across the country and around the world.

'95-'00 - GRUNGE | REEBOK QUESTION:

In 1996, Reebok posed a question to the sneakerhead community—"are you ready for something entirely new?" We all know the answer. Kickstradomis created these as an homage to the era of grunge culture that brought an entirely new style of music and rockstar with it.

'01-'05 - RAVE | NIKE AIR FORCE 1:

Back in the early 2000s, neon, glowsticks, and giant jeans popped up in disused warehouses everywhere. These bespoke Nike Air Force 1s by Kickstradomis nod to the rave era, albeit with a sneakerhead twist.

'06-'10 - EMO | NEW BALANCE 574:

In the mid-aughts, backpacks with pins and elaborate, punk-indebted albums about romances gone awry took over many a mall-kid's discman. Kickstradomis paired that inspiration with the legendary New Balance 574s.

'11-'15 - OMBRE | VANS OLD SKOOL:

It seems like just yesterday when influencers and reality-show stars everywhere embraced the subtle gradient change known as ombre. Kickstradomis has applied that look to timeless Old Skool Vans that like ombre, can be worn across a spectrum of styles.

2020 eBay 25th Anniversary | NIKE AIR FORCE 1:

For 25 years, eBay has been a hub for sneakerhead culture worldwide. This collaboration between Kickstradomis, Vashtie, and Aleali, pairs the iconic Nike Air Force 1 with eBay's colorful palette in a design that celebrates the past and is ready to hit the streets.
Mache

For more than a decade, things have looked up for MACHE while he's made countless fans look down. His collaborations with the most influential brands in the sneaker game have made an indelible impression on tastemaking sneakerheads around the globe.

'95-'00 - GRUNGE | REEBOK QUESTION:

As an OG sneakerhead, if you rocked streetwear at the turn of the millennium then you likely had a pair of Reebok Questions. Before your time? Now's your chance, thanks to this bespoke pair from Mache.

'01-'05 - RAVE | NIKE AIR FORCE 1:

Glow-sticks and raver fashion had a big moment in the mid-aughts, though Nike Air Force 1s never go out of style. This custom pair from Mache looks back to 2005 through a neon lens, albeit with an eye toward the future.

'06-'10 - EMO | NEW BALANCE 574:

In 2007, you may have worn your heart on your sleeve—or in a pin on your backpack—now you can wear it on your feet with these emo-indebted New Balance 574s by Mache.

'11-'15 - OMBRE | VANS OLD SKOOL:

In the early 2010s, you couldn't log onto social media or flip on reality television without seeing a bit of ombre. This pair of custom Old Skool Vans from Mache takes you back to that bygone era, albeit with a modern edge.

'16-'20 - CAMO COUTURE | YEEZY BOOST 350 V2:

Despite the camo finish, blending in is unlikely with these custom Yeezy Boost 350s by Mache which nod to the military inspired patterns embracing brighter colors in its rise to runway icon.
Sierato

Artist, artisan, and customizer extraordinaire, SIERATO draws on his tattoo-artist past, anime, and a slew of constantly-evolving touchpoints to paint sneaker works of art. His iconic drip work and specialized colorways can't help but stand out.

'95-'00 - GRUNGE | REEBOK QUESTION:

Question: What's one of the most iconic sneakers of the last 25 years?
Answer: The Reebok Question.
This pair by Sierato takes its inspiration from the streetwear of the late-1990s.

'01-'05 - LEISUREWEAR | NIKE AIR FORCE 1:

In the 00's there was nothing lazy about leisurewear. Velour and fake rhinestones were on the backs (and butts) of cool kids, celebrities and television mobsters. Like those tracksuits, these Nike Air Force 1s by Sierato are as stylish as they are comfy.

'06-'10 - NORMCORE | NEW BALANCE 574:

Typically, dressing like your Dad is not cool, but, in the late 00s, normcore had a big moment from Williamsburg to Hollywood and beyond. Standout without trying in these New Balance 574s from Sierato.

'11-'15 - HARAJUKU | VANS OLD SKOOL:

There's no doubt that Tokyo street fashion made an indelible impact on global pop culture in the late aughts – Sierato applied his take on Harajuku to sneakerhead faves, the Vans Old Skool.

'16-'20 - CAMO COUTURE | YEEZY BOOST 350 V2:

When the Yeezy Boost 350 first dropped, it instantly stood out in the sneaker world, and so too does this custom glitch pattern camo pair by Sierato.
Shop the Collection
As a sneakerhead hub for 25 years, we've got everything you're looking for, from the latest drops to old-school cops.
P.J. Tucker x eBay
For 25 years eBay has been hooking up sneakerheads, including one of best in the game, NBA center, P.J. Tucker. He invited us to Houston to tour his collection and share his eBay favorites.