Small Business Report 2022
eBay connects people and builds communities to create economic opportunity for all.
Our purpose shapes everything we do. Whether sellers start businesses to support their families, create a new stream of income or turn a passion into a profession — eBay helps entrepreneurs around the world succeed and flourish on our marketplace.
Our inaugural Small Business Report examines how our sellers start their businesses and the important ways in which eBay supports their success. This survey, of 2,607 sellers in the U.S., U.K., Canada and Australia, demonstrates the key drivers of eBay's small businesses and shares how our marketplace has fueled their growth while enabling a global and community reach.
Our sellers dream big and work hard to realize their personal goals. What they do is truly inspirational. We're proud to partner with them along their journey, helping to propel their success and creating economic opportunity for all.
– JAMIE IANNONE, President & CEO
Key Report Findings
The 2022 study showed our marketplace is empowering entrepreneurs and small businesses — and eBay is a crucial economic driver for many of our sellers. Download media fact sheet.
eBay is essential to small businesses
From the very first day when sellers open their virtual doors, we are there with them — to enable, support and encourage their success every step of the way. Sellers recognize the importance of our marketplace to foster their growth.
95% of sellers rely on eBay
Our marketplace isn't just a "nice to have" for our sellers; eBay is necessary to their success. Nearly a third report their businesses would not exist without eBay.
Our partnership is mutual: 72% of sellers strongly believe eBay wins when sellers win.
A partner to sellers
Success for us happens together. We don't compete with our sellers. This simple fact defines our relationship with small businesses and entrepreneurs — and sets us apart from other online marketplaces.
Economic empowerment
Sellers come to eBay to find financial independence and success.
eBay Seller

Ajay Mirchandani

"eBay has opened our eyes as to how a business can become successful online. None of this would exist if it wasn't for eBay."
eBay Seller

Lucy Hannan

"What I love the most about being my own boss for my small business is the fact that it's on my own time. And I'm constantly setting my own goals, in my own timeline. And it works around me, like, perfectly."
Being your own boss
Our marketplace gives sellers something priceless — the opportunity to determine their own path forward while supporting their independence. And our partnership helps empower their success, so they have tremendous opportunities to thrive.
Creating economic opportunity for all
We empower sellers — from different geographic areas, from all backgrounds and with a variety of passions — to open their doors on our marketplace.
15% of all sellers surveyed self-identified as having a disability.
A model of inclusive entrepreneurship
With the initial sale of a broken laser pointer over 27 years ago, eBay fundamentally changed how the world shops. And we created a model of universal, inclusive entrepreneurship — where anyone, anywhere in the world can sell and succeed online.
​​Women surveyed were 13 percentage points more likely to say eBay is essential to their business, and also 7 percentage points more likely than men to say eBay played a big role in starting their business.**
Up & Running: How We're Helping to Accelerate Small Businesses
Our Up & Running program helps sellers jumpstart their ecommerce experience, providing dedicated support and mentoring so they learn how to supercharge their listing and marketing strategies; create a dynamic digital storefront; leverage powerful data analysis tools to fuel their performance; and more.
eBay Academy: A Platform for Learning the Ins and Outs of Selling
Our online learning platform offers new topics on various tools and best practices to help sellers grow their business, from international shipping to delegating tasks to employees.
Achieving success and building community on a global scale
United by shared values and interests, we foster the creation of communities through our marketplace.
Small businesses are the backbone of eBay, and our platform exists to power their success at every stage of their journeys. eBay sellers bring incredibly diverse inventory to our marketplace — united by a shared passion and expertise for the communities they serve.
– Jordan Sweetnam, SVP, Global Markets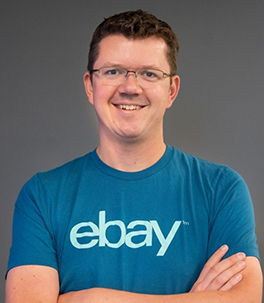 58% of survey respondents say eBay's community of sellers is either very important or essential to their business.
Community of sellers
Our goal is to enable entrepreneurship for everyone, while providing our sellers with access to millions of customers around the world. Our sellers realize the value of those connections, and the vast majority see eBay as a place to create a community of new and unique buyers.
New Markets

Wherever they live and work, the majority of sellers report that eBay has helped them reach new markets around the world.

Location

Our sellers' businesses are fairly evenly spread across rural areas, small towns, suburbs and cities.

Global Reach

Our marketplace enables sellers to reach customers across borders and around the world.
Turning passions into professions
Our "accidental entrepreneurs" are doing what they love — and building businesses along the way.
eBay Seller

Nate Tran

"I started selling on eBay by being a buyer. And I realized there's all these other buyers out there. There's a huge community online, on eBay. We get about 31 million views a month."
eBay Seller

Jude Lugo

"This is a mother and son endeavor. Once we started to gain traction, I realized that this was not a hobby. This was a business."
45% of sellers surveyed identify as "accidental entrepreneurs."*
Empowering accidental entrepreneurs
Buyers become sellers and create small businesses of their own. What makes these accidental entrepreneurs so distinctive is their enthusiasm for their hobbies and interests coupled with their entrepreneurial spirit.
A place for all passions
Our unique inventory brings people together. We connect millions of sellers and buyers of all interests through sought-after items that meet needs, add to collections or simply bring joy.
eBay pioneered recommerce
Recommerce, or the selling of pre-loved goods, provides a clear path forward.
More than three-quarters of sellers surveyed use eBay to sell pre-owned goods.
Sellers realize there is value in pre-owned goods, and they come to eBay to find customers for those items. Pre-loved items become new treasures for buyers. Recommerce is central to who we are and enables a more sustainable future for us all.
eBay Seller

Sarah Dean

"At Go Thrift, no item of clothing goes to waste or landfill... We care about it a lot because we only have this one planet and we all need to do our part to save it."
eBay pioneered recommerce
Methodology
Between September 1 and September 12, 2022, we partnered with GlobeScan, a global insights and advisory consultancy, to conduct an online survey of 2,607 eBay sellers in the U.S., U.K., Canada and Australia. The goal was to assess small business seller sentiment and opinions towards eBay as they started and grew their business.
*Accidental entrepreneurs are defined as eBay sellers who self-identify as people who started their business for a specific reason(s) and who "never thought I would be running their own business", or who "have turned my passion into a business", and who state that "being their own boss is important to me." Reasons for starting their business are "wanting to turn passion/hobby into a business", "taking the opportunity for a career change", "having a specific interest in a type of product", "wanting to make use of a skill set", or "seeing a specific business opportunity."
**32% of total survey respondents were women.