Thanks to @KEVIN for alerting me to the news. Scott Wolfson also confirmed this evening that the U.S. Consumer Product Safety Commission voted unanimously (2-0) to issue a one year stay of enforcement for certain testing and certification requirements for manufacturers and importers of regulated products, including products intended for children 12 years old and younger. These requirements are part of the Consumer Product Safety Improvement Act (CPSIA), which added certification and testing requirements for all products subject to CPSC standards or bans.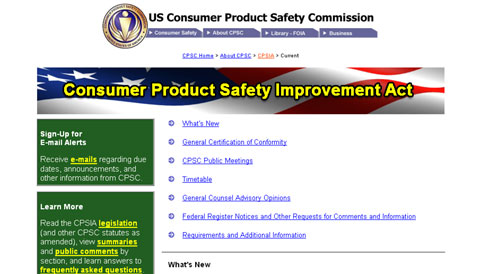 The full press release can be found here.
The stay does not apply to:
• Four requirements for third-party testing and certification of certain children's products subject to:
o The ban on lead in paint and other surface coatings effective for products made after December 21, 2008;
o The standards for full-size and non full-size cribs and pacifiers effective for products made after January 20, 2009;
o The ban on small parts effective for products made after February 15, 2009; and
o The limits on lead content of metal components of children's jewelry effective for products made after March 23, 2009.
• Certification requirements applicable to ATV's manufactured after April 13, 2009.
• Pre-CPSIA testing and certification requirements, including for: automatic residential garage door openers, bike helmets, candles with metal core wicks, lawnmowers, lighters, mattresses, and swimming pool slides; and
• Pool drain cover requirements of the Virginia Graeme Baker Pool & Spa Safety Act.
Cheers,
RBH