The Partnership Brings Incredible Selection of Merchandise from More Than 2,000 Auction Houses to eBay's Global Community of 145 Million Active Buyers
Today, eBay and Invaluable announced a partnership that unites the global leader in commerce and technology with the market leader in online live auctions for fine art and collectibles. The partnership will offer buyers the opportunity to participate in traditional live auctions through real-time online bidding at auction houses around the world. Invaluable's software solutions, including their online live bidding technology, will make it easy for Invaluable's partner auction houses to bring over $4 billion of inventory onto the global eBay platform.
"Invaluable works with many of the premier brick-and-mortar auction houses around the globe, and they were the natural partner for us to work with to bring live auctions back to the eBay platform," said Gene Cook, general manager of emerging verticals for eBay Marketplaces. "We're excited to bring Invaluable's incredible selection of unique, high-end artwork, antiques and collectibles to eBay's global community."
In the coming months, eBay will launch a destination that is especially tailored for customers who are looking to discover premium art and collectibles. Auction catalogs will be uploaded to Invaluable's live bidding platforms, including Invaluable.com and AuctionZip.com, and promoted through eBay, expanding the reach to eBay's 145 million active buyers. The new experience will offer special events and the ability for shoppers to participate in traditional live auctions through real-time online bidding. By blending incredible inventory with compelling content and enhanced functionality, the destination will provide a best-in-class shopping experience.
"Invaluable's online live auction marketplace makes one-of-a-kind merchandise from thousands of Invaluable and AuctionZip auction houses around the globe accessible to online bidders," said Rob Weisberg, Invaluable CEO. "In this exclusive partnership, eBay and Invaluable will rapidly scale the live auction industry by providing online buyers with virtual access to auction house salerooms from the convenience of their home, office or their mobile device."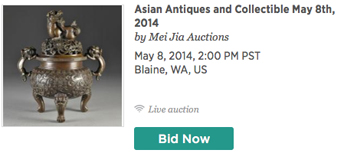 About eBay Marketplaces
eBay is one of the world's largest online marketplaces, connecting people with the things they need and love virtually anytime, anywhere. eBay has 145 million active buyers globally and more than 650 million live individual and merchant listings at any given time. With mobile apps available in 190 countries, eBay delivers a personalized shopping experience and seamless access to inventory from down the street and around the world. Tailored shopping experiences customize buying and selling; and eBay provides variety and choice for sellers by enabling them to offer goods through online, mobile and local channels to consumers around the world. For more information, visit www.ebay.com.
About Invaluable
Invaluable, the leading online live auction marketplace, features a live online bidding platform that allows collectors and dealers to bid in real-time in auctions held around the world. As the leading developer of SaaS and ecommerce applications for the auction industry, Invaluable provides auctioneers with marketing and ecommerce solutions across Invaluable and AuctionZip web properties, as well as access to RFC Systems, the company's auction management software. Invaluable's best-in-class historical price database includes more than 58 million complete auction results, totaling more than $204 billion in value. Founded in 1989 in Boston, Invaluable also has offices in Pennsylvania and the United Kingdom. For more information, visit www.Invaluable.com.
Contacts:
eBay
Ryan Moore, 408-376-7528
Lead Manager
ryanmoore@ebay.com
or
Invaluable
Colleen McCormick, 617-746-9825
Director of Communications
cmccormick@invaluable.com