eBay is focusing on three key themes for consumers this Holiday season:
1. Shop social
2. Shop mobile
3. Shop online
I had told Addison, my 4-year old daughter, that I was anticipating a busy day at the office before I left home last Friday morning. She had told me not to worry, she had given me something for luck and gave me a kiss on the cheek as I walked out the door. It wasn't until 1:30pm that I opened up a folder out of my bag and found a small drawing of a smiley face and a heart. Exactly what I needed to keep me going through the afternoon.
You see, whenever we have something planned here at eBay HQ it always seems to follow the rule of three (rather than have one significant activity going on, we'll have at least three). Last Friday was no exception. I arrived at the office on Friday morning to find a film crew set up in our cafeteria, a number of trucks outside, and every large conference room on the first floor of our building was booked for the day for various activities; from a "Women in Tech" meeting to a media presentation for a number of top press representatives from the New York Times, Wall Street Journal, etc. To top it all off, we had a number of top Mom and organizational bloggers visiting that I was presenting to later that afternoon (like they were going to learn anything from me). Needless to say, there was a lot going on.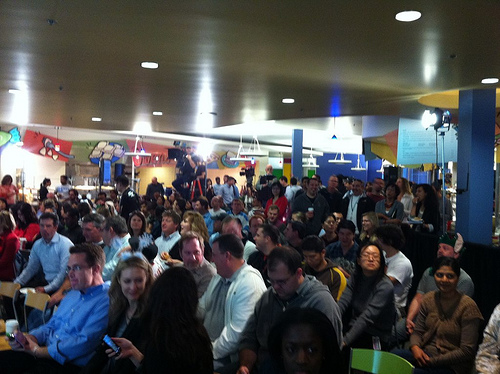 It all centered around one thing – eBay and the Holidays. Specifically, the concept of "Love to Give" and this week, eBay has launched a number of ways in which people can shop, give and share their holiday experiences.
Love to Give This Holiday – Celebrating the "Unwrap Attack"
First off, we have "unwrap attacks" – those unforgettable, uncontrollable emotional moments that occur when someone receives the perfect gift. People are encouraged to upload videos of their best unwrap attack moment to the Love to Give gallery (http://lovetogive.ebay.com).
Samantha Bee, comedian and correspondent on The Daily Show with Jon Stewart, will report on the phenomenon of unwrap attacks in an original webisode series. The campaign also features a shop-able Facebook "Unwrap Attack Creator" application.
Samantha was here all day Friday meeting with folks, filming, and even taking photos with yours truly…
Love to Give – Social Shopping
eBay also launched a first-of-its-kind social shopping tool, eBay Group Gifts (http://groupgifts.ebay.com). This innovative shopping experience integrates eBay, Facebook and PayPal, making it easy for family and friends to chip in together to purchase a group gift for any special occasion. eBay Group Gifts gives shoppers a way to give bigger gifts for less during the holiday season.
Love to Give – Mobile Shopping
With more than 13 million downloads and over $1.5 billion of merchandise volume expected this year, eBay is leading mobile commerce (http://mobile.ebay.com). eBay mobile apps are turning smartphones into shopping malls, not only enabling people to conveniently shop anywhere, anytime, but also making it easy to compare products and prices. eBay mobile helps you find the best deal on the perfect gift. eBay's mobile app is available on iPhone, Android, BlackBerry and Windows Phone 7, giving almost anyone with a smartphone access to eBay's global marketplace.
Other Ways to Love to Give This Holiday
Can't think of what you'd love to give this holiday? eBay is here to help. eBay's Gift Spot (http://gifts.ebay.com) offers recommendations on gifts that are just right for husbands, wives, kids, family, fashionistas, techies, sports fans and others on your list. eBay does the searching, so you can focus on the giving.
The holiday season is also a time when people love to give back. eBay makes it easy to gift and give back by joining celebrities and organizations to participate in one-of-a-kind auctions benefitting worthy causes and those in need. Some auctions at www.ebay.com/holidaygiving include:
• President Clinton will be auctioning off dinner for a winner and three friends. All of the proceeds will go to work of the Clinton Foundation.
• A round of Ping Pong at SPIN with Susan Sarandon to benefit Independent Filmmaker Project
• A meet and greet with Ben Stiller and Robert DeNiro at the premiere of their new comedy "Little Fockers" benefitting the Stiller Foundation.
• Jimmy Buffett VIP experience auction funds help the Child Mind Institute.
• Celebrity golf experience in Hawaii with sports greats like Steve Young, benefitting the Children's Miracle Network.
For more information, visit eBay's holiday homepage at http://gifts.ebay.com.
Check out all my photos from last Friday's events on the eBay Ink Flickr page.
I have a lot of behind-the-scenes video footage that I'm editing that I look forward to sharing with you all soon too.
Cheers!
RBH