Another demo I received at the eBay Innovation Demo Expo last week was eBay In Demand. The difference between eBay In Demand and a number of the other demos I viewed is that this one is now live on the site – albeit in limited Beta.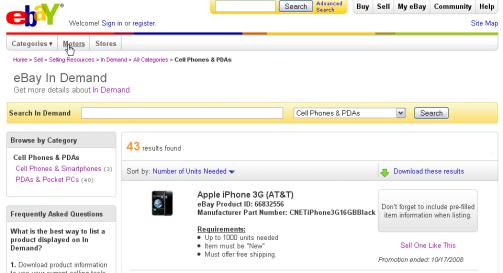 Starting this week, eBay In Demand was made available to approximately 6,000 "beta users" and the plan is to open it up to all qualified users later next month (which I believe to be well over 10 times that number). eBay In Demand is a new program that provides timely information to sellers about specific inventory that is in high demand and low supply on eBay.com. Essentially, by providing inventory that buyers want, participating sellers have the opportunity to increase conversion rates and sales while helping fill eBay's inventory gaps.
eBay In Demand will be available to PowerSellers with minimum 30 day DSRs of 4.8 and above. Over 700 products will be displayed on the site at the time of launch.
The eBay In Demand program is a result of an analysis of inventory on the site that falls into the following product categories:
1. Home & Garden
2. Sporting Goods
3. Clothing, Shoes & Accessories
4. Media
5. Toys
6. Consumer Electronics / Tech
Scot Wingo got a sneak peak of the product and posted his first impressions over on eBay Strategies.
Cheers,
RBH
Related Reads
eBay Strategies: eBay to release new weapon in the selection battle – In Demand
TameBay: eBay In Demand – Hot Products in Short Supply