Earlier today, StubHub announced that it is acquiring Ticket Technology, a leading point-of-sale (POS) software service provider for ticket sellers, to strengthen the selling platform for its StubHub business unit. Financial terms were not disclosed.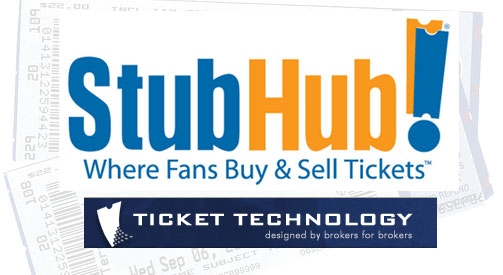 Based in Overland Park, Kansas, Ticket Technology's software tools provide integration and automation to professional ticket sellers. The acquisition will enable StubHub to bolster its leadership position in the secondary ticket market by offering better service to its high-volume seller customers.

To learn more about the acquisition, eBay's Intranet (iWeb), ran an interview with Chris Tsakalakis, StubHub general manager and vice president. Tsakalakis also shared his thoughts on StubHub's success this last year and plans for 2009. Thanks to Carla Castillo and the iWeb team for sharing the interview here:
Can you tell us a little more about the acquisition of Ticket Technology? How does it fit in with StubHub's business model?
Ticket Technology sells software that enables high-volume ticket sellers to manage their ticket inventory and sales. It's like other eBay selling tools (e.g. Blackthorne or CarAd) but is targeted at ticket brokers.
Ticket Technology fits with StubHub's business model because it provides a valuable service to our seller customers. Also, by integrating their technology with the StubHub platform, we will have a real-time connection with the inventory of our largest sellers. That, in turn, allows for a more automated sales and fulfillment process that will reduce costs for sellers and StubHub.
In the last year, StubHub has inked deals with big names, including ESPN, Major League Baseball and Madonna. Does this mean that ticket reselling is becoming more accepted and why?
Ticket reselling is absolutely becoming more accepted by established entertainment companies because it's accepted by consumers. As my counterpart at MLB has said, the resale of tickets happens whether the teams like it or not, so they may as well participate in it and make it a good experience. StubHub and eBay deserve a lot of credit in legitimizing and bringing online the age-long practice of reselling tickets.
StubHub has hit some pretty major milestones this last year – including the 15th million ticket sold. What's the secret behind your success?
The secret behind StubHub's success was set in its early days, well before the acquisition, and that is putting fans first. This means focusing on aggressive marketing to bring fans to the site, providing a great shopping experience with broad inventory and useful features and then providing great customer service once an order comes in. We've coupled that focus with some key strategic partnerships that our competitors don't have and the end result has been growth that has exceeded the overall market for over four years.
How does StubHub plan to keep growing despite the tough economic climate?
With more of the same fan focus and more emphasis on value. Ticket Technology will help us provide a better experience for both sellers and buyers with lower overall costs. We have a few other things that will do that next year including: our expansion of lower cost electronic delivery; better personalization and promotions; more automation for customer support; and highlighting of tickets at great prices. We also plan to make improvements to the overall site experience from the home page to the checkout page. We'll do all that while also looking for new revenue opportunities.
Why are you a fan of StubHub?
For the same reason a lot of our customers are: StubHub provides great experiences. We give customers a great experience on our site and it continues after their purchase with great customer service. We also give buyers access to a great event experience, often at times when tickets to those events are not available via traditional means.
When I was a kid growing up in Chicago, you had to know someone to get tickets to a Bears game. Today, StubHub is your guy to know. Thanks to StubHub, I got to my first Bears game ever this year. So, I'll close by saying what a vast majority of our customers say: "Thank You StubHub!"
I used StubHub recently to buy tickets for my wife and I to go see Oasis and Ryan Adams in Oakland in a couple of weeks… trouble is that I'm now traveling to D.C. for work that day. Looks like I'll be using StubHub to sell them back again! The convenience and ease of use is great but I'd much rather be going to the show!
Cheers,
RBH