The Trailblazers Collection
Celebrating the women behind the sneakers – and the culture they ignited.
Together with Breanna Stewart & Vashtie Kola, we're unveiling an unprecedented collection to spotlight trailblazing women and the iconic kicks that wouldn't exist without them.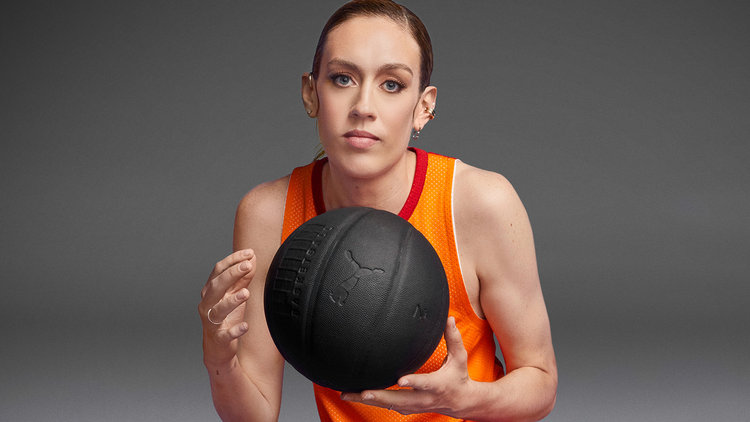 Breanna Stewart
Breanna Stewart has been rewriting women's basketball record books for over a decade, winning multiple championships, MVPs, and Gold Medals in the process. Following in the path of trailblazers like Sheryl Swoopes, "Stewie" will become the first WNBA player to have a signature shoe in 10 years. An activist off the court, Stewie has campaigned for equality in women's sports coverage, supported the BLM movement with her WNBA colleagues, and fought for LGBTQ causes as a proud member of the community.
Vashtie Kola
In 2010, Vashtie Kola (Va$htie) became the first woman (non-athlete) to design a pair of Jordans. While it was a magical life-changing moment for her, it was frustrating it took so long to happen. To Vashtie, the achievement was not hers alone but truly belonged to every female sneakerhead. Vashtie is a creative force beyond the sneaker space; holding director, filmmaker, artist, designer, creative consultant, and DJ titles.
Nike Dunk High x AMBUSH Drop
To celebrate the force behind AMBUSH Yoon Ahn and her ever-growing impact on sneaker culture, we are dropping these vibrant Nike Dunk High x AMBUSH Flash Lime that grab attention on and off the court. Offer valid while supplies last.
sacai x Nike LDV Waffle Drop
To pay homage to the trailblazing work of Chitose Abe, we're dropping a trio of iconic sacai Waffles at special prices. Offer valid while supplies last.
Nike Air MAG Auction
In honor of Women's History Month, we auctioned off one of the most important sneaker designs of all time.
Nike Air MAG "Back to the Future"
We've raised $16,800 to benefit FreeFrom with eBay matching every dollar!
Thank you to all who participated in our FreeFrom charity auction and congratulations to the new owner of these incredible kicks.
The Collection
A retrospective featuring the kicks and women who've impacted sneaker culture.
AIR MAG Back To The Future by Tiffany Beers

Tiffany Beers reached into the future to engineer this one-of-a-kind self lacing sneaker inspired by the film "Back to the Future, Part II'' and released in 2016. The Air MAG is considered by many the most important sneaker of the 21st century. Tiffany is also behind many other iconic shoes like the Air Yeezy 1, Tom Sachs's Mars Yard, and HyperAdapt 1.0.

Nike Air Swoopes II by Sheryl Swoopes

"Give me black, white, red." Swoopes paid no mind to the industry's "shrink it and pink it" standard when designing the first female signature athletic shoes. In 2018, Nike finally answered the wishes of many sneakerheads and re-released the Air Swoopes II you see here. In total, Swoopes had six models throughout her time with the brand.

Reebok Shaq Attaq 1 by Judy Close

All the credit to Judy Close for the world's first-ever Shaq sneaker. Designed by Close and loved by all, Shaq Attaq 1s originally released in 1992, became a viral sensation in the sneaker community and beyond with appearances in video games, on trading cards and even across movies and television.

Air Jordan II Retro x Vashtie Kola

Vashtie holds the crown as the first-ever woman with an Air Jordan collab. The dusty lavender hue of these sneakers was carefully selected to give the classics a sense of androgyny. For her, the shoes also send a powerful message - that if a girl who had grown up not being able to afford Jordans could go on to be the first woman to design a pair - that any girl (or person) could do it.

Casablanca x New Balance 327 by Charlotte Lee

Charlotte Lee looks to the past to modernize New Balance in this collaboration with Parisian-Moroccan brand Casablanca, pulling vivid color and edgy shape inspiration from 70's compact cars. These hard to get pairs were voted one of the best sneakers of 2020.

adidas by Stella McCartney Ultraboost 22

Performance met style in these running shoes designed for the runway. Stella's landmark collaboration with adidas began in '04 and was the first sneaker line from a female fashion designer. Today she's still breaking ground as the first Ultraboost collaborator.

Puma High Court Cunning Suede by June Ambrose

June Ambrose, Puma's Creative Director celebrates WNBA players with the brand's first women's basketball collection. This remix on the classic Puma suede low takes inspiration from Ambrose's mantra that life is a sport and style is a game. With this shoe you're ready for both.

FENTY Puma X Rihanna Velvet Creeper

The 2015 Creepers commemorate fashion's favorite female force smashing the male-dominated sportswear industry with glam. Rihanna's Fenty PUMA Creeper won the Shoe of the Year in 2016. Recipe for success? Wearability, universal appeal to both men and women, and of course, Rihanna.

Nike x sacai x LDWaffle by Chitose Abe

Founder of sacai, Japanese designer Chitose Abe brings a unique feminine eye to the Nike LDV and Waffle Racer in this iconic mashup. Initially released in 2019, these kicks are one of the most coveted collaborative creations in recent history.

Nike Air Jordan 1 Retro High by Aleali May

The model, fashion consultant and known sneakerhead, Aleali May created a unique look for the Air Jordan 1 High. Her concept effortlessly fusions a luxury satin with a black corduroy inspired by the house slippers that her father and uncle used to wear.

Under Armor ICON Curry 6 'United We Win'

"Girls want to rock their Currys too." This is what the 9 year old Riley Morrison wrote in her letter to Stephen Curry, asking why she couldn't find his shoe in girl's sizes. 5 months later, she co-designed the 'United We Win' for International Women's Day.

adidas Forum Mid S.E.E.D. Edition

It's no news that the adidas Forum Mid is a certified classic. The S.E.E.D. Edition was created in partnership with the all-female School for Experiential Education in Design to give the pair a refreshing colorway.

Nike React Hyperdunk 2017 Elena Delle Donne

Inspired by trailblazer Sheryl Swoopes, this commemorative set combines classic Swoopes' features with Elena Delle Donne's color-blocked uniform. The soles read "Demand" and "Excellence". Mission accomplished.

Nike Air Jordan 3 Retro A Ma Maniére

"Raised by Women": The A Ma Maniére's Air Jordan 3s are James Whitner's tribute to women everywhere, inspired by his mother who gifted him his first pair of Air Jordans as a kid.

AMBUSH x Dunk High 'Black' by Yoon Anh

Yoon Ahn became the first female designer to partner with Nike and the NBA for this vibrant AMBUSH collab. Paying tribute to her homeland, the unique extended Nike swoosh was made to symbolize bicycle pipes as an ode to Japanese bike culture.

Melody Ehsani X Air Jordan 1 Mid 'Fearless'

"If you knew what you had was rare, you would never waste it." Poetry in motion: Ehsani's design puts Melody Ehsani X Air Jordan 1 Mid 'Fearless' female empowerment and self-expression into your step in this women's-only collaboration.

adidas Speed Factory AM4BJK for Billie Jean King

An unforgettable match marries unforgettable sneakers in this commemorative pair that pays homage to the blue suede adidas Billie Jean King donned in her famous 1973 win.

Air Jordan 11 Low "Rook to Queen" Maya Moore

Released in 2018 as part of the Think 16 collection, these Jordan 11s honor the legendary Maya Moore with a bright fuschia over black design.

adidas x IVY PARK Ultraboost

Beyoncé's IVY PARK partnership with adidas is a fresh take of the adidas Ultraboost. Mastering the art of monochrome, these Electric Green Ultraboost boast bright confident energy.

Aleali May x Air Jordan 14

In her fifth collaboration with the Jordan Brand, Aleali May honors her ancestors. Inspired by her Black and Filipina roots and close-knit family, the 'Fortune' brings a new fresh look to the AJ 14s.


Serena Williams x Off-White x Blazer Studio Mid 'Queen'

A look as transcendent as Serena Williams' 2018 US Open calls for a sneaker as unforgettable as this Off-White collab featuring neon purples and pinks, and a green tag reading "Queen of Queens, NY."

LDWaffle x sacai x Fragment

The Japanese designer Chitose Abe of sacai partnered with Hiroshi Fujiwara of Fragment to create these unique LDWaffles.

Sophia Chang x Trinomic Disc Blaze 'Brooklynite'

An ode to the city that made her the woman she is, Sophia Chang crushes the concrete jungle in the Trinomic Disc Blaze, a pair from her 4-part series with PUMA.

Reebok x Gigi Hadid DMX Series 2200 Zip

Sneakers are personal for Hadid, who designed these 2200 Zips as an emblem of her nature-filled childhood and days as a nationally ranked horseback rider.

Nike SB x Gnarhunters Blazer Mid Shoes

Built to ride. This is the first collab between Nike and the American professional skateboarder Elissa Steamer. The Gnarhunters Blazers were made for anyone to board in as one of the few skate shoes offered in unisex sizing.

Nike x Cactus Plant Flea Market Vapormax

Celebrated for her elusive and intentionally anonymous identity, designer of Cactus Plant Flea Market, Cynthia Lu, brings her touch of modern magic and mystery to this old school Nike classic.

adidas x Wales Bonner Samba

The British fashion designer Grace Wales Bonner leaves her renowned brand marking on this pair of Sambas with intricate crochet detailing. She tends to bring a distinct notion of luxury in her designs via a hybrid of European and Afro-Atlantic approaches.

Air Jordan OG SP x Melody Ehsani

Streetwear's finest brings it again with these signature Jordans. The fiery cherry on black sneaker is Jordan Brand's first OG collaboration with Ehsani. To Ehsani, the shoe symbolizes women's excellence on and off the court.

ASICS x Vivienne Westwood GEL-Kayano 27

Vivienne Westwood is known for bringing modern punk and new wave fashion into the mainstream. And she doesn't fail on her latest installment with ASICS, creating a deconstructed approach to the popular GEL-Kayano.

Naomi Osaka x Comme des Garçons x Blazer Mid '77 'Home Is Where The Heart Is'

Osaka commemorates her home country of Japan in this collaboration with female-founded Japanese design house Commes des Garçons and Nike.

Comme des Garçons x Nike Air Foamposite One

Born into the world at CDG's "Darkroom" FW21 show, the female-founded fashion house made waves with these Foamposites – the first-ever Foamposite Ones with a custom shell in a unique ripple design.

Cactus Plant Flea Market x Nike Dunk Low

As if Cynthia Lu's Dunk Lows couldn't shine brighter – this premium sneaker is blinged out in authentic Swarovski crystals.
Shop the full collection.
Iconic kicks - by and for - iconic women.