Quite a bit of news coming out of the first day of eBay Live! 08 today. A press release was issued earlier today outlining how eBay plans to improve protections for buyers and sellers. Buyers who pay with PayPal will be protected on eligible transactions for 100% of an item's purchase price – with no coverage cap. Additionally, US eBay sellers will receive improved seller protection for eligible transactions when they get paid with PayPal.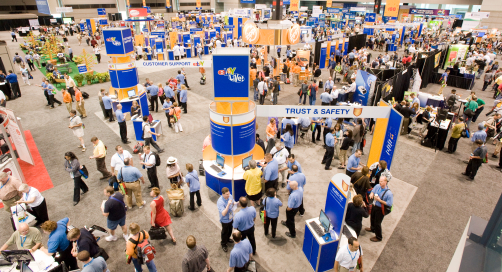 PayPal's improved seller protection will cover ALL sellers (regardless of transaction size or sales' volume) against claims, chargebacks and reversals due to an unauthorized payment or an item that was not received.
"Today's announcement makes it simple for our customers – we're providing protection whether a transaction costs $50 or $50,000," said Scott Thompson, president of PayPal. "As PayPal celebrates its 10th anniversary this year, we're pleased to deliver these new protections and allow customers to shop on eBay with even more confidence."
Sellers with DSRs of at least 4.9 across all four categories will receive 20% off their Final Value Fees. Sixteen percent of PowerSellers will immediately qualify for this third tier of discount (the other tiers are 5% for 4.6 and above and 15% for 4.8 and above).
There is also a new level of PowerSeller – Diamond Level. It will apply to sellers of $500,000 worth of goods a month and who have a minimum DSR score of 4.8 across the board.
The news was given to a collection of attending bloggers at eBay Live! earlier today. Randy Smythe, Chris and Sue from TameBay, David White from eBay & Beyond and AuctionBytes.com all sat down with some key representatives from the company to discuss the changes.
The changes announced today seem to emphasize John Donahoe's statement earlier this morning in the shareholder meeting where he expressed the company's priorities for the rest of 2008:
1. Make eBay easier and safer to use
2. Expand selection
3. Expand PayPal off and on eBay
The news seemed to be pretty well received by everyone in the briefing and the follow-up questions were more focused on the recent changes to Feedback and DSRs earlier this year. There was even mention of possibly inviting 3rd party developers to develop APIs to enhance and improve the DSR interface… much like the Project Echo news announced earlier this week where the same is being done for Seller Manager.
A roundup of initial coverage, from the attending bloggers, can be found here:
– AuctionBytes here and here.
– TameBay here and here
– Randy Smythe's My Blog Utopia!
Cheers,
RBH