One would think that a conference center in a hotel in downtown Chicago would allow you to connect to the outside world. One would think that and one would be wrong. I arrived at the ballroom at 7am this morning ready to set up my "blogging station" so I could report live from eBay's annual stockholders meeting only to find that the room was two floors below the lobby and was void of cell reception and internet connection. As a result, what follows is a collection of notes I took during the meeting.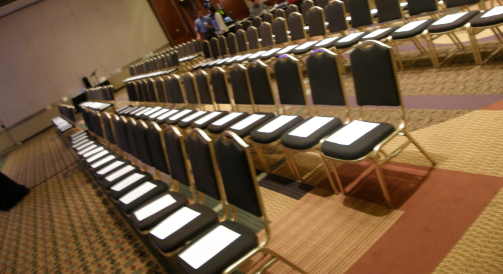 Pierre Omidyar opened the meeting and introduced all executives, senior management and board members that were present (including Meg Whitman, John Donahoe, Rajiv Dutta, Bob Swan and Scott Thompson, among others).
There were three proposals approved in the meeting:
1. Election of Fred D. Anderson, Edward W. Barnholt, Scott D. Cook, and John J. Donahoe as directors to serve until the 2011 meeting – each director was approved with over 91% approval rating
2. Approval of 2008 equity incentive award plan – a 90% approval rating
3. Ratification of PricewaterhouseCoopers LLP as the independent auditor of eBay through 12/08 – approx 99% approval rating
John Donahoe then took the stage and acknowledged Meg's tenure as CEO for the past 10 years before going into his presentation. He began with a financial performance overview before going into some interesting facts regarding eBay.com:
– Every 26 minutes a Ford Mustang is sold on eBay;
– Every 2 minutes a major appliance is sold;
– Every four seconds a pair of shoes is sold;
– eBay gets over 1 billion page views per day.
John indicated that eBay is improving the health of our marketplace by focusing on 3 things:
1. Trust
2. Search
3. Selection
After giving a Marketplaces overview he addressed PayPal that is now in 190 markets dealing in 17 different currencies. There are now 141 Million PayPal users and payment volume for 2007 was $47B. One-third of the adult population of the United Kingdom has a PayPal account.
John then admitted excitement to the ease-of-use and security of PayPal by relaying two personal stories during a visit to Australia in which he purchased flowers from a local florist online and a plane ticket from Southwest.com all using PayPal which was good because he had left his wallet in his wife's backpack.
John then moved on to talk about Skype, citing some impressive figures:
– Over 300 million users as of June, 2008.
– Skype video represents 28% of all calls made on skype.
– 30% of users use Skype for business.
– 100 billion minutes of skype-to-skype calls in the 4 years it has been functional.
Global Citizenship
eBay is the world's biggest recycler when one considers that there have been $100 billion in resold items transactions on the site. After making reference to MicroPlace and World of Good, John addressed future goals for the company overall.
The Journey Ahead…
#1 in eCommerce
#1 in online payments
#1 in online communication
3 priorities for 2008:
1. Make eBay easier and safer to use
2. Expand our selection
3. Expand PayPal off and on eBay
Q&A
Some sample Q&As follow:
Q: Although I am impressed and appreciate eBay's interest in charity… with the great profits why aren't my shares worth more?
A: We're trying to be responsible custodians of our business and our stock. We're focused on building and continuing to grow our business over time so that your stock will be worth more. We actually believe our shares are currently undervalued which is why we conducted the share buy-back.
Q: How are you going to make it easier to sell on eBay?
A: Well, earlier this year, we reduced insertion fees significantly and we've made gallery free in the US and the UK. We feel there is the risk for sellers to list on eBay is lower and, as a result, we are seeing growth in listings. If we all focus on providing a great buyer experience, everyone wins.

Q: It feels like eBay is hurting itself through it's interest in the online classifieds business. Aren't you really competing against yourself? How are you making money through the Classifieds business?
A: Monetization occurs when people list employment opportunities or home listings because a fee is made to make those listings. The second way is through advertising onsite. There is some overlap on what is sold on a classified site vs eBay. But shopping locally (via classifieds instead of eBay.com) is more ideal for selling a couch or piece of furniture.
Q. Can you please confirm the relationship between eBay and Buy.com? There is documentation that states them as a competitor but there is also evidence that you have partnered with them and they're selling on eBay.
A: They're a competitor in so much as they are an online retailer with their own site. Any purchase from a site other than eBay is, by definition, a competitive transaction. However, they do now also sell on eBay and when that transaction occurs it cannot be seen as competitive.
There were additional questions and statements including one made by PETA expressing grave concern that eBay is not acting on its relationship with Tom Online and their allowance of sales of live animals on their site. John indicated that eBay has a minor stake in the company (with no operational control) but that he would make sure the PETA concerns were forwarded to Tom Online.
The meeting lasted exactly an hour and there were approximately 70 people in attendance. After the meeting wrapped up the executives and board of directors mingled with share holders, some of which were asking for photos of Meg and John and requesting autographs.
Then it was onto eBay Live…
Cheers,
RBH