As I get ready to head over to the second day of the Web 2.0 Expo, eBay has announced that it has turned its Selling Manager service (previously known as Project Echo) into a beta platform that is now open to embedded third party tools. For the first time ever, third party eBay developers will be able to write applications that are embedded directly onto ebay.com.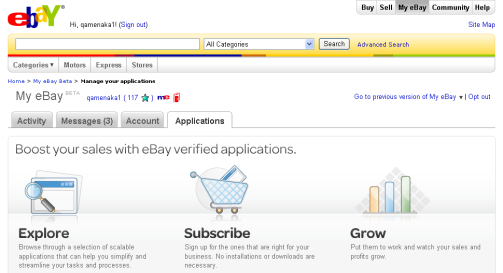 More than 87,000 third party developers have already built more than 13,000 live applications that consume eBay's Web services and the Selling Manager tool has 270,000 active subscribers in the US. You can read more about the significance of this latest announcement over on the eBay Developer blog. The press release, screen shots and other materials around the news can be accessed here.
UPS
UPS is the first transportation provider on the eBay Selling Manager beta platform, and is integrating its premier shipping software – WorldShip™ – directly into the eBay experience so sellers can manage shipping for their business directly within My eBay at no cost. Developers can join the beta and begin developing their eBay Selling Manager applications at http://developer.ebay.com/products/selling-manager-applications.
Like I said, I'm heading over to the Web 2.0 Expo this morning to visit the eBay booth (#608) and meeting folks from Terapeak, HostedSupport, ahTEXT.com and Cloud Conversion. I'll also be attending eBay CTO and SVP of Platform Mark Carges' keynote at 5:20pm. I'm told the keynote will focus on "5 Things that Matter for Developers Today."
I'll do my best to send updates via Twitter (http://twitter.com/ebayinkblog) throughout the day. I'll also be taking photos and putting together a wrap-up blog post following Mark's keynote later today.
Cheers,
RBH
Related Reads
TechCrunchIT: eBay Launches Beta Of Selling Manager Application For Developers and Sellers
ReadWriteWeb:Ebay Launches Selling Manager Applications Beta
Web 2.0 Journal: eBay Courts Third-Party Developers
Website Magazine: Selling Manager Apps from eBay
TechManic: eBay Selling Manager Applications Beta For Third Party Developers
TechNewsAM: EBay Launches Beta Of Selling Manager Application For Developers and Sellers
901am: eBay opens selling platform to embedded third party tools
Fountainhead blog: eBay is Really a Huge PaaS