As some of you already know, I am getting ready to leave for a Summer vacation (or holiday for those of my British brethren) and am in the process of making sure I leave Ink in good hands during my absence.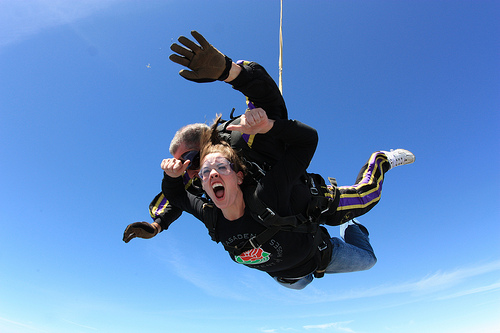 However, before I do, I wanted to give a shout out to a group of individuals that work incredibly hard but seldom get the public recognition for it. Our interns. When Sarah Fleming joined the Internal Communications team last year, she was with 150 peers taking part in Intern orientation for eBay. She graduated from Santa Clara University last weekend and is ready (or at least thinks she is) to head out into the "real world."
I managed to get a few minutes with Sarah before I head out and wanted to share my "5 Minutes With… Sarah Fleming." On a personal note, I want to thank Sarah and all of the interns that have been part of the program this year. Your contributions are significant and I like to think that we're continually learning something from each other – you're a big part of the eBay family here.
Cheers!
RBH
5 Minutes with… Sarah Fleming
Full Name: Sarah Elizabeth Fleming
Nickname: Intenlicious
Official Title: Internal Communications Intern
What You Really Do: I provide communication support across Marketplaces and PayPal and write a whole bunch of iWeb stories. I've become known as the "contest queen" because the two biggest projects I've managed here have been contests; the internal Photo Card contest and the PayPal Living the Brand video contest. I also do a lot of event coordination and run the North America Marketplaces Brown Bag sessions in San Jose.
Your First Day at eBay: June 23, 2008
Education/Schooling: Graduated from Santa Clara University on Saturday, June 13 with a BS in Economics!!
Interests: Singing, microfinance, photography, traveling, and now skydiving- I went 3 weeks ago and it was awesome!!
Favorite Quote: Every day is a gift. That's why they call it the present.
Most memorable eBay experience: I used Skype a lot when I lived in Florence, Italy last year. Every time I think about Skype it reminds me of all the great times I had in Italy and how I was able to share those memories with my family. And the best part was that I could actually see their reactions all thanks to Skype video chat. These are the types of memories I will never forget.
Most recent eBay purchase/sale: I just bought the book "Australia for Dummies". I'm planning a trip there next year so I figured it was time to start educating myself on where to go and what to see. And I got a great deal on it with free shipping!
Favorite Albums: AC/DC Back in Black. Just saw them in concert for the first time and am going again in September. Best concert I've ever been to, hands down.
Favorite Movies: Super Troopers, Pride and Prejudice (the BBC version, of course), and Up – I just saw it for the second time and cried for a second time. Yes, I know it's a kids movie, but it was beautiful.
What You Wanted to Be Growing Up: I've always wanted to be a country singer. My mom is a professional opera singer so I've been exposed to music my whole life. I used to put on shows for her, making up songs and pretending to sing like her. I still think it would be a great job and I'm not done growing yet, so you never know!
Fill in the blanks:
I should have __studied for finals_____ more.
I wish that I could ___travel everywhere_______.
The first thing I do when I get to work is ___pour myself a very large cup of coffee and take in the silence before everyone in my row gets here_____