Legal Tender Coin, Shaped Like a Coca-Cola Bottle Cap, Available for Early Sale on eBay
Press Release
Made with new automated minting technology, the coin will be available to eBay's 168 Million Active Buyers.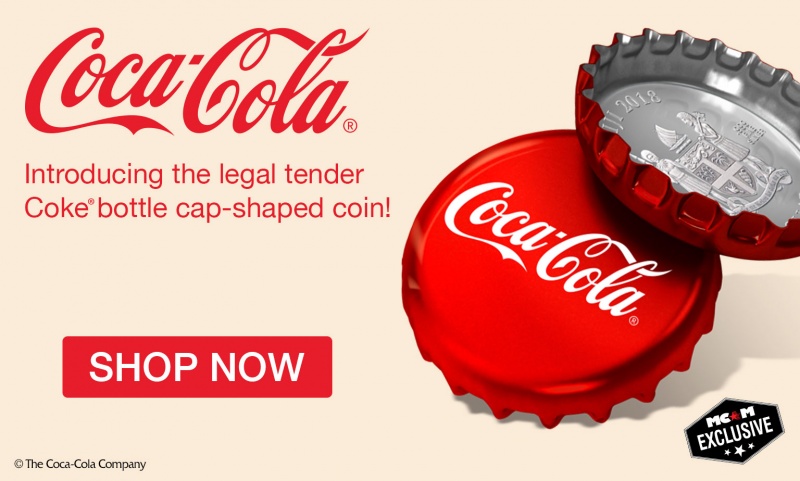 This holiday season, ModernCoinMart, in cooperation with S&A Partners – The Official Coca-Cola Licensee for Collectible Coins – is releasing a one-of-a-kind legal tender coin shaped like a Coca-Cola bottle cap, for early sale exclusively on eBay. This unique legal tender coin will be sold through the longtime eBay seller, ModernCoinMart (MCM).
The 2018 Coca-Cola Bottle Cap 6 Gram Silver Colorized Proof Coin is officially licensed by Coca-Cola and is available in original packaging at a fixed-price of $29.95. NGC and PCGS-graded versions of the coin that will also include original packaging will be available at a later date for $79.95. Each coin comprises 6 grams of .999 fine silver, made with new automated minting technology, in brilliant proof quality with colorized digital printing. The coin will be available for global shipping through eBay, with fast and free shipping for purchases in the United States.
"We are proud to be working with a popular brand like Coca-Cola to introduce this incredible collector's item," said Hayden Tubbs, Product Development Manager of ModernCoinMart. "With Coca-Cola bottle caps being so easily recognizable, we believe these $1 silver coins will be enjoyed by fans of all ages around the globe."
"At eBay, we're committed to providing our millions of buyers with unique and exclusive inventory," said Sam Bright, Senior Director of Art & Collectibles at eBay. "Coca-Cola is an iconic brand, and we are thrilled to offer our millions of shoppers the opportunity to own or gift this this one-of-a-kind coin this holiday season."
Coca-Cola & eBay Stats:
• There are currently over 100,000 live listings for Coca-Cola related items
• eBay has over 1M live listings for coins
• Most expensive Coca-Cola item ever sold: Share a Coke with the Chairman and CEO of The Coca-Cola Company -- $19,112 in 2015
• Most expensive Coca-Cola items sold (multiple quantities):  Coca-Cola Retro 1930's Red Refrigerator Coke Machine Fridge Cooler Ice Box – sold 21 items for $17,220